If you're out of contract, you can easily switch energy supplier and save hundreds annually on your energy bills. In this guide, we outline the steps involved in making the switch.
This guide outlines how to switch gas and electricity prices using our energy comparison service. This is the third guide in our eight-part energy switching series, which we've created to help you make the most out of our energy services. You can find the rest of the guides in this series linked at the end of this article.
Switching energy supplier is easier than you think. Once you've carried out an energy comparison and have selected the gas and/or electricity deal that best suits you, you can proceed with the switching stage.
Before reading this guide, we'd recommend taking a look at our other guide on how to compare gas and electricity prices if you haven't already done so, which outlines how to review the options available to you.
Step 1 - Account
After you complete the final step of the comparison stage using our free energy comparison tool and click the 'proceed' button on your chosen energy deal, you'll be asked for some personal information.
Your details
To proceed with your switch, we'll need the following information from you:
Your full name

Your email address: We need your email address to send you a confirmation email.

Mobile number

Your home telephone number: Please leave this blank if you don't have a landline

Date of birth: You must be over 18 years of age to complete the switch.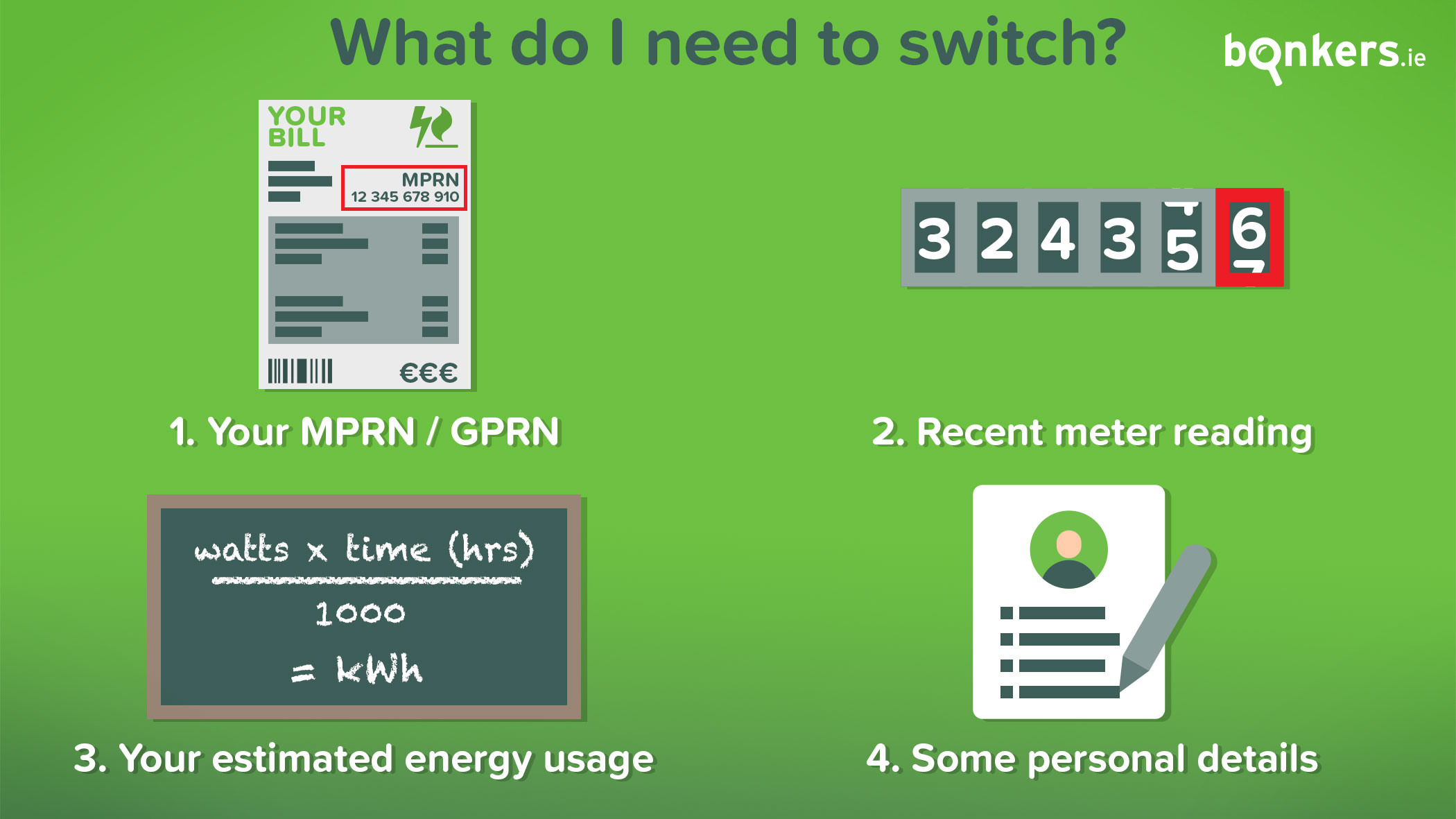 Step 2 - Supply
Your meter numbers
To complete your switch, you'll need to provide us with information about your gas and/or electricity meter.
Your MPRN
Your MPRN (Meter Point Reference Number) is an 11-digit number that indicates the exact location of a property's connection to Ireland's electricity network.
Your MPRN is usually printed on the top of your electricity bill. However, the numbers are located in different sections of the relevant bills, depending on the supplier.
Your electricity meter reading
You'll need to let us know your electricity meter reading. If you don't know your meter reading on hand, you can provide it later. If you need a meter key to open your electrical box let us know and we'll send one out to you.
Unsure of how to read your meter? Take a look at this guide to find out how.
Meter readings will differ depending on the type of meter you have, e.g. standard, NightSaver, smart meter, pay-as-you-go, etc.
If you have a NightSaver meter, you'll need to input both your daytime and night reading.
If you have a new meter installed, enter 0.
Your GPRN
Your GPRN (Gas Point Reference Number) is a unique 7-digit code that identifies your home's connection to the gas network.
Your GPRN is usually printed on the top of your gas bill. However, the numbers are located in different sections of the relevant bills, depending on the supplier.
It's important to note that both your MPRN and GPRN are attached to the location of your home and not to your supplier or you personally. So even if you switch energy supplier these numbers will never change.
Your gas meter reading
Similar to electricity above, you'll need to let us know your gas meter reading. If you don't know your meter reading on hand, you can provide it later.
Once again, meter readings will depend on the type of meter you have installed. If you have a new meter installed, enter 0.
Your address
We'll need to know the following information about your address:
You'll need to tell us your current address for correspondence.

Let us know if you have lived at this address for over 14 months.

Let us know if you own the home you live in. If you select 'no', you'll be prompted to input information about your landlord. This includes their name and their telephone number.
Step 3 - Your payment details
You'll need to provide your bank account deals to proceed to the confirmation stage of your switch.
Name of the account holder
Let us know the name of the bank account holder. This may be in single or joint names.
Choose to use IBAN or Bank Sort Code
Here you'll have a choice about whether or not you'd like to submit your IBAN or use your bank's sort code and your bank account number.
IBAN: ​​

This is a 22 character international bank account number, which can be found on your bank statement

Bank sort code and bank account number:

Alternatively, you can use your bank's 6-digit sort code and your bank account number.
Authorisation
You'll need to confirm that you are the bank account holder and that you agree to provide the above banking information for payment purposes.
Step 4 - Confirmation
Do you need to sign up for the Priority Services Register?
You will need to indicate whether anyone residing at the property is dependent on life-supporting medical equipment, such as an Oxygen Concentrator, or is dependent on any assistive technologies, like environmental control transmitters.
If your answer is 'yes' and someone does rely on these technologies in your home then you will need to fill in a Priority Services Support application form. This form will be sent to you by your new supplier and you will have to complete it and return it to them.
Do you require any special services?
Suppliers and Network operators understand that certain customers may require additional services to assist their needs.
For instance, if you have a visual or hearing impairment you can request a range of services, from braille bills to bills typed in a large print from your energy supplier.
In this section, you can indicate whether any of the following categories covered in the special services register to apply to you. These categories are:
Language difficulty

Speech impairment

Advancing age

Hearing impairment

Dexterity impairment

Vision impairment

Learning difficulty

Mobility impairment

Mental health
Once you have completed these steps it is time to move on to the last stage of the switching process.
Final Questions
Do you want to hear from bonkers.ie in the future?
Let us know whether you would like to be added to our email list to receive up-to-date news from bonkers.ie
Do you want to save your details for next time?
If you select 'yes' then your details will be pre-filled in for you on our site once you input and confirm your email address.
What are your marketing preferences?
If you would like to receive updates about products, services, special offers, news and more from your new supplier you can indicate it here.
You have the option to choose how you will receive this information i.e. over email, through the post, from text messages etc.
Would you like your bill in Irish?
You can select to receive your energy bill in the Irish language here.
Agree to the declarations
To proceed with your switch, you must agree to the declarations set by your new supplier, along with their terms and conditions.
It's important to note that your current supplier will notify your new provider if you are in arrears. You will be contacted by your new supplier in writing if they choose not to carry out the switch.
Lastly, if you are currently in receipt of the fuel allowance you will still be entitled to receive it with your new suppliers.
Place your order
Once you have signed off on the declarations, you will click the 'place my order' button to finalise the switch.
The switch to your new provider will usually take place within 5-10 days, provided you have submitted the right information. However, it can take up to four weeks in some cases.
If the correct information is not submitted, such as your MPRN or GPRN, there may be delays to the switch.
Cooling off period
By law, every supplier must provide their customers with a 14-day cooling-off period. This means you are free to cancel your switching application without having to face an early exit fee.
If for instance, you were unable to provide your meter readings and the switch could not be finalised, fear not. Our team will contact you during the 2-week cooling-off period, before cancelling your application. You will receive four reminders by email and two text messages.
In regards to updating your information about your meter reading you can either:
Submit the reading through email by selecting the 'Update the reading' button.

Email the readings to

hello@bonkers.ie

.

By calling (01) 256 0500 and pressing 1-2.
Get switching today
Now that we've outlined how to switch, why not take a look and see how much you could save today? Head over to our energy comparison page to begin reviewing the options available to you from all major energy suppliers nationwide.
Energy is just one of the many comparison tools we have on bonkers.ie. You can also compare deals and prices for a range of other products and services, such as broadband, phone and TV, insurance and banking products.
Take control of your bills and put money back in your pocket.
Energy switching guide series
This is just one of the helpful articles in our energy switching guide series. Don't forget to take a look at the other guides available for more information:
You can learn more about energy and the switching process over on our blogs and guides pages.
Need any help?
If you have any questions regarding the switching process, let us know today! You can send our team a message on Facebook, Twitter, or Instagram.