Saving up to buy your first home isn't easy and there are lots of extra costs in addition to your deposit that you'll need to consider. We'll let you know what they are so you'll know what you need to save!
If you're a first-time buyer you probably already know that you'll need to save a deposit of at least 10% of the purchase price of the property. So a house or apartment worth €300,000 will require savings of at least €30,000.
However there are a few other hefty costs which you'll need to save for before a bank will consider your mortgage application.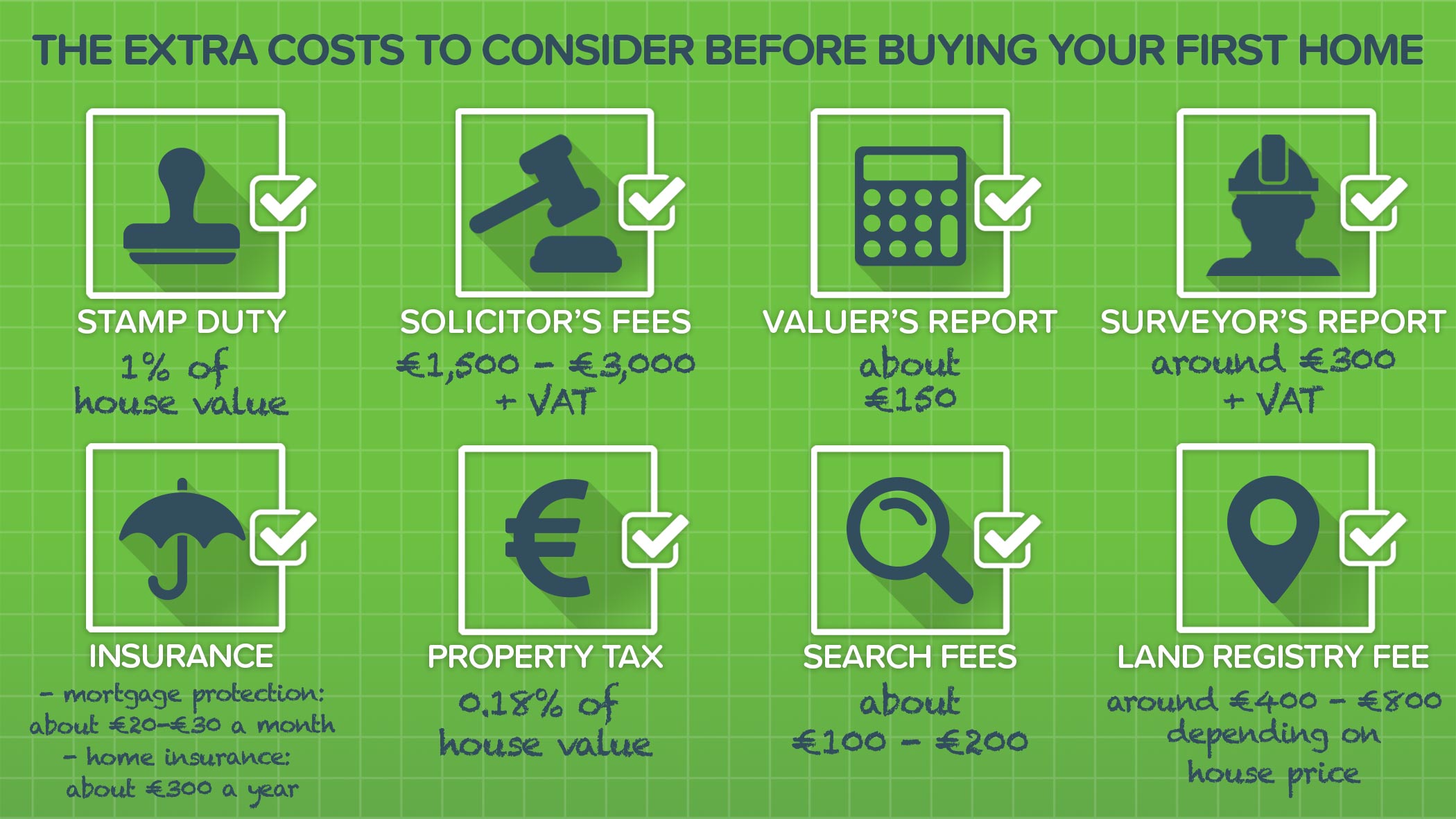 1. Stamp duty
This is probably the biggest extra cost you'll need to save for.
The rates of stamp duty are below and they apply to both first-time buyers and second-time buyers.
| | | |
| --- | --- | --- |
| Type of property | Value | Rate of stamp duty |
| Residential | First €1 million | 1% |
| Residential | Excess over €1 million | 2% |
So a property worth €300,000 will have stamp duty of €3,000.
If you're buying a brand new home, however, it's a little different. In this instance, the rate of stamp duty is the same, but the rate is applied to the price of the property excluding VAT.
VAT is levied at 13.5% on new homes in Ireland so the stamp duty you'd pay on a new property worth €300,000 is actually only €2,643 (1% of €300,000 less 13.5%).
At a minimum your bank will want to see that you've saved enough for your deposit and the stamp duty before they'll approve your mortgage application.
2. Solicitor's fees
Your solicitor is responsible for conveyancing, which means they'll conduct all the legal tasks required to transfer ownership of the property to you.
Some solicitors will charge a flat fee while others will charge a percentage of the property price, usually around 1% or 2%.
Remember to shop around but be prepared to pay anything from €1,500 to €3,000 plus VAT at 23%. And when getting a quote, always be sure to confirm if the price is including or excluding VAT.
3. Land registry and search fees
As well as the above fee for your solicitor's time and services, they'll also have to register your property under your name in the Land Registry. Depending on the price of your home, this can cost from €400 to €800 and will have to be paid by you on top of the main fee.
If your home has not yet been registered in the Land Registry, then your solicitor will be required by law to make a special application for "first registration" for you. In this case the fee can be reduced to €130 in some cases.
There'll also be a mortgage fee to register your bank's interest in the property, which currently costs €175. However if you're lucky enough to be a cash buyer, then this fee won't apply.
Your solicitor will also carry out a number of searches to ensure your property is OK to buy. For example they'll carry out a planning search to ensure there aren't any major plans for developments nearby that could negatively impact on your home.
A judgement search must also be carried out. For example, if any previous owner had an unpaid debt that was registered as a "judgement mortgage" against the property, you'd become liable for the debt once ownership was transferred to you.
Following on from this a bankruptcy search will also be carried out as if the seller of your home has been declared bankrupt then the property would no longer be theirs to sell, meaning you could end up buying a property that doesn't belong to you.
These searches can cost between €100 and €200 and will also need to be paid by you.
4. Valuer's report
Your lender will want to be sure that you're paying a fair price for your new home so they'll also request a valuer's report. A valuer's job is to give your lender an estimate of the property's market value to make sure you're not paying over the odds.
Your lender will usually have their own list of valuers who they'll use for this purpose but you'll still have to pay for the report yourself. You can expect to pay around €150.
5. Surveyor's report
Before buying a home it's also a good idea to get a professional surveyor's report carried out. This report will help identify any hidden defects or structural issues with the property such as condensation, damp, dry rot or pyrite.
Getting a surveyor's report may or may not be required by your lender and a negative report doesn't necessarily mean you can't buy the property. It just means you know exactly what you're buying before you make one of the biggest financial decisions of your life!
You should budget around €300 plus VAT at 23% for the report.
6. Insurance and property tax
There are also extra costs with owning a home that you probably aren't used to paying if you're a renter or living at home such as mortgage protection, home insurance, and property tax and these need to be considered too.
Most lenders will require that you take out mortgage protection. This is a form of life insurance that will pay off the outstanding balance on your mortgage in the event of your death. How much you pay will depend on your age, health, and the size of your mortgage, but expect to pay around €20-€30 a month for the lifetime of your mortgage.
Similarly, lenders will require that you take out home insurance to protect your house and its contents in the event of fire or storm damage etc, with policies costing from around €300 a year.
Most banks sell their own mortgage protection and home insurance but remember you're not obliged to buy it from them so shop around for the best deals!
The good news is that you can buy great value mortgage protection on bonkers.ie. Just fill in some simple details such as your age, the amount of cover you want, and the number of years the policy should run for, and we'll produce a range of quotes for you to choose from in just seconds. To get started, just click here.
And you get also get a discounted quote on your home insurance through bonkers.ie too. To get started, click here.
Finally there's the property tax, almost as popular as water charges! This is a self-assessed tax paid annually to Revenue and is currently based on the market value of your home as of 1 November 2021. A property valued at €300,000 can expect to pay tax of around €500 a year.
Management fees - something to bear in mind
Most people know that if you buy an apartment you'll have to pay management fees every month.
Under current rules, when someone is selling their apartment, they have to settle their management fees for the year upfront before they're allowed to put their apartment on the market. However this is then usually clawed back from the buyer on a pro-rata basis in one lump sum before the sale is finalised.
This means if you buy an apartment early on in the year, you could find yourself having to stump up close to a year's worth of management fees in one lump sum before you can get your keys.
Before making any decisions make sure to shop around
If you're looking to buy your first home, or looking to switch mortgage lender, you can find the best mortgage rates and incentives across all lenders in Ireland in just seconds with new mortgage calculator.
When you decide it's time to apply for a mortgage, you can schedule a callback through our free mortgage broker service and one of our experienced financial advisors will call you to get your application started. They will be there every step of the way through your mortgage journey - with no extra cost to you as a customer!
Our mortgage broker service is fully digital from start to finish, meaning everything can be carried out online from the comfort of your home.
To learn about how your mortgage application will be assessed, take a look at this guide.
Don't forget, lenders also require that you have home insurance and mortgage protection insurance in place before drawing down your mortgage, both of which you can also get right here on bonkers.ie.
We can also find the best rates for energy, broadband, and other insurance and banking products and apply straight through bonkers.ie.
Let's hear from you
Are you considering applying for a mortgage? Have you already factored in all of these extra costs? We'd love to hear from you!
If you have any questions about applying for a mortgage, you can leave a comment below or get in touch with us on Facebook, Twitter, or Instagram.