In this guide, we explain the new energy efficiency labels found on household appliances so you can purchase more eco-friendly products. This will help you lower your energy costs and help the environment too.
As more and more people look towards lowering their ever-increasing gas and electricity bills, along with their carbon footprint, the introduction of a new energy rating system by the EU provides Irish consumers with the opportunity to do both these things in one fell swoop.
Here we outline what household appliances are using the new energy labels, how to understand them, and how the energy label will help you calculate the cost of use of your washing machine or fridge, for example.
How do energy efficiency labels help me purchase home appliances?
During the 1990s, the EU made it a legal requirement for manufacturers and retailers of electrical products and appliances to display energy labels on their products.
The purpose of these energy labels is to help consumers, like you, make more awareness-driven and energy-conscious choices when purchasing your household appliances.
The introduction of the new energy rating system
Through a new standardised rating system from A (most efficient) to G (least efficient), you will be able to establish how environmentally friendly a product is, and how much electricity and water it will use when it is running.
This will allow you to pick appliances that consume less energy, which will help lower your carbon footprint and the cost of your electricity bills.
With electricity prices on the rise, it is important that the washing machine or dishwasher in your home isn't guzzling up copious amounts of electricity due to its lack of energy efficiency.
What's the difference between the old and new rating systems?
The new rating system which was introduced in March 2021, ranges from A to G and is a much stricter rating system in comparison to the previous A-plus system.
The old rating system that you are familiar with, ranged from D to A+, to A++, to A+++.
However, it failed to take into account any technological advances that were made to home appliances.
As a result, this left many people unable to properly determine the energy efficiency of certain products.
For instance, 88% of washers on sale are currently rated A+++, making it difficult to select the most energy-efficient one on the market.
However, the EU aims to rectify these problems with their phasing in of the new much stricter labelling and rating system, which will allow you to establish:
The energy efficiency of a product

The amount of electricity in

kWh

consumed per cycle, per 100 cycles, or per annum

The amount of water consumed per cycle

The noise level of the product
Be prepared for the rating of your appliances to change
As previously mentioned the new rating scale is much stricter and is designed so that very few products are initially able to achieve the A or even B rating, leaving space for more efficient products to be included in the future.
It's also a simpler scale going from A to G.
For example, your fridge that was rated A under the old system will now only be rated C or D. This does not mean the energy efficiency of your refrigerator has decreased since the new labels came in. It is just because the new rating scale is held to a much higher standard, with stricter criteria.
The EU hopes that this rescaling will encourage manufacturers to produce more energy-efficient products, which in turn, will help the environment.
How do I read the new energy efficiency label?
The new energy label will keep the green to red colour scheme found on the old energy labels, green will continue to represent the most energy-efficient products, with red representing the least.
However, the new label will not have a blue outline around the border.
Each label will include:
A QR code:

This is found on the upper right-hand side. You can scan it with your mobile to find out additional information about the product.

An energy efficiency class:

The appliance will be given a letter rating from A to G. A being the most efficient, G being the least efficient.

The energy consumption of the product

: This will indicate the amount of energy used by the product in kWhs. It will be measured per cycle, per 100 cycles or per annum depending on the appliance type. This will allow you to establish a more accurate cost-of-use estimate. The lower the kWh, the less energy the product will use and the more money you will save on your energy bills.

Previously, only the energy consumed per annum was measured under the old labelling system.

A noise measurement:

This indicates how loud a machine is in decibels (dB) during a cycle. The noise is measured on a four-point scale from A-D which will indicate how loud a product is.

A water usage measurement:

This shows how much water is used per cycle.

Other measurements
Certain household appliances will have extra information on their labels. These other measurements include:
An eco mode:

Laundry appliances and dishwashers will have an eco-rating on their label. This shows how much energy is consumed when it is turned on to the most energy-efficient mode.

Maximum load capacity:

This can be found on the labels of fridges, freezers, dishwashers, and washer-dryers for example.

Duration of a cycle when at full capacity:

This indicates how long it takes for a product to finish a cycle. This is useful when comparing the length of time it takes to run a cycle of a product on full or eco mode.
It's important to note that the label found on a washer-dryer will be divided into two sections. The washing cycle will receive its own energy efficiency rating and values, while the dryer will have its own scale rating and set of values.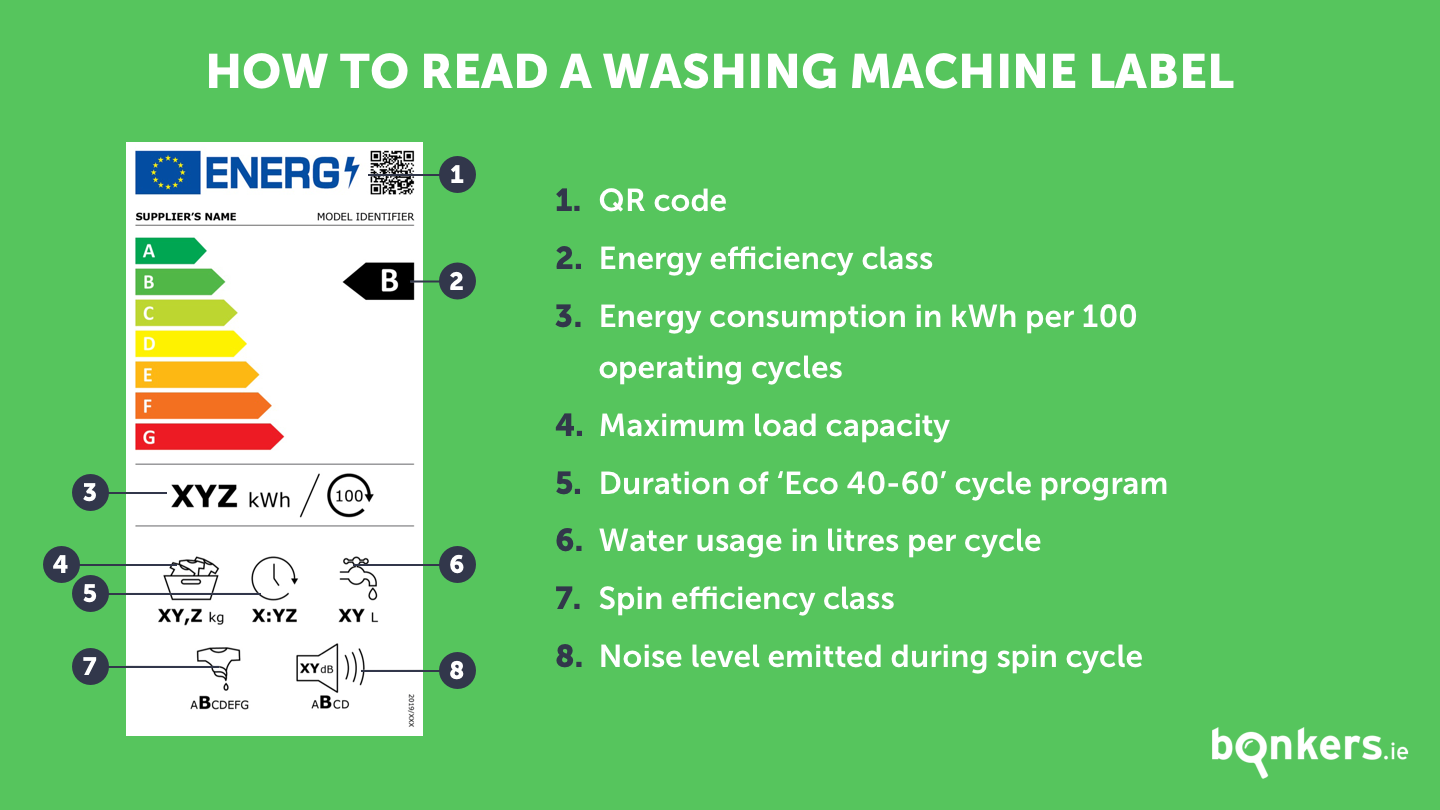 What household appliances have energy efficiency labels?
According to EU law, the household appliances that must display the EU energy label include:
Fridges and freezers*

Dishwashers*

Washing machines and wash-dryers*

Electronic displays including TVs and monitors*

Lighting products*

Domestic ovens

Range hoods i.e. extractors

Stoves

Tumble dryers

Electric showers
*These appliances have been rescaled to use the new energy labels. The other products are currently still using the old energy label system, however, from 2022 the new energy labels will be phased into use with them too.
Calculating how much your appliance will cost you
Figuring out how much an appliance will cost you per cycle, per 100 cycles, per annum or per 1,000 hours (if it is a TV) may be a deciding factor in whether or not you are going to invest in a certain appliance.
This is why we decided to break down how much it will cost you to run certain appliances at different energy ratings per 100 cycles and per annum.
Cost per 100 cycles:
| | | | | |
| --- | --- | --- | --- | --- |
| Product | Rating | Energy based on 100 cycles | Cost | Cost per 100 cycles |
| Dishwasher | C | 74kWh | €0.43 per kWh incl. Vat | €31.82 |
| Dishwasher | F | 103kWh | €0.43 per kWh incl. Vat | €44.29 |
| Washing machine | C | 66kWh | €0.43 per kWh incl. Vat | €28.38 |
| Washing machine | F | 88kWh | €0.43 per kWh incl. Vat | €37.84 |
Cost per annum:
| | | | | |
| --- | --- | --- | --- | --- |
| Product | Rating | Energy based on per annum | Cost | Cost per annum |
| Fridge | C | 149kWh | €0.43 per kWh incl. Vat | €64.07 |
| Fridge | F | 395kWh | €0.43 per kWh incl. Vat | €169.85 |
If you want to discover what household appliances cost the most money to run, check out our guide here.
Lower your energy bills on bonkers.ie
Having energy-efficient appliances in your home will help lower the cost of your energy bills. However, the savings you will make from these products can only go so far.
In order to significantly cut the cost of your gas and electricity bills, you must switch energy providers each year to avail of their discounts for new customers.
On bonkers.ie, you can easily compare deals and switch energy suppliers in just a few clicks.
You can also use our other free comparison tools to find the best value deals and services available across broadband, banking, and insurance products.
Energy saving articles
If you found this guide helpful, take a look at our other articles on how to reduce your electricity consumption and electricity costs.
Keep up to date with all our energy-related news by reading our blog and guide pages.
Get in touch
Do you find the new energy labelling system easier to understand? Let us know today, you can contact us on Facebook, Twitter, and Instagram.