This article is quite old, you might prefer our latest
Mortgages
pieces
Latest figures from the Central Bank show that Irish mortgage holders continue to pay way higher interest rates than most of our European neighbours. So why are we paying so much and what can be done?  
According to the Central Bank, the average interest rate on a new mortgage in Ireland was 3.03% in April. Although low for Ireland by historical standards, this is an increase from 3.00% in March, and compares to an average rate of 1.70% across the Eurozone and just 0.70% in Finland - a country with a similar population to Ireland.
In fact after Greece, Ireland has the highest mortgage rates in the Eurozone!  
First-time buyers paying significantly more
According to the Banking and Payments Federation Ireland, the average first-time buyer loan is now around €225,000. What this means is that a first-time buyer who takes out a mortgage of this size in Ireland over 30 years is paying an extra €154 a month compared to the rest of the Eurozone based on average rates. 
This equates to an extra €55,440 over the lifetime of the loan.
| | | |
| --- | --- | --- |
| Ireland monthly repayment | Eurozone monthly repayment | Finland monthly repayment |
| €952.25 (3.03% average interest rate) | €798.30 (1.70% average interest rate) | €693.10 (0.70% average interest rate) |
The figures also show that the popularity of fixed rates continues to rise and these now account for over 70% of new mortgages. However, this is still below European norms where over 80% of mortgages are fixed.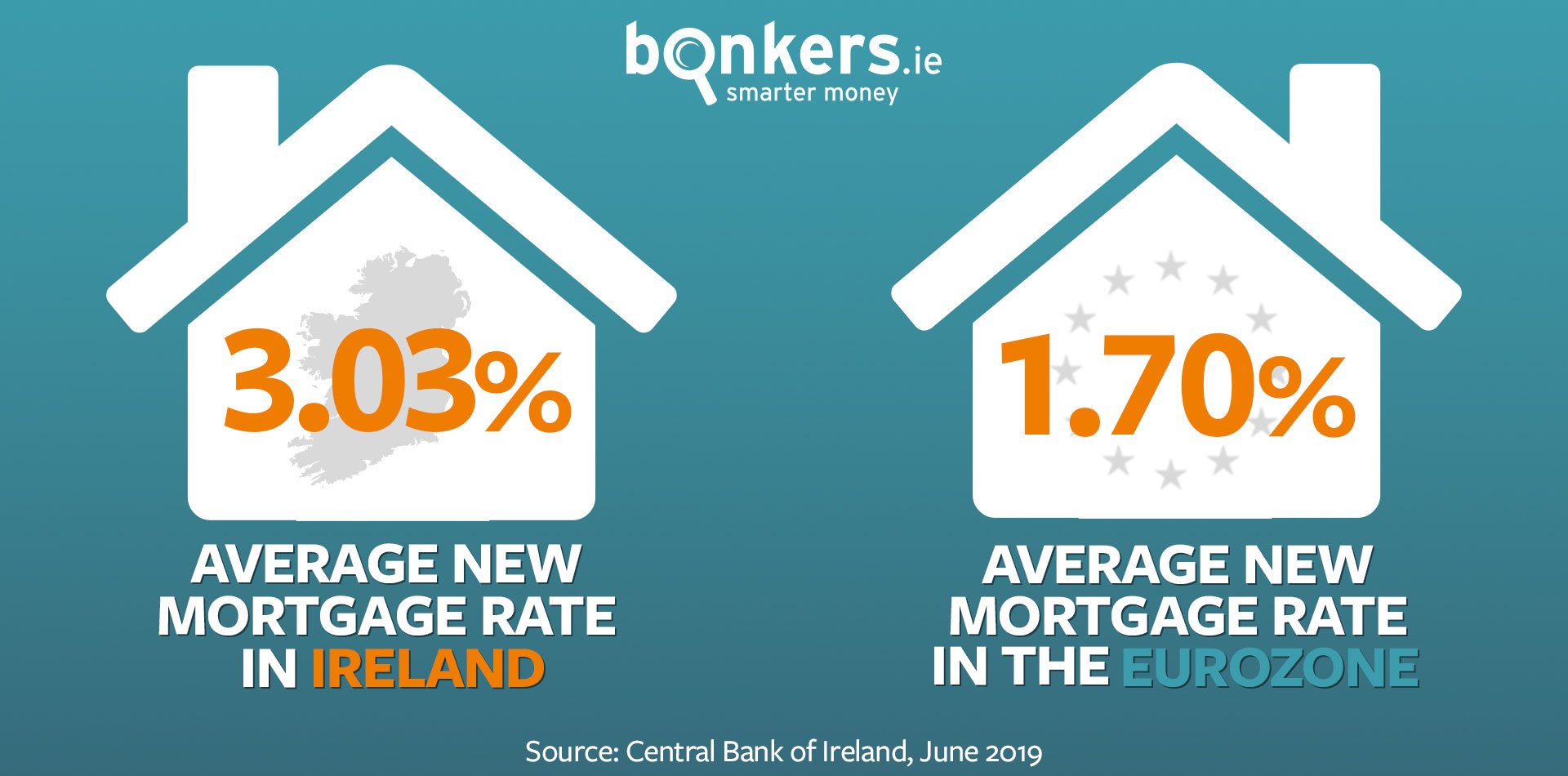 Why are mortgage rates in Ireland so high?
There is still a lack of competition in the Irish mortgage market as it remains heavily concentrated in the hands of a few main banks; mainly AIB, Bank of Ireland, and to a lesser extent Ulster Bank. And although competition in the market has heated up in recent times, it's still below where it should be and this has lead to higher rates.
Irish banks also have a large number of tracker mortgages on their books. These ultra low-rate mortgages make little money for the banks, so they're recouping their losses by charging new customers much higher rates.   
There are several other reasons too. See here for a more in-depth look at why mortgage rates in Ireland are so high.
What can people do to combat high rates?
If you're a first-time buyer who's at the start of their mortgage journey, make sure you do your research and shop around. Remember that you don't have to be an existing customer with a particular bank to get a mortgage off them.
There's now a huge variation in interest rates and cashback incentives across all the different lenders so find out who's offering the best deal for you. While the average interest rate is 3.03%, there are rates on offer as low as 2.30%. 
And if you already have a mortgage, then look into switching. In recent times Irish mortgage holders have been reluctant to switch, which is crazy given the potential savings involved.
Many lenders now have dedicated switch teams in place to make the process as easy as possible so it often won't be as much hassle as you think it might. And while there are costs associated with switching mortgage provider, in some cases banks will provide a cashback incentive to those who switch or a contribution towards the legal fees. 
To see exactly how much you could save by switching, check out our handy mortgage calculator.