Which bank has the best mortgage rates for first-time buyers?
Applying for a mortgage to buy your first home is likely to be one of the biggest financial decisions of your life, so naturally it's important to understand each step of the process and understand all of your options before taking any definitive action. In this article, we compare the best mortgage rates currently on offer to first time buyers across all of Ireland's major banks and financial institutions.
One of the fundamental steps of the mortgage application process is to decide whether you're going to go with a fixed or a variable rate to make your monthly mortgage repayments. Each method has its advantages and disadvantages but ultimately, the most appropriate method for you will come down to your own personal preferences as well as your financial situation.
Though variable rates are traditionally the more popular option in Ireland, the popularity of fixed rates has been on the rise for the last while, so don't be too quick to write one method off over the other when you are considering your options.
Below you'll find a comparison first of the best variable rates available to first-time buyers, followed by the best fixed rates (based on a 3 year fixed term). These comparisons were made using the following figures; a first-time buyer property worth €250,000 seeking a mortgage loan of €225,000 over 30 years.  
The best variable rate mortgages available to first time buyers:
| | | |
| --- | --- | --- |
| Provider | Interest Rate | Monthly Repayments |
| | 3.15% | €966.91 |
| | 3.15% | €966.91 |
| KBC* | 3.30% | €985.40 |
| | 3.60% | €1,022.95 |
| | 3.70% | €1,035.64 |
| | 3.70% | €1,035.64 |
| | 3.90% | €1,061.25 |
| | 4.50% | €1,140.04 |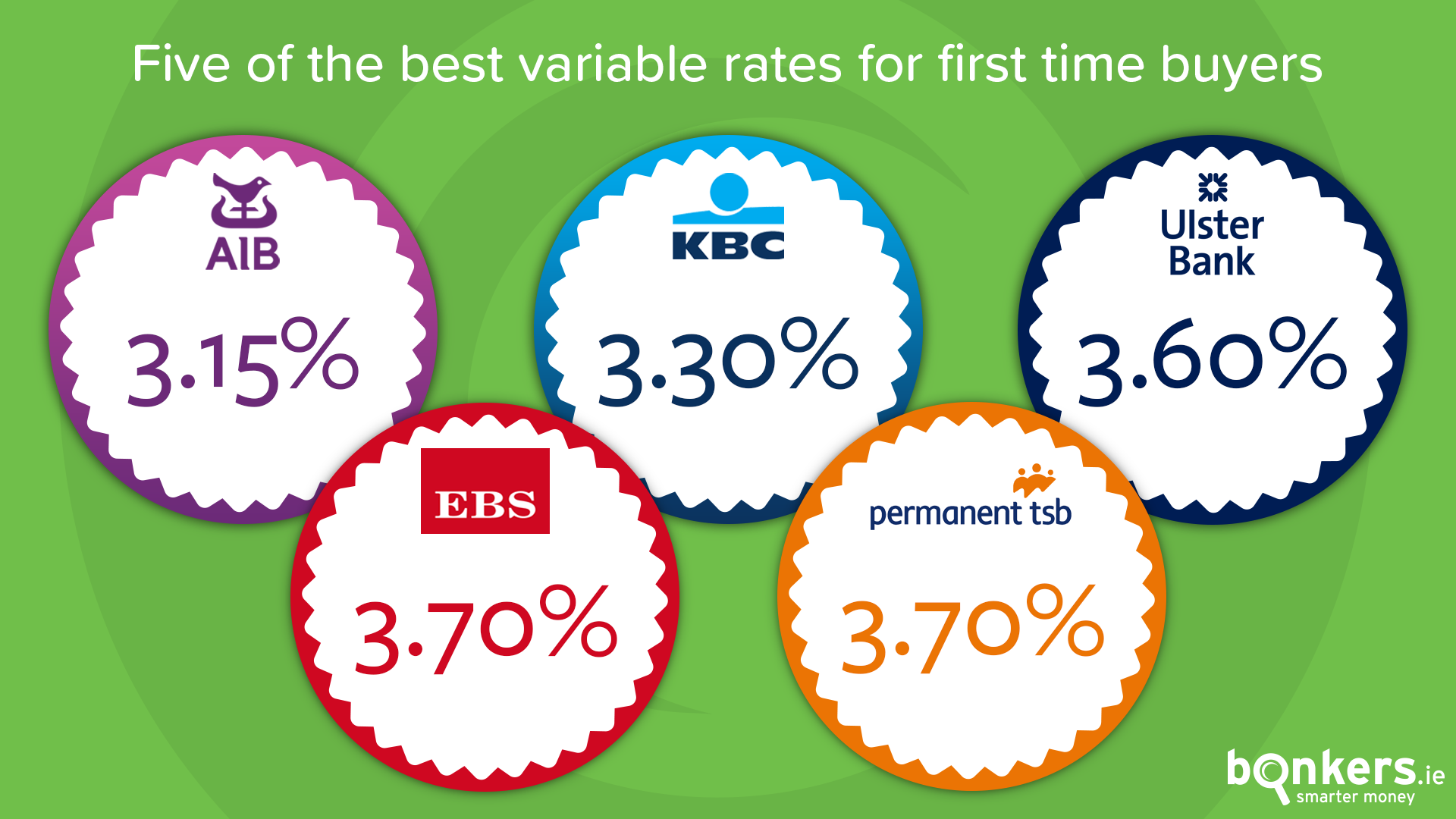 From the above table, we can see that the providers offer similar rates but keep in mind that they also offer different incentives to sweeten the deal, designed to entice you to choose them over another provider.
For instance, both AIB and KBC are offering discounts off of home insurance (30% and 25% respectively), Ulster Bank is offering €1,500 towards legal fees and both EBS and Permanent TSB are offering 2% of the initial drawdown amount of your mortgage back in cash.
Offers such as these are certainly worth considering and it's particularly easy to understand the lure where cashback offers are concerned - it's wonderful to finally secure your dream home with a mortgage but it's not much good if you can't afford to furnish it! Using the same example from above, if you were to take out a €225,000 mortgage with EBS or Permanent TSB,  the 2% that you would get back in cash amounting to €4,500 is certainly nothing to be sniffed at.
Permanent TSB has also recently made moves to sweeten their cashback offer even further; in addition to the existing 2% cashback at drawdown offer, the bank will now also pay new mortgage customers 2% of their monthly mortgage payment each month directly into their current account (providing that they have a Permanent TSB Explore Account).
Certainly tempting, but before you're swayed by any lucrative cashback offers, spend an equal amount of time considering their value over the lifetime of your loan.
It also hardly goes without saying that the above-quoted rates are variable, ergo, they will be subject to change. This means that the cost of your monthly repayments could go up, but you could equally benefit from falling rates. When you decide to go with a variable rate, it's important to anticipate increases particularly, to ensure that you don't run the risk of losing your house should you fail to be able to meet your repayment requirements.
If you prefer the predictability of fixed rate mortgages, read on…
The best 3-year fixed rate mortgages available to first time buyers:
| | | |
| --- | --- | --- |
| Provider | Interest Rate | Monthly Repayments |
| | 2.90% | €936.52 |
| | 3.00% | €948.61 |
| KBC* | 3.00% | €948.61 |
| | 3.00% | €948.61 |
| | 3.15% | €966.91 |
| | 3.20% | €973.05 |
| | 3.20% | €973.05 |
*These rates are reserved for customers who also hold current accounts with the banks mentioned. Find how switching current accounts could help you find a better mortgage rate.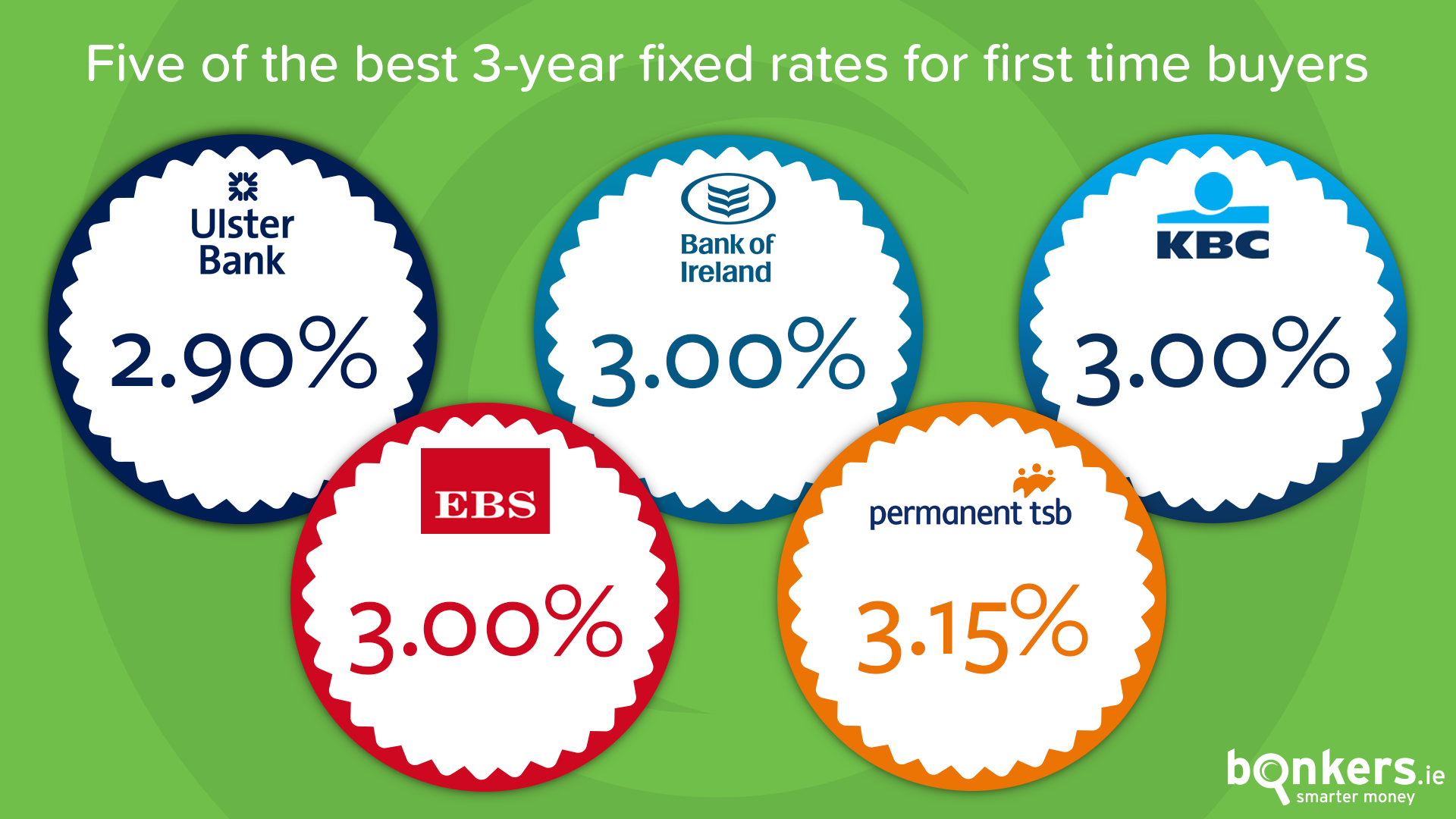 From a quick glance at this second table, it would appear that fixed rate mortgage customers are getting a better deal as compared to variable rate customers. This is true - for now - and fixed rate customers can take comfort in the stability that fixed rates afford. They can rest easy in the knowledge that their rate will not increase for the duration of the fixed term. However, it also means that they won't be able to benefit from falling rates and it could well be the case that the customer on the variable rate ends up paying less in the long run than those on fixed rates. The best fit for you will come down to the value that you personally put on stability and predictability.
That being said, the banks also offer great incentives to fixed rate customers. As with variable rates, both AIB and KBC are offering discounts off of home insurance (30% and 50% respectively), Bank of Ireland is offering up to 3% cashback and Permanent TSB and EBS are also offering 2% cashback.
Take time to consider all of your options
Be aware that the above options are not exhaustive and are based on a singular example. It's also important to note that they don't list the various term and conditions of each rate that you'll have to meet in order to qualify.
To be sure that you've considered all of the options available for your particular circumstances, run your own comparison using our mortgage calculator. It's quick, free and easy to do and will certainly help you on your journey to purchasing your dream home.
---