Banking
10 things to consider when purchasing an electric vehicle
Electric vehicles have really increased in popularity over the past few years, and with a multitude of benefits, it's easy to see why.
Considered cheaper to run and more environmentally friendly than fuel-powered cars, electric vehicles are an attractive prospect for motorists, especially with the wide range of grants available.
Seeing the Government hopes to have 1 million electric vehicles (EV) on the road by 2030, you may want to consider if having an EV is an option for you.
To help you make this decision, we've outlined all the things you need to consider before investing in an electric car.
1. The type of electric vehicle (EV) to get
You will need to decide what type of electric vehicle is the right one for you, by choosing from either a battery electric vehicle (BEV) or a hybrid electric vehicle.
Battery electric vehicle (BEV)
A BEV is a fully-electric vehicle. It runs solely on battery power and has an electric motor. This means that it does not use petrol or diesel to power it, nor does it have an internal combustion engine. You will need to charge it if you want this car to run.
Hybrid electric vehicles (HEV) or (PHEV)
In comparison, a hybrid electric car does have an internal combustion engine, and it uses a combination of electric power and petrol or diesel to propel the car. Hybrid cars can be either 'plug-in'(PHEV) or 'non-plug-in' (HEV).
A plug-in EV garners its power from fuel and from charging your car battery at a power station.
In comparison, the non-plug-in EVs, will never have to be plugged into a charging station. They are powered by fuel, their internal combustion engine, and the energy that is recovered from driving the car such as the traction that comes from using the car's brakes.
For those who worry that a battery-electric vehicle may not have the range to get them from A to B, a hybrid car may be the perfect option for you.
This is because hybrid cars have a similar driving range to traditional petrol or diesel-powered vehicles, as they have a backup fuel source for longer journeys.
Also, if you do not live in an area with a lot of charging stations, being able to fill up your tank with petrol or diesel can ensure that your vehicle is always ready to use.
If you need help determining what type of EV suits your needs best, you can use the Sustainable Energy Authority of Ireland's (SEAI) EV calculator. This free tool will allow you to compare the different EVs available on the Irish market and see how much you could potentially save in both costs and emissions.
2. Your needs

The allure of having one of these state of the art, environmentally-friendly vehicles has many drivers considering a transition to electric driving.
However, before you make this investment you need to ask yourself do you actually need one?
To establish this it is advisable to sit down and calculate your annual mileage, which will give you a better indication as to whether an EV is a worthwhile investment for you.
It will also allow you to figure out what size battery you need in your car. Generally, the larger the battery, the more expensive the car is, but it will travel a longer distance on one charge.
3. Where you would charge your car
Being able to power your car is the most important aspect you need to consider when purchasing an EV.
According to the Sustainable Energy Authority of Ireland (SEAI), 80% of EV drivers charge their cars at home, while the rest use their workplace or public service stations to do it. For example, ESB operates and maintains over 1,385 public charge points for EVs in Ireland.
For high mileage drivers having a home charging station is necessary. This is because it typically takes an entire night to charge your vehicle hence why it is worthwhile to have a charging station, known as a wallbox, at your home.
If your house has off-street parking, it should be easy to get one installed.

To learn more, take a look at our guide on everything you need to know about charging your electric vehicle.
4. The price tag
Undoubtedly, the price you pay for a new car is one of the main considerations.
Compared to petrol or diesel-powered cars, the price of a new electric car can be anything from 15% to 50% higher.
Prices can vary vastly for an electric vehicle in Ireland, with the cheapest electric cars typically starting at around €27,000. For more premium makes and models, you can expect to see prices of €60,000 or more.
However, the good news is that there are numerous grants available, which can help soften the financial blow.
5. Grants and discounts available
Although electric cars are expensive to buy, there are grants and discounts available in Ireland that will incentivise your purchase.
The Department of Transport has issued a wide range of supports such as:
A grant of up to €3,500 for those looking to purchase a new privately-owned BEV. Note, if your BEV is €60,000 or more you will not be eligible for this grant.

A Vehicle Registration Tax (VRT) relief of up to

€

5,000 for BEVs. The amount you receive will depend on the value of the car.

A toll reduction of 50% for BEVs and 25% for PHEVs.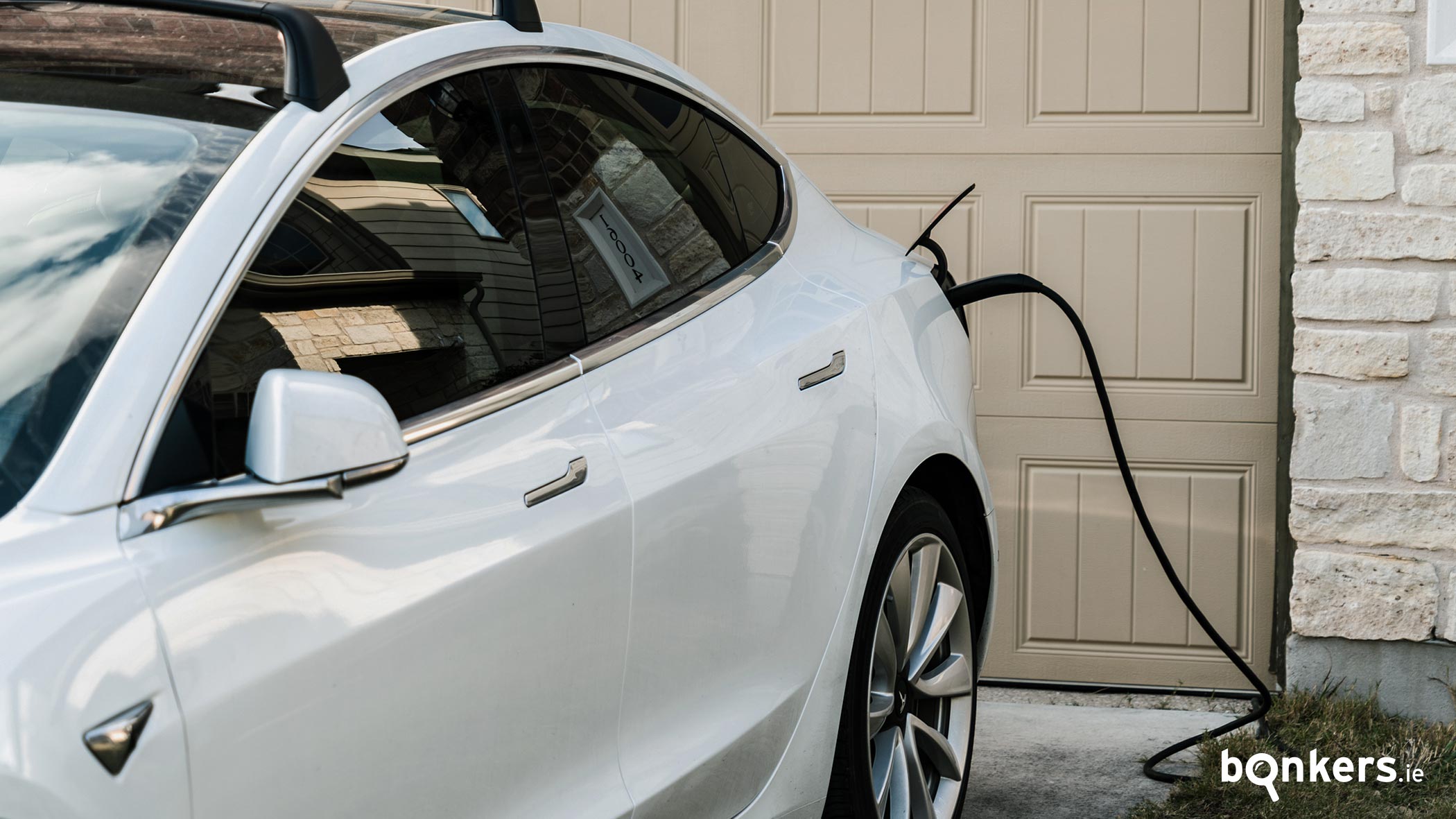 Home charging unit grants
SEAI offers a Home Charging Grant of up to €600 for the purchase and installation of a charging unit at your house.
Similarly, an Apartment Charging Grant has just become available this year, so apartment owners can also be subsidised for the installation of a wallbox at their home. Learn all about the installation of domestic chargers from Michele Collins, Senior Account Executive from Wallbox on our EV podcast special.
You can apply for these grants through car dealerships. If you want to learn more about these supports check out our guide on EV grants here.

6. The cost of running an electric vehicle
EVs are reportedly 70% cheaper to run and maintain than diesel or petrol cars:
EVs contain fewer mechanical moving parts, which are susceptible to wear and tear.

When being serviced, EVs don't require an oil and filter change. However, general mechanics, such as brakes, wheels, and steering wheels, still need regular checks.

While replacing the battery in an EV is expensive, most manufacturers offer warranties of up to 8 years on their batteries.
BEVs fall into the lowest motor tax rate in Ireland, meaning you'll only pay €120 annually.
7. The environment
Many people opt to purchase an EV because it is the greener alternative to fuel-powered vehicles, which emit harmful gases, such as CO2, into the air.
Although EVs are not 'zero emission' vehicles, they emit much lower amounts of harmful gases in comparison to traditional cars.
Zero tailpipe emissions
In fact, they have zero tailpipe emissions, so by driving a battery-powered car you are improving the air quality in your area. This is extremely beneficial in urban areas which are often choked by the fumes born from petrol and diesel-powered motors.
Improve noise pollution
Choosing to drive electric can also improve noise pollution in your area as they make little to no noise. In contrast, the engines in traditional cars make a lot of noise such as revving sounds when being driven.
Be conscious of your carbon footprint
Before you decide to ditch your current car for its more environmentally friendly counterpart, you must ask yourself if having an EV is necessary?
Although EVs have been proven to reduce drivers' carbon footprints, if you have a perfectly functioning car, there may be no point in replacing it with an EV.
In fact, it could be more harmful to the environment if an influx of relatively new petrol-powered cars were abandoned for EVs. This is down to waste issues, and the pollution caused by abandoned cars and the producing of new ones.
8. The range
Motorists often worry about an EV's range not being sufficient to reach their destination, a concept known as 'range anxiety'.
With technological advancements, this anxiety has diminished. However, it's still important to consider the range of an EV.
Typically, the average range of most new electric vehicles is between 250km and 350km, with some EVs even travelling between 500km and 600km on a full charge.
To put this into perspective, driving from Dublin to Galway would be approximately 210km, making a round trip 420km. This means that with many BEVs, drivers would need to factor in time to recharge their car.
As mentioned before, those with a hybrid car won't experience this issue.
9. Consider a second-hand EV
Another way you can reduce your carbon footprint even further with electric vehicles is to consider buying a second-hand EV, rather than a new one.
You can find plenty of high-quality pre-owned EVs on the market, ranging from 2-7 years old.
To ensure you are investing in a car with a healthy battery life that will live up to your expectations, you should:
Review the car's service history:

This is especially important if you are importing the vehicle, as you may not be able to visit your local dealer if an issue arises.

Enquire about the status of the warranty on the car's battery:

To discover when the battery warranty expires and whether it is transferable to new owners contact the EVs manufacturer's customer service department. Tell them your vehicle's identification number and they should be able to help.
10. The fun factor
Simply put, electric vehicles are fun to drive. In fact, they're famous for it. Unlike fuel-powered cars which need the build-up of their engine to reach maximum power, EVs can almost instantly accelerate from a standstill position.
For instance, a Ford Mustang Mach-E GT, can accelerate from 0-60mph in 3.5 seconds, while a Volkswagen ID.4 GTX can do this in 6 seconds.
Due to the battery pack in EVs being positioned at the centre of most cars, the centre of gravity is lower, providing a more balanced weight distribution.
This allows for a smoother, more powerful and therefore more pleasurable drive.
Get car insurance on bonkers.ie
Whether you decide to invest in an EV or not, you won't be able to drive on Irish roads without car insurance.
Thankfully, here at bonkers.ie you can use our free car insurance service to find an affordable policy that suits your needs.
All you need to do is provide us with information on your car and driving history, and we will provide you with a direct quote from the insurer.
If you're looking to save money across your other household expenses check out our range of other comparison tools. We have services that will help you lower the cost of your energy, broadband, banking, and other insurance bills on our site.
Lower the cost of running your car
Having a car, whether it's an EV or petrol or diesel-powered vehicle can be expensive. So we have compiled our top tips on how to lower your car expenses in the guides below.
If you want to stay up to date with our car-related news, keep an eye on our blog and guide pages.
Get in touch
Are you thinking about purchasing an electric car? What is causing you to switch to electric driving? Let us know today. Send us a message on Facebook, Twitter, or Instagram.