Latest figures from Eurostat on energy prices across Europe show that electricity prices in Ireland are 26% above the EU average, behind only Germany, Denmark and Belgium.
Nothing's ever really cheap in Ireland. Whether it's food, drink, transport or rent, the price of everything here seems to be above the EU average. And according to the latest figures from Eurostat, the EU's statistical agency, we can add electricity to the list too!
The figures
At 29.74 cent per kWh (inc. VAT and levies), prices here are 26% above the EU average of 23.69 cent and trail only Denmark, Germany and Belgium, according to the latest figures for the second half of 2021.
This means the average household in Ireland is paying over €254 extra a year for their electricity compared to the EU average.
Prices are lowest in Hungary (10.01 cent), Bulgaria (10.91 cent) and Croatia (13.13 cent).
Electricity prices rose in 25 EU member states in the second half of 2021, compared with the second half of 2020. The largest increase was seen in Estonia, where prices rose a whopping 50%, followed by Sweden (+49%) and Cyprus (+36%).
Slovakia (-6%) and Hungary (-0.1%) were the only countries to see prices fall. However prices in both these countries are regulated.
Overall, electricity prices have risen by just over 11% across the entire EU over the past year and are up 41% compared to 2008 and are now at record levels. However the latest report doesn't capture the full extent of the energy crisis as the figures would have been compiled long before the war in Ukraine broke out and before many suppliers increased their prices again at the start of 2022.
The same report showed Ireland has the eighth most expensive gas in the EU, however prices are practically the same as the EU average, at 7.82 cent per kWh.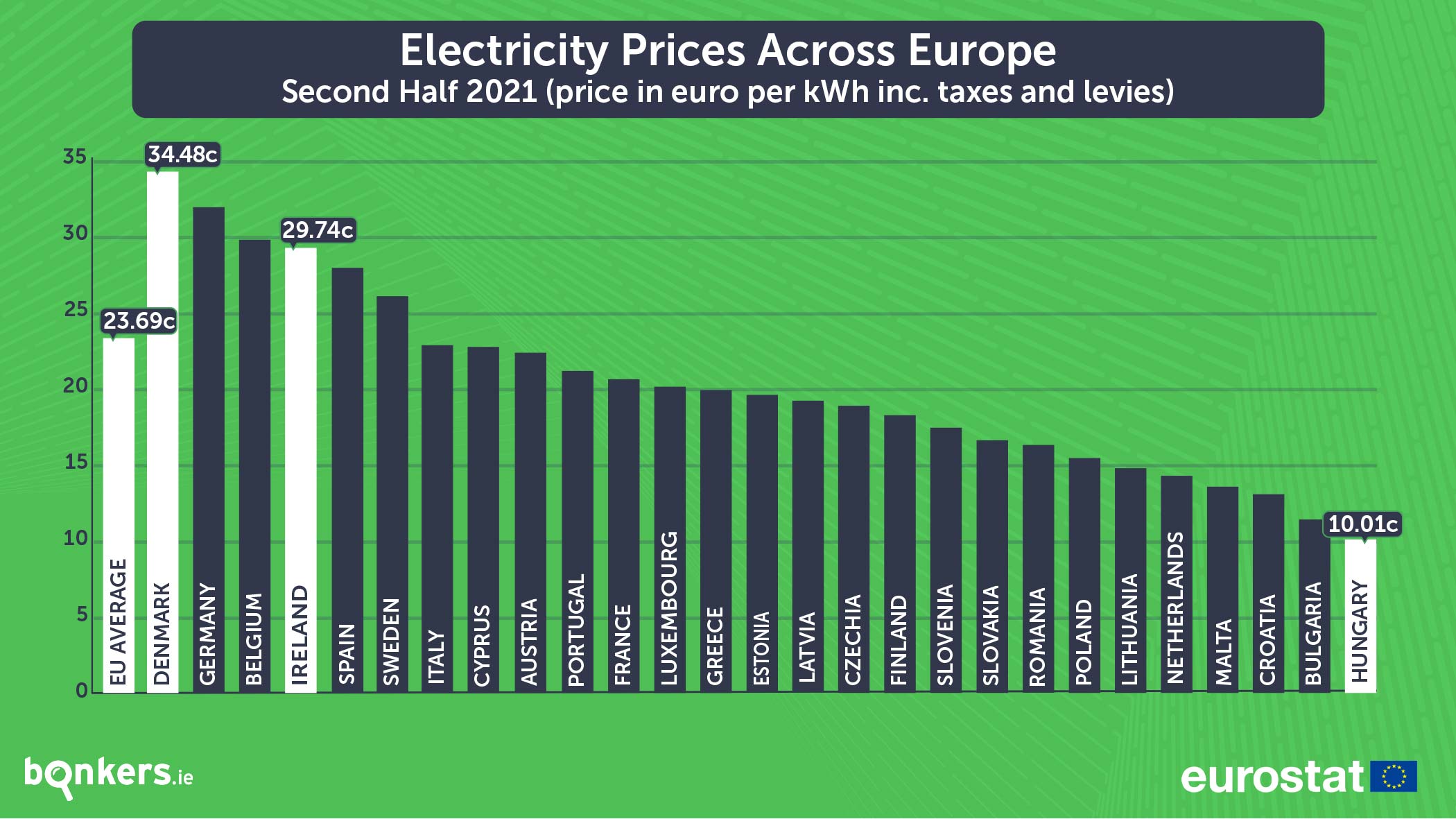 Why are electricity prices so high?
This question has been asked many times and there is no one single answer.
However a lot of electricity in Ireland is still generated by burning gas and coal, a lot of which has to be imported and which is volatile in price. And because Ireland is an island on the edge of the Atlantic, there's an added cost in getting it all here.
What's more, although our level of renewable energy has increased hugely over the past decade, and now accounts for over 30% of the electricity that we generate, it's still slightly more expensive to produce than non-renewable energy according to most experts.
Another cost driver relates to the relatively dispersed and low density of Ireland's population. This means that per head of population, we need more high voltage wires, pylons and electrical lines than in many other countries in order to have a safe and secure supply of electricity, which puts upward pressure on the price of electricity too.
For more information on why energy prices in general are on the rise, check out our recent blog post on the topic.
Does tax contribute to higher electricity prices?
Believe it or not, energy is one of the few products where Irish consumers are taxed relatively lightly compared to the EU average. While government taxes and charges such as VAT and the PSO levy make up around 20% of the final price paid for electricity by consumers in Ireland, it's around 36% on average in Europe - which is a decrease from around 40% last year but an increase from around 31% in 2008.
This means that when you look at the net price of electricity that suppliers here charge - by excluding government taxes and charges - prices in Ireland are actually the most expensive in the EU.
This means that if the Government were to increase taxes and levies on electricity to bring us into line with the EU average or to try meet environmental goals, consumers would be faced with the highest electricity prices in Europe by far.
What can you do?
Gas and electricity prices are currently at record highs across Europe.
So if you're looking for better value or are struggling with your energy bills then the simple solution is to look at switching energy supplier.
There are huge discounts available to those who switch with electricity prices as low as around 20 cent per kWh on offer for an entire year. This would make your electricity only about the ninth dearest in the EU – on a par with France. It's quick and easy to switch and can all be done online in the space of a few minutes and will save the average customer over €700 a year. However if you live in a poorly insulated property or a home with more than three bedrooms, your savings could be even greater!
Use our energy price comparison service to see what you could save and make the switch today.
Alternatively, you might want to consider a long-term solution, such as retrofitting your home. As well as saving money on your energy bills, retrofitting can help you reduce your carbon footprint. However, this can require substantial investment, so why not review your finance options here to learn more about various grants and green loans, if interested.
Don't forget that you can always change your habits around the home to save money on electricity bills, too. Take a look at our recent post on 15 ways to use less electricity and save money to learn more about how you can start to reduce your energy consumption today.
What do you think?
Are you surprised by the recent Eurostat figures? Will you be making changes to reduce your household electricity bills? Get in touch with us in the comments below and let us know.
If you have any questions, you can contact us through our Facebook, Twitter and Instagram pages.