Come early January it can always be a bit of a struggle trying to make ends meet. Yet every year people make things harder for themselves by paying more than they need to for their household bills. Which is why we're encouraging everyone to save big this year by taking the bonkers.ie Switching Challenge!  
Switching providers can save you a bundle each year and help you keep more of your hard-earned money in your own wallet.
However switching bills can seem daunting to some people and many think it's far more complicated than it actually is. Which is why we're here to tell you how easy it can be.
Why is it important to switch?
Because switching saves.
As annoying as it sounds, businesses almost always save their best deals for brand new customers and rarely reward loyalty. So if you've been with your current supplier for a few years or more, the simple truth is that you're probably overpaying.
So if you want to save money on your bills then you need to always be a new customer. Or in other words, switch.
Save up to €5,000
By switching mortgage (€200 to €300 a month), energy supplier (€267 a year), broadband and TV (up to €500 a year), current account (over €150 a year), health insurance (€500 a year) and mortgage insurance (up to €10 a month), you could save up to €5,000 a year by switching these bills alone.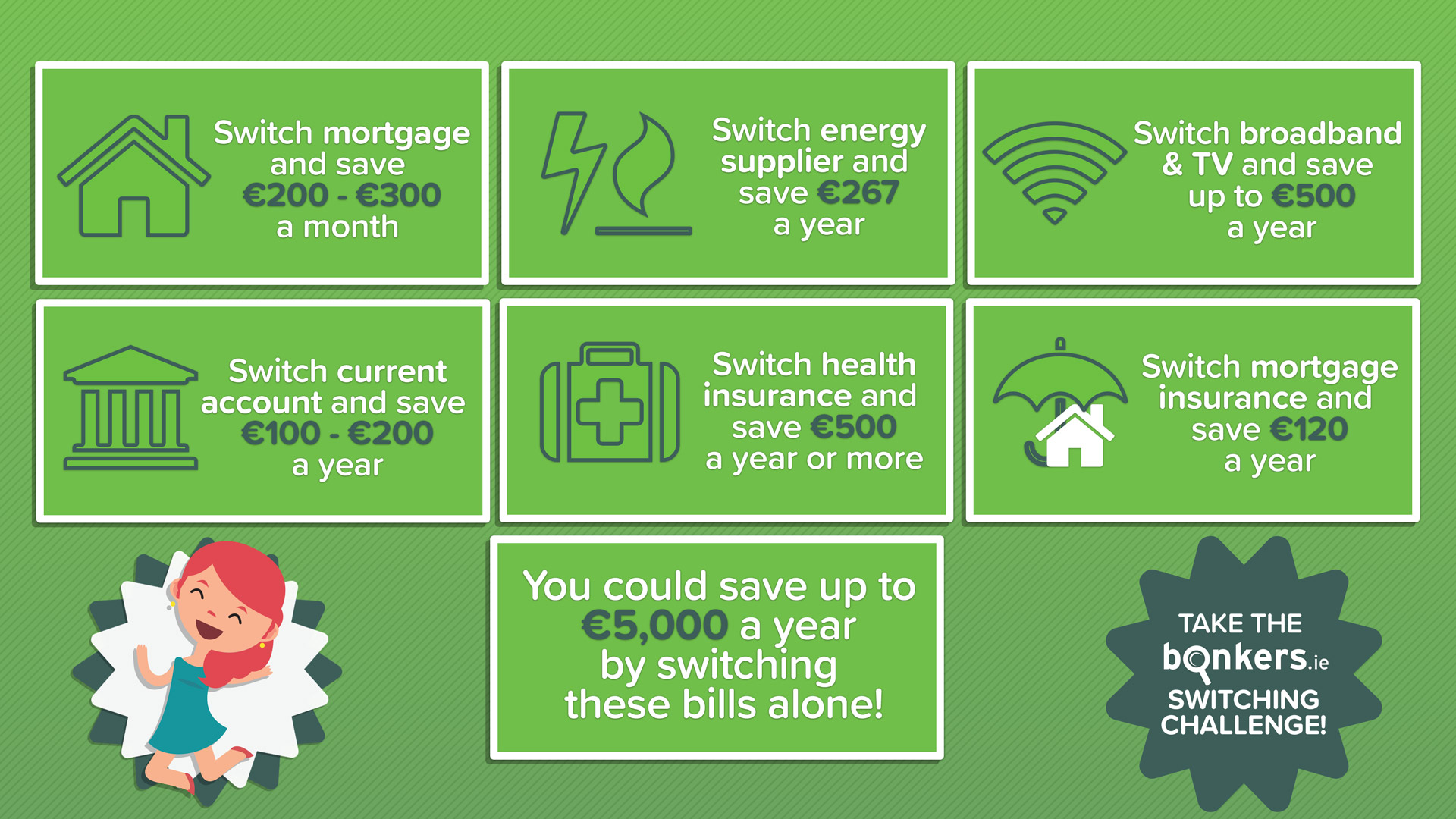 Is switching worth the hassle?
We can understand that with all of the running around and chasing tails that is done most weeks, the last thing you might want to do when you get home and put your feet up for the evening is to switch utility providers.
But switching gas and electricity supplier is quick and easy and can all be done online in the space of a few minutes with no need to make any calls or deal with any paperwork. And you can place a new order for your broadband and TV with us online or over the phone in just minutes too.
Switching bank account or mortgage will take a little more work but the good news is that the Central Bank has recently introduced new rules to make the mortgage switch process easier. And while you're switching mortgage, your new bank might be able to get you cheaper mortgage protection too.
In other words, you've no excuse not to switch.
Get switching!
The easiest money you'll ever earn is the money that you've saved as they say. So throughout the rest of January, we'll be giving you advice on how to switch and save on your mortgage, current account, insurance, energy bills, broadband and TV, and health insurance. So stay tuned!
Start the bonkers.ie Switching Challenge today and save yourself thousands!
Get in touch
Have you switched any household bills recently? How did you find it? Get in touch with us with your switching stories as we'd love to hear from you. Comment below, Tweet us @bonkers_ie or message us on Facebook.