Proposed 40% PSO levy increase reduced to 30%
The Commission for Energy Regulation has revised its decision to increase the PSO Levy by 40% from October 1st. Instead, the increase will be of 30%, or €24.35 (incl VAT) per year. This will take the annual PSO Levy for all electricity customers in Ireland to €104.74 (incl VAT).
What is the PSO levy and why is it increasing?
The PSO Levy is a government subsidy which supports renewable energy generation in Ireland and helps secure the nation's energy supply. Since last year, it has been charged at a rate of €80.30 but, due to falling wholesale prices, an increase is necessary.
You see, some renewable electricity generators are part of a scheme called REFIT and are guaranteed a certain minimum price for each unit of electricity they generate. But when wholesale prices are too low to meet this guaranteed price, the PSO levy fund is needed to make up the difference.
Why has the PSO Levy increased by so much?
The PSO Levy is charged to all electricity customers through their bills. It is used to subsidise renewable energy generation, peat burning power plants, and to a lesser extent, biomass and hydro generation.
According to the Commission for Energy Regulation, this year's increase in the PSO Levy is primarily due to an increase in the level of renewable generation across Ireland.
In layman's terms, we have a whole lot more wind capacity than we did last year, and that needs to be subsidised at a higher rate than last year.
Supporting renewable energy in Ireland
The PSO Levy has increased most years since it was first charged in 2010, and the overall increases correlate closely with the increase in renewable energy generation in Ireland.
In 2010, Ireland produced just 12% of its electricity from renewable sources. In 2015, Ireland produced more than 40% of its electricity from renewables with the bulk of that coming from wind generation.
Wind generation has made such an impact on the Irish electricity market that on St Patrick's Day this year, wind generated electricity accounted for 60% of Ireland's total electricity consumption.
This has also had a knock-on effect on Ireland's need to import fossil fuels, particularly gas. Natural gas was used to produce 64% of Irish electricity back in 2010. By 2015, gas accounted for just 36% of total generation which is an extraordinary shift in such a short space of time, and would not have been possible without the PSO Levy.
Revised plans to this year's increase
Back in June, the CER announced that it was considering a 40% increase in the tax, which would have added an extra €32.28 to all annual electricity bills in the country.
But on July 28th, the "final" decision was made and a 30% increase was all that the CER deemed necessary.
Following its complete review of PSO cost submissions, the CER has adjusted the increase to just 30%, or €24.34 a year. So, from October 1st, all electricity customers will see a PSO Levy charge of €8.73 (incl. VAT) on their monthly bills, which totals to a charge of €104.74 (incl. VAT) over the course of a year.
The pros and cons of PSO levy increases
While price hikes are never greeted as good news by the public, the PSO Levy increase is a bad symptom of a very good problem when it comes to electricity prices.
When wholesale prices are high, less money is required to subsidise renewable generation because suppliers receive more money for the electricity that they produce meaning that the PSO levy decreases.
However, when wholesale prices are low, more money is needed to subsidise renewable generators and schemes that are supported by the PSO Levy, meaning that it increases.
The upshot of a higher PSO levy means that Ireland's commercial energy suppliers have more scope to lower prices and pass the savings on to you, the customers.
There's nothing electricity customers can do about changes to the PSO Levy, but the increase that's due to take effect from October 1st can be easily offset by switching to a cheaper price plan today.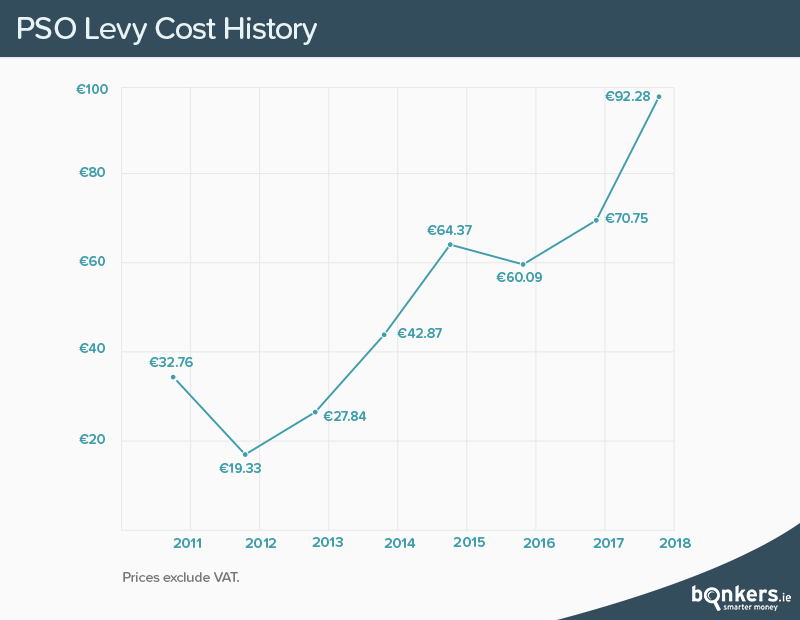 ---