It looks like the increase in wholesale energy costs have caused an uptick in contact with the CRU.
The Commission for Regulation of Utilities (CRU) released its Customer Care Team annual report for 2018 this week and it made for some interesting reading for us here at bonkers.ie.
As you may know, we love good customer service, but it is quite hard to measure.
Every year at our very own bonkers.ie National Consumer Awards in February there is a prize for the company with the best customer service. So when a report like this comes out it gives us a great insight into how customers are being treated by the biggest energy companies.
Causes of complaints to the CRU
Firstly the CRU gets a lot of contact from consumers across the board. However, it only carries out full investigations into what are known as 'complex complaints'. In short, these occur when a complaint cannot adequately be resolved between the customer and their supplier.
So what do people call up the CRU to complain about? Billing mainly.
In 2017 61% of complaints revolved around billing, with account issues e.g. incorrect details making up 15%. However, the number of people complaining about billing dropped to 39% in 2018.
In 2018 complaints about account issues jumped up to 22% with complaints about charges and tariffs rising to 13% during the same period.
In 2018 the CRU opened 274 'complex complaint' investigations in the energy sector, an 18% increase on last year. Meanwhile it managed to close 263. A closed complaint is where the CRU managed to resolve a complaint between the supplier and the customer regardless of who was at fault.
45% of complaints investigated were upheld in favour of the customer, 52% were not upheld, and 3% were settled by an early settlement offer.
How did the providers do?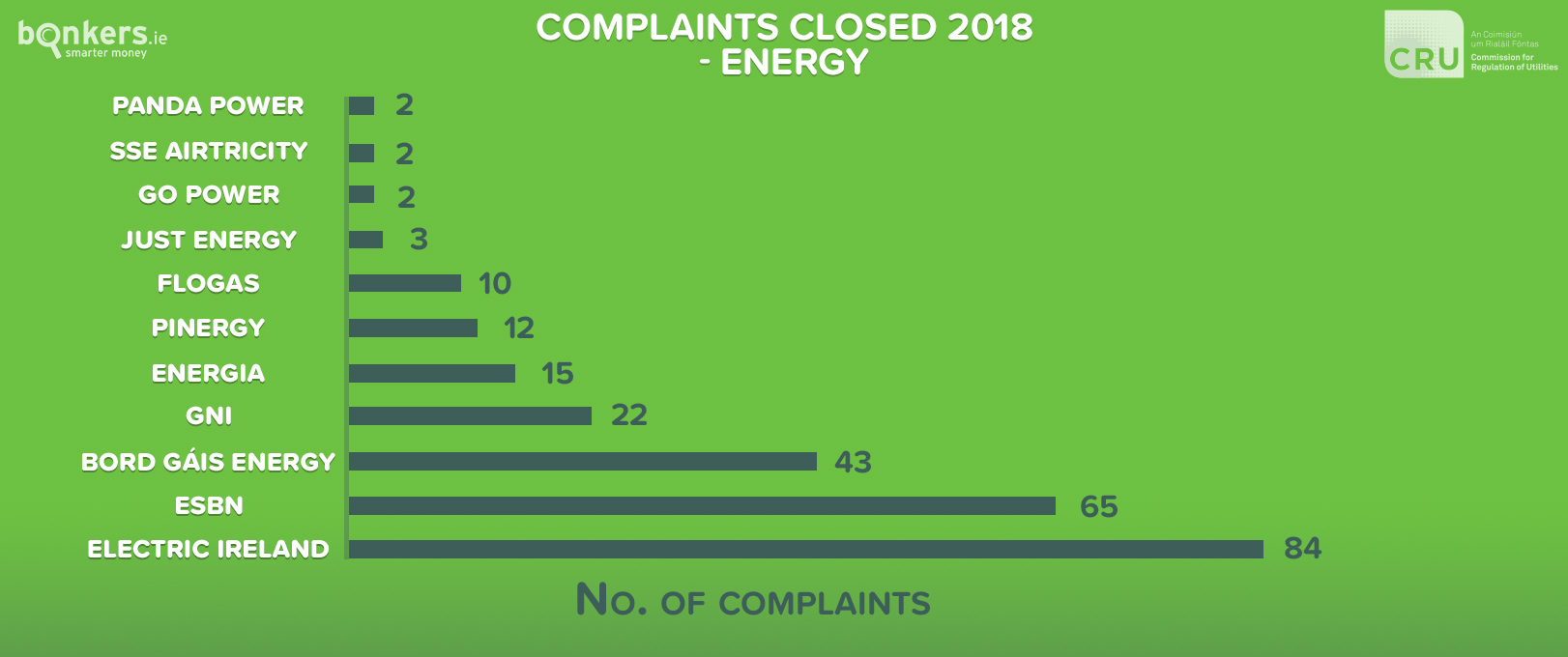 As we can see Electric Ireland had the most complaints against them closed in 2018. However, Electric Ireland does have by far the biggest market share so this isn't exactly representative of its customer service performance.
So next let's look at the number of upheld complaints versus market share.

Upheld complaints are ones where the CRU finds it is the supplier who is at fault, and when we compare this to market share we get a more accurate way of comparing the customer service of each company.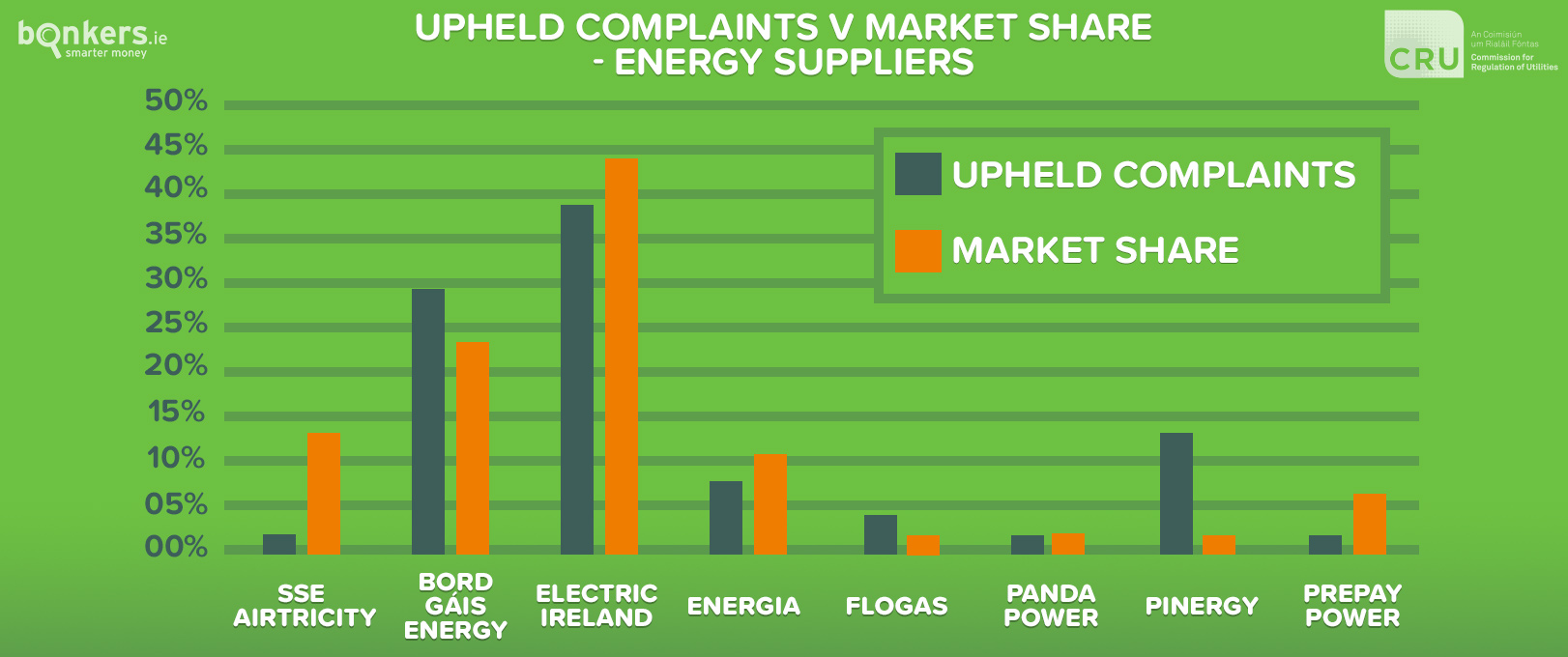 Above we can see that while Electric Ireland had the highest number of upheld complaints (39%) it also has by far the largest market share (44%) so this is to be somewhat expected.
We can see here too who is doing well and who is doing not so well.
SSE Airtricity, winners in February of our award for Best Customer Service, had a remarkably low number of upheld complaints, making up only 1%, despite a market share of 12%.
The suppliers who did not fare that well were the likes of Bord Gáis Energy who had a 23% market share but accounted for 29% of upheld complaints. Pinergy and Flogas also had a disproportionately high number of complaints upheld against them despite their relatively low market shares.
Our final graph shows us all of the contact with the CRU about each of the eight biggest suppliers. This includes both upheld and dismissed complaints about each company but should be useful for context as to how customers have felt about each company over the last few years.
Note that this is the first year the CRU has included Flogas, Pinergy and Panda Power in this comparison as no data is available for 2016 and 2017 for these suppliers.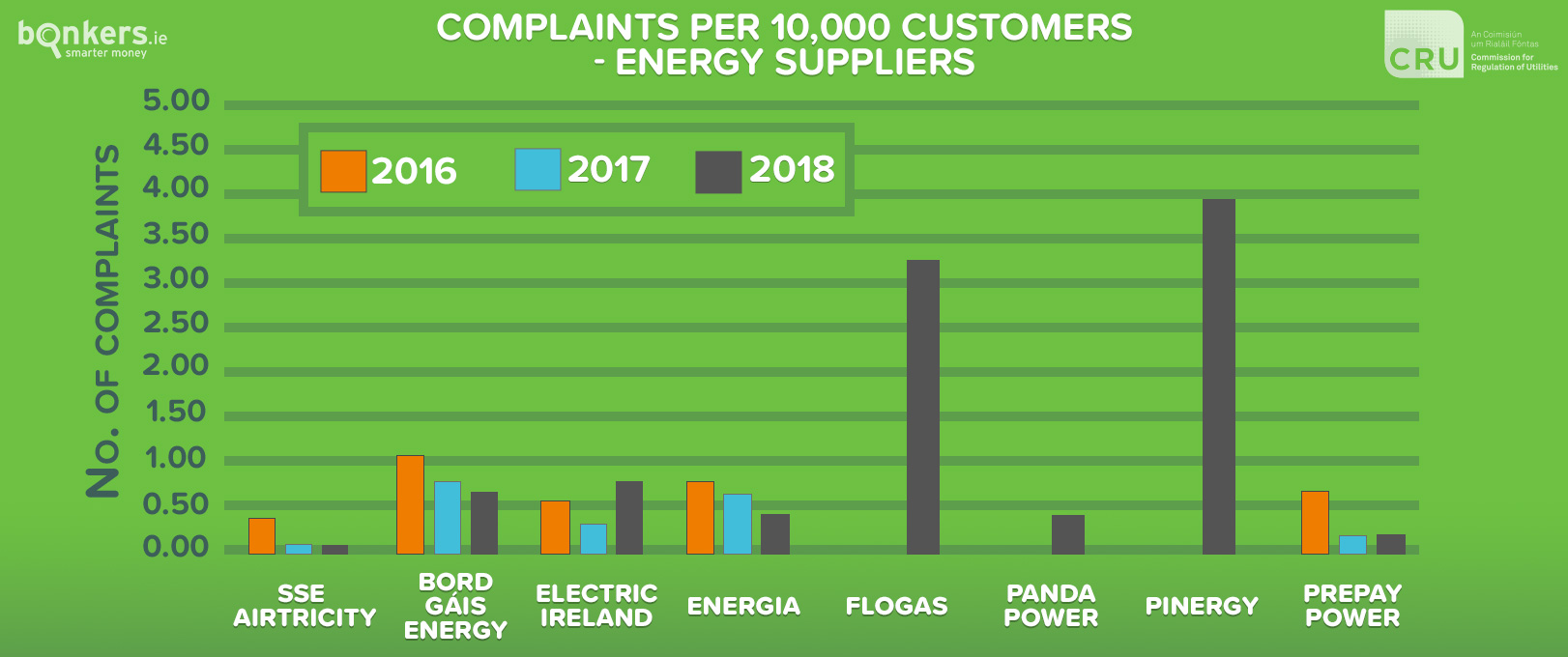 How do you feel?
If you are unhappy with your current energy supplier or think you could be getting a better deal you can always switch suppliers right here on bonkers.ie.
It's quick and easy to switch and could save you over €400 at the moment on your annual energy bills.