Virgin Media has been named as 'Ireland's fastest broadband provider' by Ookla for the third year running at a time when the topic of broadband speed is top of the national agenda.
With the National Broadband Plan in disarray following eir's shock withdrawal last week, it's welcome news that at least some of the nation's broadband customers are enjoying top speeds these days.
Independent speed test platform, Ookla, has revealed that Virgin Media customers are achieving average top speeds of 209 Mbps; a fact that makes the provider's broadband service the fastest in Ireland.
Leading on speed
According to Virgin Media's Commercial VP, Paul Farrell, the provider is focused on "leading on speed". And, according to Ookla's results, Virgin Media is certainly achieving that goal.
This is the third year in a row that Virgin Media has been awarded the title of 'Ireland's fastest broadband provider' by Ookla, and the first year it has also been named 'Ireland's fastest in-home Wi-Fi provider'.
Ookla's test measured the top speeds being delivered by Ireland's providers from March to August last year and found that Virgin Media's top speeds were more than twice that of its nearest rival, eir.
Virgin Media now has 362,000 broadband customers and has an estimated footprint of 880,000.
Special offers
Just last week, Virgin Media launched a range of new offers as we come into spring.
New customers who sign up to the provider can get 360 Mbps broadband, over 100 digital TV channels, a generous home phone plan, Sky Sports and Sky Cinema for €99 a month over a 12-month contract.
You can browse all of Virgin Media's bundles here.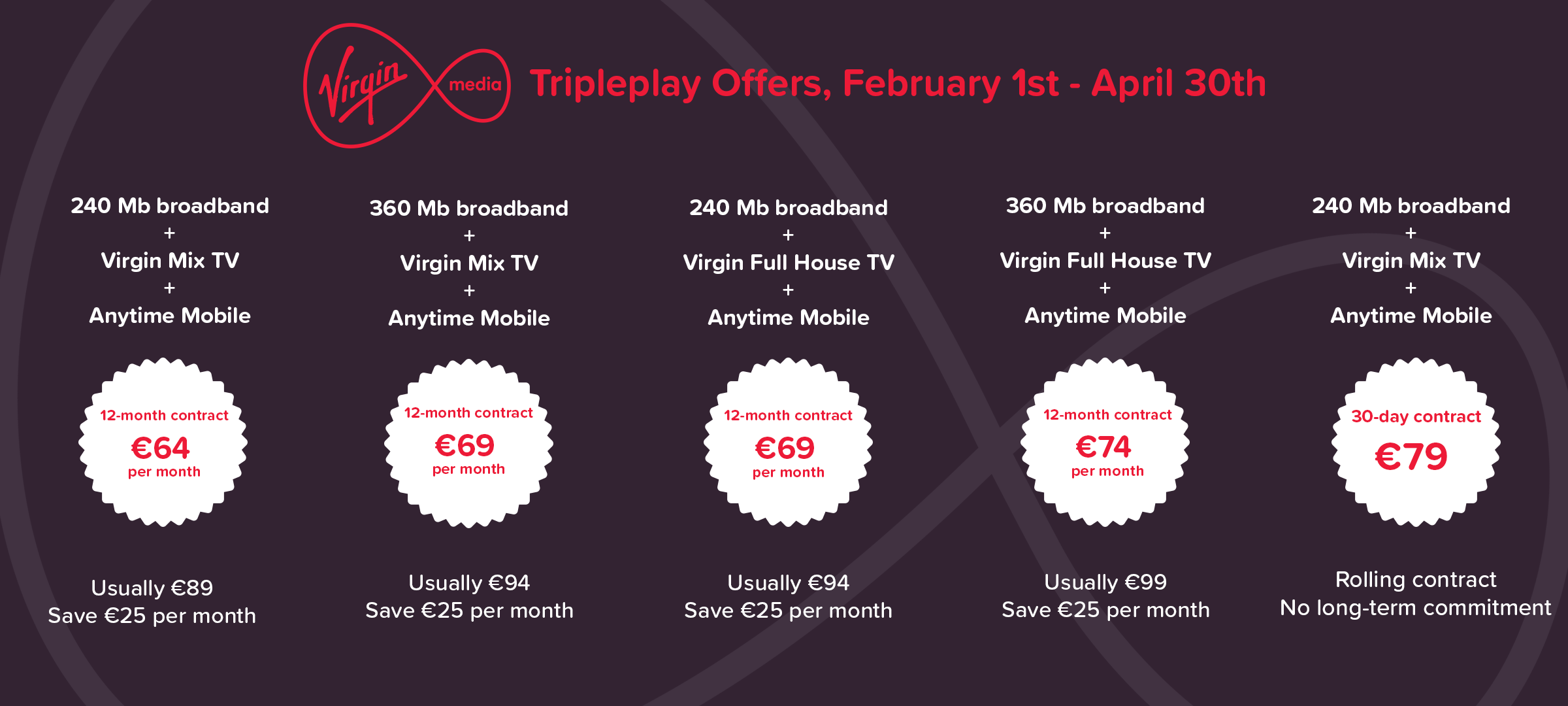 Getting the most out of your connection
If you're an existing Virgin Media customer and are wondering how to give your home broadband connection a bit of a boost, there are a number of things you can do.
First, you can sign up for the Virgin Media Hub, which is the latest version of the provider's modem and has been shown to increase broadband speeds throughout the home.
You can also ask Virgin Media to send its team of Red House Ninjas to your home. With this service, a team of broadband experts will visit your home to offer advice and solutions as to how you can increase your speed.
There are a number of other things you can do, such as moving your router and upgrading your browser, which can help with broadband speed. Take a look at the video below for some of our top tips.