In a constantly evolving digital space, do banking apps measure up to our expectations? Which bank is currently providing the best mobile experience for its customers and which could do better?
When it comes to choosing a new bank, its fees and charges, its customer service and the size of its branch network used to be the main considerations.
Increasingly though, the quality of a bank's mobile app is what interests customers the most.
This is because for many of us (and particularly for those of us on the go!) our first port of call when it comes to banking is now our smartphone.
At the very least, we've come to expect that banking apps should enable us to carry out basic tasks such as checking balances, making payments, transferring money between accounts, and managing direct debits. But over the past few years the things we expect to be able to do on our smartphones have increased. But not all banks are keeping up.
So which banks are meeting our expectations and which are falling short?
Revolut – the best
When it comes to banking apps, Revolut leads the way.
Revolut is now officially a bank in Ireland, which means any deposits up to €100,000 are covered by the deposit guarantee scheme. And all users now have an Irish IBAN, which means there should be no problem getting paid by your employer or setting up things like direct debits.
The fintech has pretty much revolutionised what is possible to do with your money and all the other banks' mobile apps trail in its wake.
The best thing about Revolut is how easy it is to send money to other users. All it really takes is the touch of a button. There's no searching for long IBANs or waiting a few days for money to reach your account. And because Revolut has over 2 million users in Ireland, it's rare to find a friend or relative to whom you can't 'Revolut' some money in seconds.
The app has biometric (face and fingerprint) login as well as the option to temporarily freeze your card in the app and unfreeze it. So if you think you've lost your card after a wild night out and start to panic, you can quickly put a temporary freeze on your account as opposed to cancelling all your cards. Should you happen to find your card the next day (or maybe the next hour!) you can just unfreeze it again and all will be good.
Revolut also allows you to disable online transactions if you want to (while still being able to make payments in stores with your physical card and to withdraw cash from ATMs). As most fraud is carried out online, this is another really handy security feature.
You can also disable the contactless feature temporarily and enable it again at the touch of a button in the app. So if you're off on holiday, or just a big night out, and would prefer the added security of chip and pin only in case you misplace your card, this is a really handy feature.
You can also receive up-to-the-minute push notification and detailed analytics on your spending. The former is a great security feature also as if you lose your card or it's fraudulently used online, you'll know the second someone tries to use it to pay for something.
With Revolut you can also take a pic of a receipt with your phone, link it to your purchase and then save it in the app. So no more rummaging around looking for lost receipts in case you want to exchange something!
Revolut now offers personal loans up to €30,000 and a credit card and it's possible to apply for both of these in the app within minutes.
Revolut also has a good in-app rewards scheme which offers discounts and cashback on lots of top brands.
There is also an ingenious money saving feature called Vaults. Every time you make a purchase with your card, Revolut will automatically round up your transaction to the nearest whole number and place the difference into your Vault. So every time you buy your morning coffee for €2.80, €0.20 will go straight into your Vault. Think of it as your online coin jar.
Revolut also offers a great service to help with shopping online safely - disposable virtual cards. At the click of a button you can create a brand new 'virtual' card within the Revolut app, which you can use for one-off purchases online. The card details then automatically expire and your virtual card is destroyed as soon as you've used it so even if the website you have shopped with turns out to be dodgy, at least the scammers won't have access to any more of your money or be able to sell on your card details. And to make things even handier, a new disposable card will automatically be generated for you as soon as your card has been used and destroyed.
And don't worry about refunds - if you return something the money will automatically be credited onto your main physical card.
If you're a parent or guardian, Revolut also has a great feature called Revolut <18 (previously Revolut Junior). This is an app designed by Revolut for children between the ages of 7 and 17. Its purpose is to instil and reinforce good money habits in children from a young age. It's made up of three distinct features: An app for kids so they can check their own balance and get transaction alerts; a card that allows them to make contactless, chip and PIN and online transactions; and most importantly, a specially-designed section in the existing adult's Revolut app, allowing parents and guardians to manage and oversee all their child's spending.
If all the above isn't enough, you can also buy and sell stocks and shares and cryptocurrency in the app.
The Revolut app is slick, quick, and well designed. The only small complaint, and it might seem petty, is that the app receives so many regular updates and changes with new features, that sometimes finding your way around the app can be a tiny bit cumbersome.
Nevertheless, when it comes to mobile banking, it's pretty hard to beat Revolut.
N26 - a close second
N26 isn't nearly as popular as Revolut in Ireland but it too has a slick and well designed app which has many of the same features as Revolut.
Like Revolut you can easily send and receive money to other users in seconds. N26 calls this 'MoneyBeam'. But with 'only' around 200,000 customers in Ireland - compared to 2 million or so for Revolut - this feature isn't quite so handy. You can of course send money to non-N26 customers in the app. It's just a little more cumbersome.
Online, contactless and ATM payments can all be easily turned on and off within the app for added security and you can also temporarily freeze and unfreeze your card.
There's biometric login but somewhat annoyingly you have to re-log in with your password around every one or two months. And N26's version of Revolut's Vaults - called Round-Ups - is only available with premium accounts.
As with Revolut, you can also receive up-to-the-minute push notifications and detailed analytics on your spending. And you can now buy cryptocurrency.
N26 also has a rewards scheme for customers but this is now limited to premium paying users too.
As a German bank you'll get a German IBAN so you might still find it difficult to set up certain payments or get paid.
N26 doesn't offer any credit services such as loans, credit cards or even an overdraft for now though.
All in all, it's a great app. Though perhaps not quite as colourful or 'fun' to use as Revolut's. And the lack of any credit services means it won't be suitable as a 'main bank' for some people.
See here for a more in-depth comparison of N26 versus Revolut and all the great services they both offer.
AIB – best of the 'big ones'
Out of the three remaining large retail banks, AIB probably has the best mobile app. But it's by no means perfect.
It's not a patch on Revolut or N26 but the number of features has increased over time and the app is fairly slick, quick and user friendly.
There's biometric login, the freeze and unfreeze card feature, and it now allows you to pay someone who's also an AIB customer just by using their phone number. So similar to Revolut and N26. But only for amounts up to €1,000 - mind you that should be more than enough for most people!
However, contactless or online payments can't be temporarily turned on or off within the app (as with Revolut and N26) nor does AIB offer customers any type of in-app rewards scheme.
The big negative is that certain transactions can only be done on internet banking (i.e. your desktop or laptop) and require the dreaded card reader. A device that looks like a mini calculator and which will invariably go missing when you need it most!
For example if you want to add a new payee, a new bill, or set up a new direct debit or standing order, you'll need to do it on internet banking with your card reader. However once you've set up the new payee or direct debit/standing order you can then pay someone from within the app going forward and view or cancel the direct debit/standing order in the app.
AIB also has a handy 'Quick Balance' feature which allows you to view up to two account balances at the touch of a button without logging in.
PTSB - the worst
There aren't many positive things to say about the PTSB mobile app unfortunately.
You can do all the basic things you need to do. And in most cases the account will only cost you a net €1 a month, which is good value. But the app is slow, not very slick looking and doesn't even offer the most basic of features such as face or fingerprint login. The freeze/unfreeze card feature also isn't available. And you can't turn on or off any types of payments such as contactless or online payments.
There are no push notifications on your spending or detailed analytics.
Needless to say you can't buy any stocks or shares or dabble in cryptocurrency either!
Unlike AIB, there's no card reader. So that's something positive at least.
You can also apply or at least start to apply for things like loans and overdrafts and even a mortgage within the app. But personal experience shows that the functionality is often buggy with applications not going through. Besides, for the vast majority of people day-to-day functionality is more important than a feature which they might only carry out every few years at most.
An Post Money - the challenger

An Post launched its current account back in 2017 and recently completely redesigned and updated its app, which now comes with some novel features.

For example, customers can easily save by setting money aside in dedicated sub-accounts or 'Jars'. You can set savings targets and deadlines and pay bills right out of a Jar.
Customers can also avail of the Round Up function, which rounds up your debit card payments to the next whole number and puts the difference in a Jar. So this is similar to Revolut's Vaults feature.
The account also lets you easily stay in control of your finances and avoid nasty surprises with helpful alerts for transactions like direct debits, credits to your account or failed payments. You just decide what alerts you want to receive and how you'd like to receive them – by email, text or online – and you'll be kept up-to-date. You can also set budgets and stick to them with automatic alerts whenever you nearly reach your limits.
Customers can also access An Post Money Mate. This is a current account aimed at kids between the ages of 7 and 15. With this feature, parents can set up an account for their child from their own app. With each account a child receives their own debit card allowing them to make contactless, chip & PIN or online payments - but fully overseen and controlled by their parent or guardian from their own account. This is similar to Revolut <18.
There is also a budget management tool called Money Manager which gives you a detailed, daily view of all your spending and payments. And through the power of Open Banking you can link any other current accounts to the tool to get a wider overview of your finances.
You can also freeze and unfreeze your card and there is biometric login. It's a good app by all accounts and it's great to see An Post step into the gap which Ulster Bank and KBC are leaving.
Bank of Ireland - could do much better
Bank of Ireland has been slow to innovate where technology is concerned. It was slow to even launch Google Pay and Apple Pay while the quality of its mobile app and online banking services still lag behind its main rival AIB.
Last year the bank launched some handy new online features. Though they were hardly groundbreaking.
Customers can now freeze and unfreeze their card within the app. You can now also view your PIN instantly (in case you forget it) and order a replacement card online without having to call the bank. And customers can easily send each other money just by using their phone contacts.
The most recent update finally included biometric log-in - that it took until 2023 for this to happen is pretty damning though.
There are no push notifications on your spending.
The design, look and feel of the app could also be better, and this is where a lot of criticism from users come in. Many comment that the app, despite its recent expensive upgrades, feels dated, is slow and difficult to navigate, and freezes too often. Clunky is perhaps the best way to describe it.
For a bank of its size making over a billion in profit, Bank of Ireland could do much better.
Comparison of mobile apps
Below we have compiled a table that compares the apps of Ireland's three main retail banks, An Post, as well as the two digital-only banks.
| | | | | | | |
| --- | --- | --- | --- | --- | --- | --- |
| Feature | AIB | An Post | BOI | N26 | PTSB | Revolut |
| Face/fingerprint login | Yes | Yes | Yes | Yes | No | Yes |
| Freeze/unfreeze | Yes | Yes | Yes | Yes | No | Yes |
| View card pin | Yes | No | Yes | No | Yes | Yes |
| Analytics on spending | No | Yes | No | Yes | No | Yes |
| Quick balance view | Yes | No | No | No | No | No |
| Send money to people just by using your phone contacts | Yes | No | Yes | Yes | No | Yes |
| Push notifications on spending* | No | Yes | No | Yes | No | Yes |
| Toggle on/off contactless | No | No | No | Yes | No | Yes |
| Toggle on/off online transactions | No | No | No | Yes | No | Yes |
| Toggle on/off ATM withdrawals | No | No | No | Yes | No | Yes |
| Disposable virtual card | No | No | No | No | No | Yes |
| Apple and Google Pay | Yes | Yes | Yes | Yes | Yes | Yes |
| Access to cryptocurrency | No | No | No | Yes | No | Yes |
| Access to stocks and shares | No | No | No | No | No | Yes |
| Spit bill feature | No | No | No | No | No | Yes |
| In-app rewards | No | No | No | Yes** | No | Yes |
*refers to notifications about your spending as opposed to messages or advertising/communications
**premium account only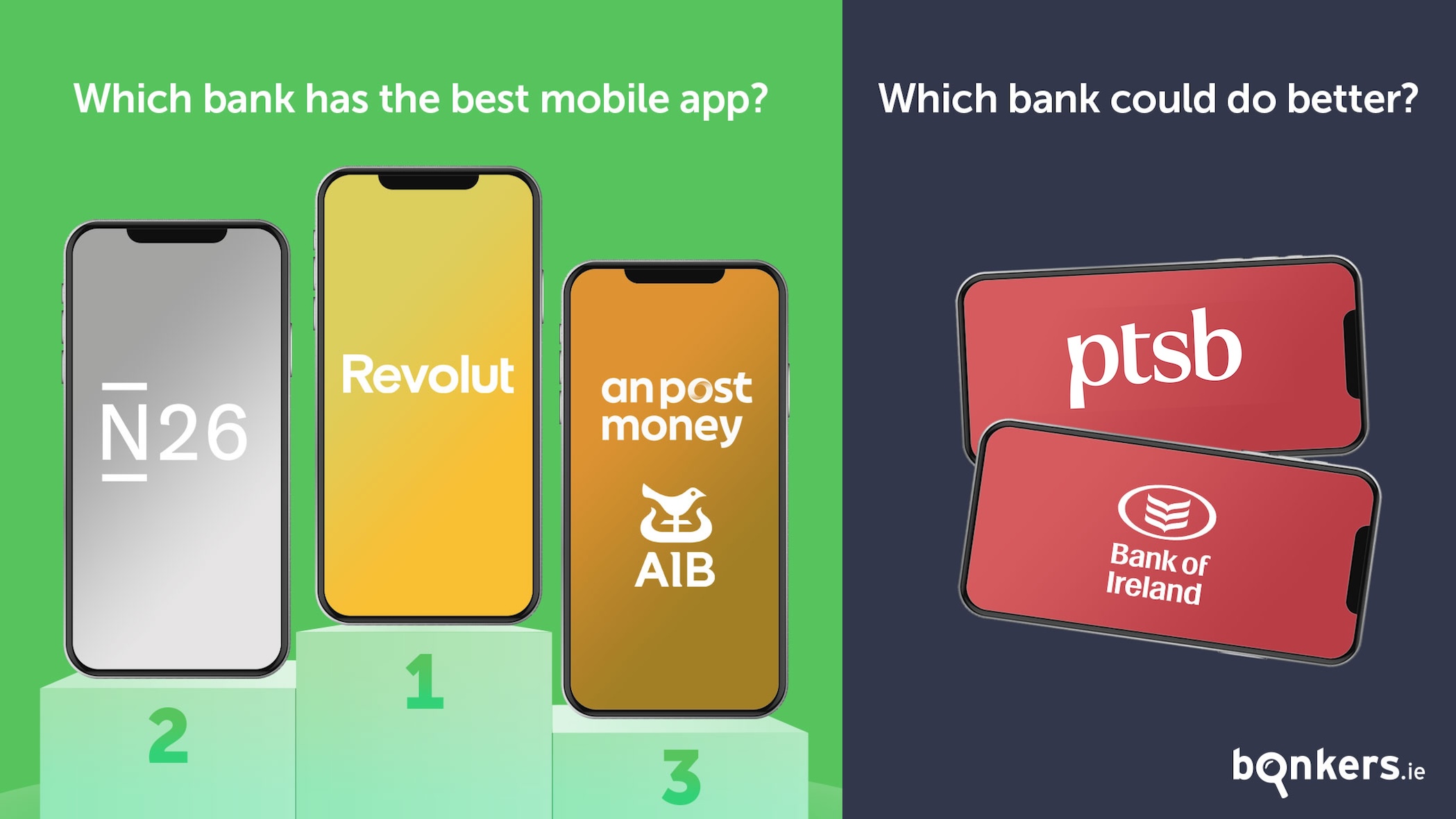 Not all banking apps are the same
Out of all of the products that we provide comparison services for here on bonkers.ie, customers seem to be the most reluctant to switch current accounts. And when we ask why the answer is nearly always the same; "sure all banks are the same".
However the above shows that this certainly isn't the case when it comes to mobile banking.
N26 and Revolut are where the real innovation in online banking is right now and both have well designed and slick mobile apps that are streets ahead of the competition.
In the middle, AIB and An Post have upped their game and are trying to keep up. Meanwhile Bank of Ireland and PTSB are genuinely years behind the competition and don't even offer basic services like face or fingerprint log-in.
Not just about tech
Though the quality of a bank's mobile app is a high priority for most people, you should always consider the other things that are important when choosing the right current account for your needs.
For instance, you might want to familiarise yourself with different banks' policies on ATM withdrawal fees or whether they've a branch close by to you before making any decisions.
Check out this guide on what to consider before choosing a new current account provider where we go through all the important things to consider.