Both N26 and Revolut have shaken up the banking sector in recent years. So what do they offer, how do they compare, and which one is better?
N26 and Revolut are probably the two best known financial technology or 'fintech' players in the Irish market right now. They are usually referred to as 'digital only' banks because they have no high-street presence and operate entirely online with customers accessing their accounts via intuitive, user-friendly apps on their phone.
Increasingly, both N26 and Revolut offer a viable alternative to a traditional current account.
Both banks offer free as well as several premium accounts, for which you pay a monthly fee. For now we're just focussing on the free versions.
Who is N26?
N26 is a German Bank which now operates in over 20 countries across Europe, while it recently expanded into the United States market also.
N26 has over six million customers worldwide, around 200,000 of whom are in Ireland. It's licensed by the German Central Bank and operates in Ireland and other EU countries on a European Passport (a banking licence which allows a bank or financial institution which is licensed in one EU country to passport that licence to another country without having to get regulatory approval all over again).
N26 customers are covered by the German Deposit Guarantee Scheme up to €100,000 so your money is as safe with this bank as with any of the traditional Irish ones.
When you open an account you'll immediately be given an IBAN and BIC number, meaning you can get paid into the account by your Irish employer and set up direct debits and standing orders just like with any other Irish bank account.
The downside is that, as a true digital bank, there aren't any N26 branches in Ireland so if you want to make a lodgement in person or cash in a cheque you'll find yourself stuck.
Who is Revolut?
Revolut is a UK fintech company which launched in 2015 and has around 15 million customers worldwide, over 1 million of whom are in Ireland according to the company's head of operations here.
Like N26, you'll be given an IBAN and BIC when you open your account so you can do all the day-to-day things that you'd expect with a normal current account. Revolut is currently licensed as a bank in Lithuania but it hasn't transferred the banking licence to Ireland under the same EU passporting rules that N26 has followed. At the moment it operates in Ireland under an e-money licence that it has transferred from its Lithuanian e-money business.
You can read more about Revolut's status as an e-money business here.
It's important to note that under this Lithuanian e-money licence, customers in Ireland aren't protected by any Deposit Guarantee Scheme, as they would be with N26. Learn more about how safe your money is with Revolut in this blog.
However Revolut has suffered through a bit of a PR crisis lately with reports of a toxic working culture and lax compliance rules so it'll be interesting to see how all this plays out.
Again, Revolut is a true digital 'bank', so if you're fond of cash and cheques, this isn't the account for you.
Opening an account
Both N26 and Revolut allow you to open an account online in just minutes from your phone.
You download the app, fill in some personal details, then take a picture of your passport and a selfie with your phone and submit it through the app. If all's above board your account will be set up and you'll be issued with an IBAN and BIC almost immediately.
Your physical card will then be sent out in the post to you and should arrive in around one week but you'll be able to use your phone for payments immediately.
It's free to open an account with both N26 and Revolut but if you want an actual physical debit card sent to you it'll cost €10 with N26 and €6 with Revolut.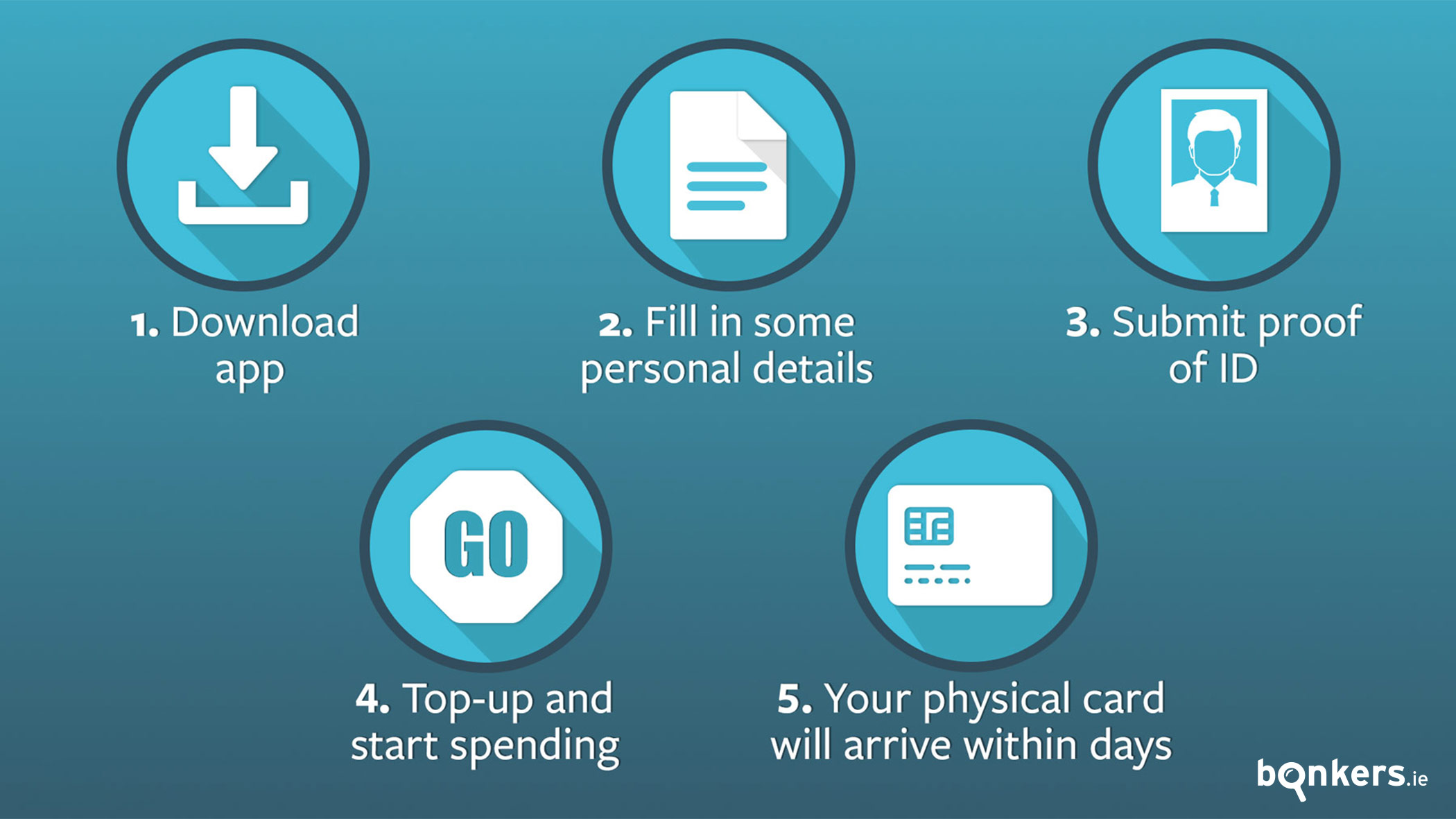 Topping up your account
It's free to top up your account with Revolut. You can do this by linking your main bank's debit card to your Revolut account and transferring money almost instantly within the app. However your main bank might charge you for the transaction depending on their own fees and charges. You can also lodge money into your Revolut account in the traditional way by carrying out a regular bank transfer from another account using your Revolut IBAN and BIC.
With N26 it's free to lodge money into your account by way of a regular bank transfer. Again, your main bank might charge you for this on its end though. But if you want to top up your account instantly within the app, you only get your very first top-up free of charge. After that there's a hefty 3% fee every time you do it.
Day-to-day banking
Both these fintech players offer largely free day-to-day banking. There's no monthly or annual maintenance fee with either provider and there's no charge for chip and pin or contactless transactions. There's no fee for standing orders or direct debit payments either.
Withdrawing cash is a bit different. With N26 you get three free ATM withdrawals a month. After that there's a hefty €2 charge per withdrawal.
Revolut allows you to withdraw a maximum of €200 a month fee-free and you're only allowed five free withdrawals a month. After you've reached either limit, you're charged €1 or 2% per withdrawal, whichever is higher.
Both N26 and Revolut support Apple Pay and Google Pay.
Revolut and N26 also have desktop versions meaning you can access your account on a PC or laptop as well as your smartphone if you prefer.
Transferring money to other Revolut users within the app or other bank accounts in Ireland in euro is free. Transfers in euro to accounts within SEPA are also free. Outside of this - say you want to send money to an account in the USA or Australia - an international transfer fee will apply, which ranges from between €0.30 and €5, depending on how much you transfer and where.
Travelling abroad
As well as free day-to-day banking, the lack of foreign exchange fees make both these accounts extremely attractive for anyone who travels a lot.
All the traditional banks will charge you a 1.75% to 3% foreign exchange or 'processing fee' for purchases made with your debit card outside the Eurozone, which can really add up. What's more, the banks will usually charge a minimum fee of around 40 or 50 cent on every transaction meaning they represent very poor value for smaller purchases.
But N26 will charge you nothing while Revolut will charge you nothing on all major currencies up to a limit of €1,000 a month - after that there's a small 0.5% fee.
What's more, when converting your spend back into euro, N26 applies the Mastercard exchange rate at all times while Revolut applies the Interbank exchange rate with a 1% markup at weekends. Both these rates are likely to be better than the rate you'd get with one of the main banks.
The Interbank rate is usually slightly more competitive than the Mastercard rate but because Revolut charges a 1% markup at weekends, both banks largely come out the same in the end.
So let's say you're headed to London for the weekend and spent the equivalent of €500 on your card. Here's what it would cost with all the different providers.
| | |
| --- | --- |
| Bank | Cost |
| N26 | €0 |
| Revolut | €0 |
| AIB | €8.75 |
| KBC | €8.75 |
| PTSB | €8.75 |
| BOI | €10 |
| Ulster Bank | €10 |
| An Post | €15 |
If you're withdrawing cash abroad, N26 will charge you a 1.7% fee while Revolut allows you withdraw the equivalent of €200 a month at no charge, after which a 2% fee is added. Both these fees are way more competitive than the 3-4% fee you'd be charged with the traditional Irish banks.
Again let's say you're headed to London for the weekend and withdrew the equivalent of €200 (€100 - about £80 - in two withdrawals) from an ATM with your card.
Here's what it would cost with all the different providers.
| | |
| --- | --- |
| Bank | Cost |
| Revolut | €0* |
| N26 | €3.40 |
| AIB | €7 |
| KBC | €7 |
| PTSB | €7 |
| BOI | €7 |
| Ulster Bank | €7 |
| An Post | €7.80 |
*First €200 free, anything else will cost €2 per €100 i.e. 2%
Other features
Both banks will give you up-to-the-minute push notifications on your spending and analytics that break down your spend for you. Revolut is particularly good for the latter and its colourful, user-friendly interface makes analysing your spending surprisingly fun (or scary if you splash the cash a bit too often!)
Revolut also has an ingenious money saving feature called Vaults. Every time you make a purchase with your card, Revolut will automatically round up your transaction to the nearest whole number and place the difference into your Vault. So every time you buy your morning coffee for €2.80, €0.20 will go straight into your Vault. Think of it as your online coin jar.
A similar feature called Donations lets you round up your Revolut card payments and donate the spare change to a charity of your choice.
Revolut also provides access to several cryptocurrencies such as bitcoin at the touch of a button and you can choose to convert your Vaults savings (or any of your money) into cryptocurrency too if you want. Although we'd advise you to read up on how volatile these currencies can be before you do so!
As well as all the above, Revolut recently launched a rewards programme, which allows customers to unlock discounts and cashback incentives on popular brands, simply by using their Revolut card.
With N26's Spaces, you can open two savings accounts and then name them for specific savings goals, such as a holiday or a deposit on a house. However this feature is now only available as a 60-day trial for basic account holders. After your 60 days are up you must upgrade to keep using the feature.
N26 also offers access to retailer discounts and rewards. However it doesn't offer access to any cryptocurrencies for now.
With Revolut you can also put a limit on how much you want to spend each month and every time you make a payment you'll be notified how much is remaining - so a great tool for budgeting. With N26 you can do similar by setting a daily limit for cash withdrawals and payments.
With Revolut you can also take a pic of a receipt with your phone, link it to your purchase and then save it in the app. So no more rummaging around looking for lost receipts in case you want to exchange something!
Revolut also has a really popular feature called Revolut Junior, which is a money management app for children between the ages of 7-17. The app allows parents and guardians to manage their child's finances, transfer money to their child's account, as well as control the money going in and out of the account. Another nifty feature is that those in control of the account can receive notifications to alert them of their child's spending as well as being able to control certain card and transaction functions like online payments.

Security
Both N26 and Revolut offer fingerprint login as well as the option to temporarily freeze your card in the app and unfreeze it. So if you think you've lost your card after a wild night out and start to panic, you can quickly put a temporary freeze on your account as opposed to cancelling all your cards. Should you happen to find your card the next day (or maybe the next hour!) you can just unfreeze it again and all will be good.
Both banks also allow you to disable online transactions if you want to (while still being able to make payments in store with your physical card and to withdraw cash from ATMs). As most fraud is carried out online, this is another really handy security feature.
Similarly you can disable ATM withdrawals with both banks while allowing online payments and/or card payments.
Both providers also allow you to disable the contactless feature temporarily and enable it again at the touch of a button in the app. So if you're off on holiday, or just a big night out, and would prefer the added security of chip and pin only in case you misplace your card, this is a really handy feature.
A simple way to send and receive money
Both banks also allow you to request and send money to your phone contacts at the touch of a button without having to know their bank details, meaning the days of exchanging account numbers and chasing people up are over.
With N26 this is called MoneyBeam and you can send up to €1,000 to other N26 customers a day. You can also send and request money to non-users though it's not quite as straightforward. For example with N26 a non-customer will get a link (by text message or email) where they can enter their bank account details and receive the transfer within two banking days. If the recipient doesn't collect the MoneyBeam within seven days, it'll return to your account. You can send up to €100 to non-N26 customers within a 24-hour period.
Revolut also has a really handy split bill feature which lets you split any bill, with any contact in your phone. It's free, instant and eliminates the awkwardness of asking someone to pay you back!
You just tap the payment you want to split, then hit the 'split bill' button and select who you would like to split the bill with. You can edit the individual amounts owed, or just hit 'request' to split the bill evenly.
If your phone contacts have the Revolut app, they'll receive a notification with a request for the amount owed which they can accept in a single tap. Once accepted, the money hits your account instantly. If you choose a phone contact who doesn't have the Revolut app, they'll get a text or email with a payment request link.
Access to credit facilities
Neither N26 nor Revolut offer Irish customers access to loans, overdrafts, credit cards or mortgages for now but both fintechs plan to offer some of these services in the coming years.
Overview of N26 and Revolut
| | | |
| --- | --- | --- |
| | N26 | Revolut |
| Monthly fee | None | None |
| Initial card fee | €10 | €6 |
| Customer support | Online or in-app chat only for basic account holders | In-app chat only for basic account holders |
| Online banking through PC or laptop | Yes | Yes |
| Contactless/chip and pin fee | Free | Free |
| Instant top-up | First one free - then 3% fee every time | Free |
| ATM/cash withdrawal fee | 3 free euro withdrawals a month - then €2 each | First €200 a month or 5 withdrawals free - then €1 or 2% fee is added |
| Foreign exchange purchase fee | None | None up to €1,000 a month - then 0.5% fee* |
| Non-euro ATM withdrawal fee | 1.7% | The equivalent of €200 a month is free - then a 2% fee is added |
| Foreign exchange rate | Mastercard rate | Interbank rate with 1% added at weekends* |
| Accepts direct debits and standing orders | Yes | Yes |
| Apple Pay | Yes | Yes |
| Google Pay | Yes | Yes |
| Overdraft facility | No | No |
| Access to cryptocurrencies | No | Yes |
| Savings feature | No | Yes - 'Vaults' - no interest paid on savings |
| Temporarily freeze & unfreeze card in app | Yes | Yes |
| Send money instantly to other users | Yes | Yes |
| Split bill feature | No | Yes |
| Set up spending limits | Yes - daily limit | Yes - monthly limit |
| Temporarily disable contactless | Yes | Yes |
| Disable online transactions | Yes | Yes |
| Disposable virtual cards | No | Yes |
| Link to children's account | No | Yes - Revolut Junior |
*Higher fees apply to the Thai baht and Ukrainian hryvnia
The bottom line
In terms of a winner, it's tough to call as both accounts are extremely similar. However Revolut's app and interface does seem more fun and friendly to use. However its new reduced foreign exchange limit of €1,000 a month may not appeal to heavy travellers.
To us, there's slightly more flexibility being able to withdraw as much money as you want each month with N26 for free (as long as you do it in three withdrawals). However the option to withdraw €200 cash at no extra charge outside the Eurozone is appealing with Revolut.
Revolut's Vaults savings feature is brilliant, whereas being covered by the German Deposit Guarantee scheme with N26 will be of comfort to those who want their money to be 100% safe.
In short, the account that's best for you will depend on your own personal preferences and what you value the most.
But one thing's for sure: both N26 and Revolut have revolutionised banking over the past few years and the traditional players will need to up their game considerably if they're to compete in the years ahead.
You can sign up to N26 or Revolut through bonkers.ie right now.
You can also compare more traditional current account options with our easy-to-use comparison tool. Before making a decision though, you might find it beneficial to take a look at our review of which bank offers the best value current account.
What do you think?
Would you consider signing up for a digital account with either N26 or Revolut? If so, which would you choose and why? We'd love to hear your thoughts!
If you have any questions on either fintech, you can let us know in the comments below or reach out to us on social media. We're on Facebook, Twitter and Instagram.