As debate rages on about the possibility of a cashless society, new data shows that this transition may be picking up pace.
There has been much speculation about the potential move towards a cashless society in recent times.
Those in favour have welcomed the hastening of this transition while critics have been quick to remind people of the advantages that cash holds in our society.
As per our own analysis of this situation, where we looked at ATM transactions, nationwide surveys and payment data, we came to the conclusion that while cash transactions may be falling, there was and still is a place for cash in our economy. And any transition to a fully cashless society is far away in the future.
However, this isn't a linear journey – new payment methods and behaviours come into existence with the evolution of technology and human behaviour, while old habits get left by the wayside. And new data from the Banking & Payments Federation Ireland (BPFI) seems to confirm this.
What's the data saying?

In its most recent quarterly payments report, which collates data from the major banks operating in Ireland, the BPFI found that the number of payments using cheques has fallen while digital banking and contactless payments scored big.
The number of cheques written fell 7.3% compared to the same quarter of last year, dropping to just 4.5 million between July and September - its lowest level since the data series began in 2008. In comparison, there were nearly 12 million cheques being written every three months in 2012.

Contrastingly, digital banking transactions rose by a whopping 8.4% year-on-year to 36.1 million transactions during the third quarter - its highest level on record.

Contactless payments also enjoyed a record-breaking quarter. An average of 3.1 million contactless payments were made each day between July and September. €4.8 billion was tapped by customers, or about €52 million a day, which represents 59% of all transaction volumes.

The number of Direct Debits showed a modest increase of 2.1%, but their levels have remained relatively stable since 2020, and

digital banking

's continued rise sees it pip Direct Debits as a payment method for a second quarter in succession.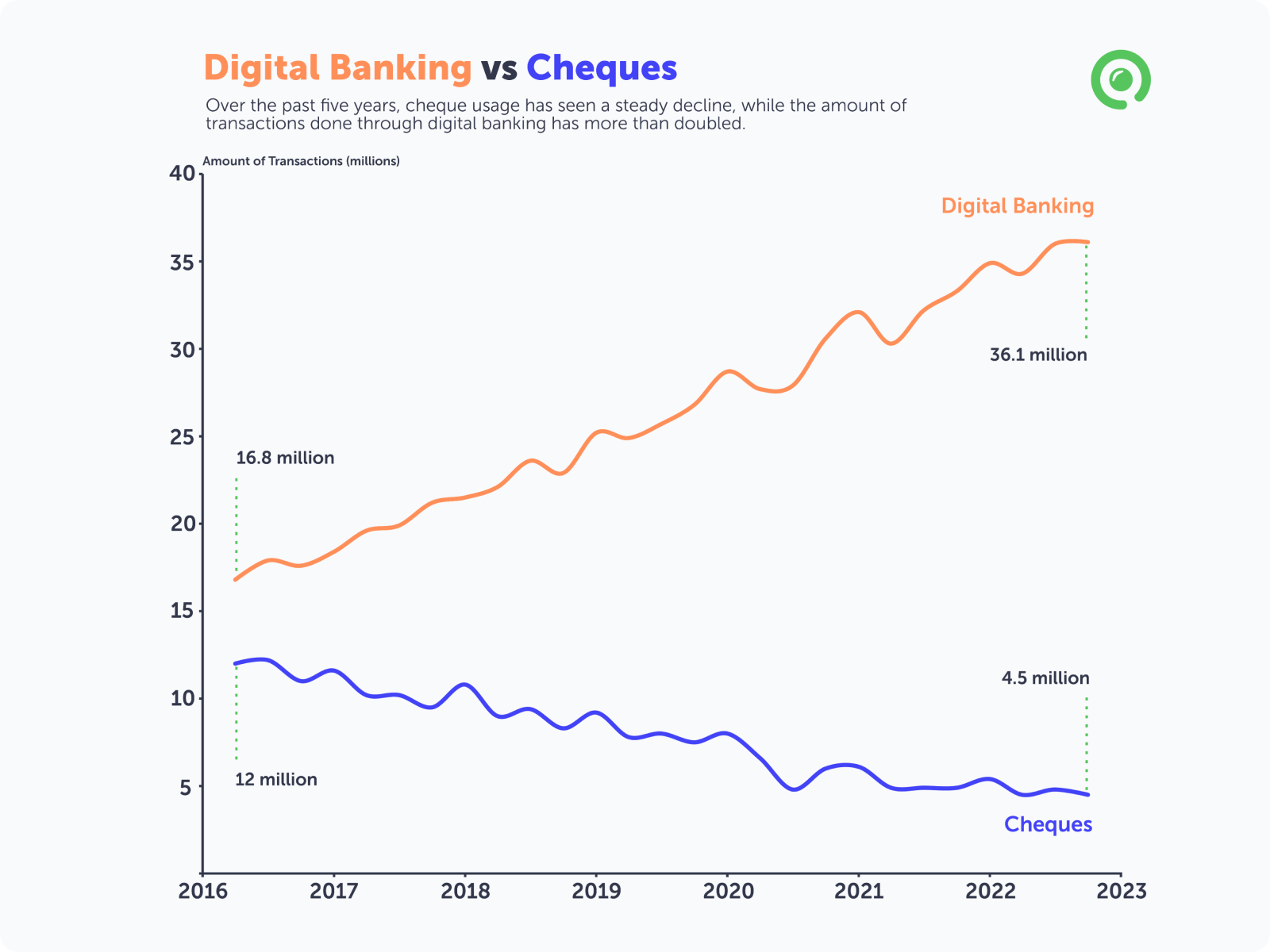 What does this mean?
In response to the release of the report, Gillian Byrne, Head of Payments at the BPFI said:
"As consumers continued to reduce their reliance on cash and cheques, card payments continued to grow strongly. The contactless share of payment volumes increased from 54% in Q3 2021 to 59% in Q3 2022. Contactless payments accounted for 41% of the value of card payments in stores and other physical points of sale in Q3 2022, up from 36% a year earlier."

While the increases of digital forms of payments and the demise of cheques may not be surprising, the speed of the transition might be."
Monthly spend using contactless payments has increased by over €1 billion since January 2020, with over €1.7 billion spent in August 2022 alone using contactless cards and mobile payments such as Google Pay or Apple Pay. And this figure is likely to be heavily surpassed when the data for December, with all of the Christmas spending, is released.
But, there is a sliver of hope for traditional forms of payments. While the volumes of cheques are indeed falling, they're by no means eliminated. 4.5 million cheques written is not an insignificant number for a population of our size, nearly equating to one cheque per head of population. And cash use, which plumetted after the onset of the pandemic, has stabilised.
The other forms of payments are growing, but not so fast that it's spiralling out of control - the rise in values is increasing slightly every quarter, with no massive jumps in volume. And, we have to take into account our growing population as a contributing factor.
Is it cheque-mate for traditional payments?
As mentioned above, while the newest report looks a bit daunting for traditional payments methods, it's by no means the end of the line for cash or even cheques.
Cheques are and will continue to be favoured by a sizable proportion of the population, despite their high cost in comparison with other payment methods.
While contactless payments and digital banks are rising in popularity, this is merely a sign of the times and our growing population, as well as a result of habits picked up during the pandemic.
It will be interesting to see how cheques hold up in the future - check back with us for any future analysis.
Easily compare current accounts on bonkers.ie
Find the bank that gives you the best bang for your buck. You can compare both traditional and digital current accounts with our easy-to-use comparison tools.
Want to learn more? Read our recommended articles:
Get in touch
Do you prefer using cheques or cash? Or have you been converted to the digital world? We'd love to hear what you think. You can reach us on Facebook, Twitter and Instagram.