This article is quite old, you might prefer our latest
Insurance
pieces
The immediate lure of saving a few grand could prove costly in the longer run.  
Health insurance isn't cheap and if the last recession told us anything is that it's usually the first expense that people cut back on in times of financial hardship.
This time around it's no different as the mass layoffs due to Covid-19 are forcing many people to reconsider whether they can continue to afford to pay for private healthcare.
The fact that the private healthcare system has been subsumed into the public healthcare system, or nationalised almost, for the immediate future to help tackle the pandemic is further forcing people to wonder whether they should bother paying for private cover at all.
If you're one of the people who's been tempted to ditch their health insurance, or even cancel it for a short period of time, make sure you understand all the following points before you make any rash decisions.
1. Public healthcare isn't free
Many people are under the assumption that although public healthcare in Ireland can be slow and inefficient, it's free. Well it's not.
All Irish citizens who don't have a medical card or private cover must pay €80 for a night in a public hospital, up to a maximum charge for 10 nights in any one year.
So, if you have to spend 10 nights in hospital over a 12-month period, this will end up costing you €800 in the public system. Not a small sum!
There are other charges too. If you attend the outpatients department of A&E without a doctor's referral you're looking at a €100 fee and anyone between the ages of 6 and 70 will have to pay for any GP visits unless they have a medical or GP card.
2. You may have to reserve waiting periods
When taking out a private health insurance policy for the first time, you have to serve what are known as 'waiting periods'. These are designated periods of time during which you can't claim for certain illnesses after your policy commences.
For example, if you develop a new medical condition within the first six months of your first policy, you won't be able to make a claim against the cost of treatment. Once the six months have elapsed however, you'll be free to claim the cost of expenses for new conditions covered under your policy.
But when it comes to pre-existing conditions, the waiting periods can be as long as five years with some providers.
If you cancel your policy and don't renew it within 13 weeks, you may have to reserve all your waiting periods, meaning you could find yourself having to wait a long time before you're covered again for certain illnesses.
3. A loading may apply if you're over 34
The Irish private health insurance market is what's called 'community rated'. This means everyone pays the same amount for the same level of cover regardless of their age, sex or health. But this can only work if there are lots of younger, healthier people buying insurance also to compensate for older, sicker patients.
Since 2015 what's called Lifetime Community Rating has applied to all health insurance policies to encourage younger people to take out insurance sooner.
This means that if you're over the age of 34 and take out insurance for the very first time, a 2% loading will apply to your premium for every year you don't have private health insurance. So under this system, a 40-year-old who purchases insurance for the first time today will have a 12% loading applied to their policy but a 40-year-old who has had insurance since he or she was 34 or younger won't.
This means if you're over the age of 34 and cancel your policy now, but then seek to reinstate it at a later date, a loading may now apply to you.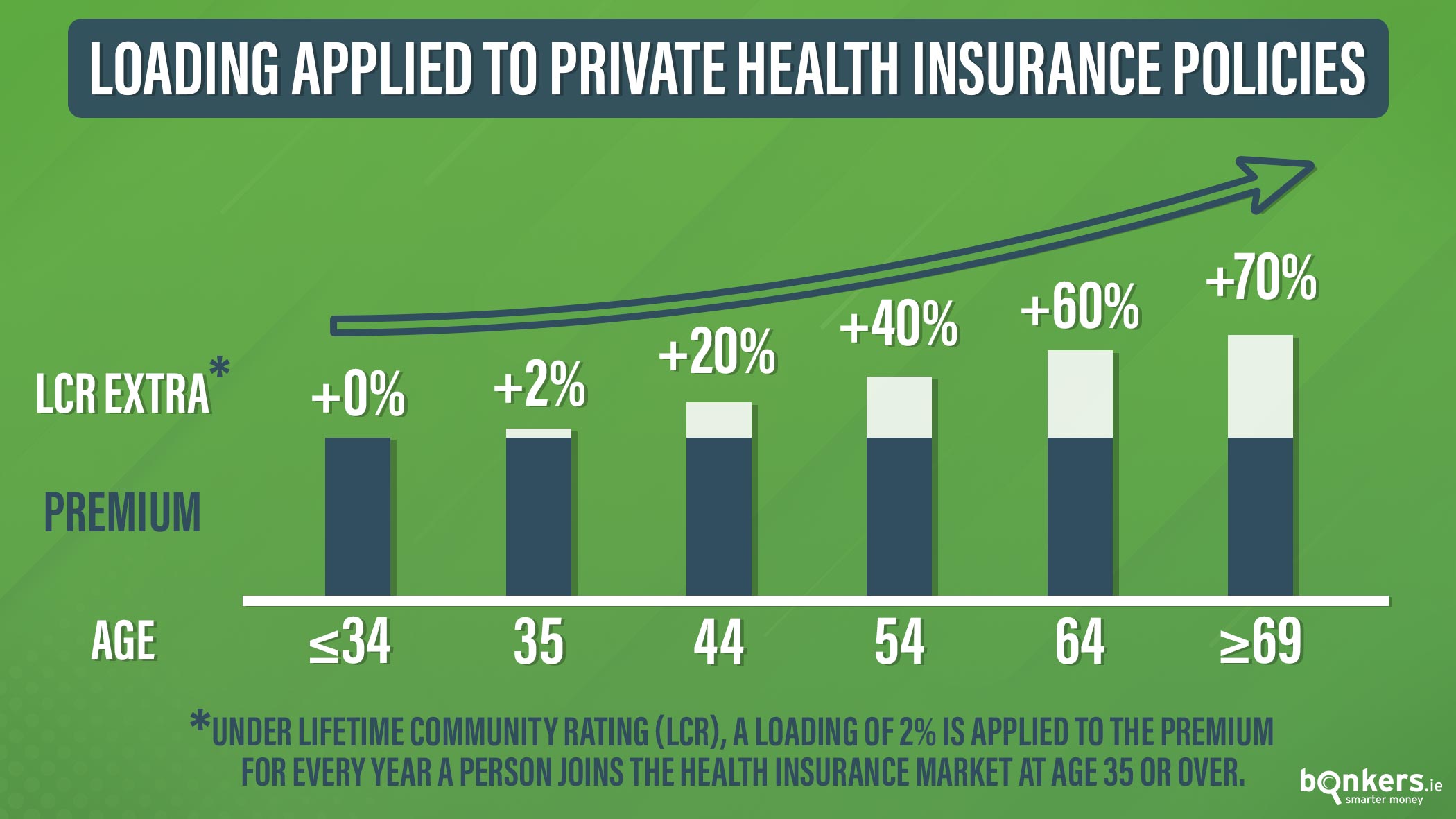 4. This is only temporary
'This too shall pass' is an apt saying to remember in current times. Because even though all the focus right now is on managing Covid-19 through the public healthcare system, the private system will eventually return to normal. And when it does, you might value your private health insurance.
Tens of thousands of inpatient and outpatient appointments and surgeries have been cancelled over the past two months meaning the long waiting lists that the Irish public health service is so badly known for will be even worse than ever come next year.
Make sure you're on the right plan
When it comes to motor insurance we're never afraid to ring around to find the best deal for ourselves and switch insurer if we have to.
But for some reason this willingness to switch doesn't extend to other forms of insurance.
So it's no surprise that recent research, carried out by TotalHealthCover.ie, has found that two out of every three health insurance members are potentially on the wrong health plan because they haven't shopped around for better value cover recently.
So rather than cancel your plan, review your cover and see if you could save by switching insurer instead.
How to compare health insurance and save
Visit the health insurance section of bonkers.ie

and enter some personal details

Our expert health insurance adviser will contact you to arrange an over-the-phone consultation

Discuss your requirements with our expert adviser

Our adviser will review your requirements against the 300+ health insurance plans on the market and give you a report listing your recommended plans

Pay a one-off payment of €125 when you receive your report

Sign up to your new, improved health insurance plan

Enjoy your savings of up to €500 a year or more