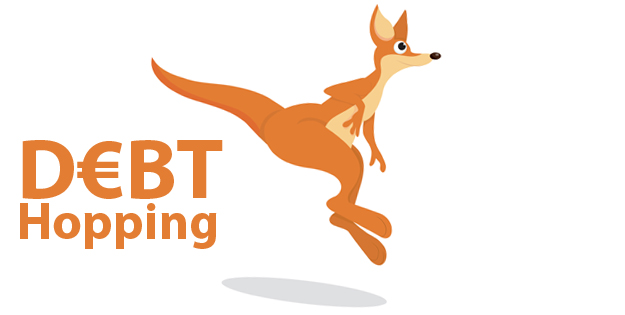 Thousands still switching despite debt hopping rules
Irish energy suppliers used to do a whole lot of handwringing about the huge numbers of customers that switched suppliers without clearing their accounts. It was rife they said - and something had to be done to stop the dreadful practice.
The dreadful practice was dubbed "debt-hopping", and according to suppliers it was a serious problem. Crafty debt-hoppers could stop paying their energy bills, wait until they were on the verge of disconnection, and then switch companies and pull the same trick all over again with a new supplier.
Debt-hopping worked because suppliers weren't allowed to stop a switch from happening if there was debt on the account, and they weren't allowed to tell the new supplier about a customer's debt either. So basically customers could move around with impunity and leave piles of debt in their wake.
Anyway, the suppliers kvetched enough about debt-hoppers that the regulator listened, published consultation papers, and asked the public for their views on what should be done. The folks at the regulator must have been in a bit of a quandary though. They wanted competition and keen prices, and that's driven by a vibrant switching market. But if you stop people from switching because they are in debt, then you could supress that switching market.
Ultimately though, the regulator sharpened up the old 2Bs and popped some new regulations into the rulebook. The new rules were called the "Debt Flagging Industry Code" and they worked like this…
If you applied to switch your energy supplier and you had a debt of more than €250 and it was more than 60 days past due, your current supplier could tell your new supplier that you had a debt.  They couldn't say how much it was or how far behind it was though, just that there was a debt… thus raising a debt flag.
The debt flagging process kicked off about a year and a half ago and industry watchers and vested interests waited to see what would happen. What would the suppliers do with flagged customers? Would they reject them? Would they take them? Would the prospect of being flagged scare in-debted customers into staying put and paying up? Would swathes of households be left powerless and supplier-less?
It seems not. The Commission for Energy Regulation has done a study on the debt flagging process and found that in the 12 months following the introduction of the Debt Flagging Code, just 1,838 electricity customers were rejected despite 7,618 flags being raised. That's only a quarter of the flagged customers and it's less than 1% of the overall switching number. So, customers are still switching, debt flagging doesn't seem to have stopped the in-debt punters from switching, and most interestingly, suppliers are taking on most of the flagged customers too.
But then when the new rules took effect, we did hear that energy companies may take flagged customers in the hope that they'd behave. But they'd also keep a close eyeball on them - just in case they tried it on with the new supplier too. It made sense – the new customer's debt wasn't really their problem, it was the old supplier's. And sure if the other companies were taking their in-debt customers, then they needed some fresh ones back to balance the whole thing out.
There is something I'd love to know though. Why did the suppliers reject those 1,838 customers, but still take the other 5,780?
Well, the CER doesn't tell us, so I'll hazard a guess as to why some customers were sent packing while others weren't. I reckon there's two likely reasons...
The first is that the rejected customers have form. The new suppliers know them already and they've had problems with them in the past so they've decided not to court trouble twice.
The second and most likely reason in my opinion is that the flagged and rejected customers were cash customers. Suppliers don't like cash customers at the best of times because they can be hard to collect from, but if they come all wrapped up a in big old debt flag too, you can be pretty sure the suppliers will like them them even less.
***********************
The Commission for Energy Regulation has changed the debt flagging rules. Beginning Monday 1st July 2013, any customer who applies to switch suppliers, has a debt of €225 or more and is more than 60 days behind will be flagged. This represents a 10% reduction in the debt flagging threshold from €250 to €225. The 60 day arrears remains the same.
---