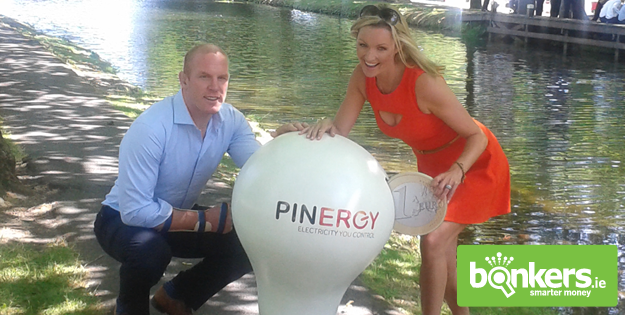 Pinergy - Paul O'Connell launches Ireland's newest electricity company
Paul O'Connell is larger than life. Literally and figuratively. He's a titan of Irish rugby and he's a great leader to boot. He's captained Munster, Ireland and the Lions… he's even come back from serious injury to take his place on the series winning Lions side in Australia this year… and no I haven't just taken a job with balls.ie!
But Paul O'Connell has taken on a new job. He's adding company director at Pinergy to his CV where he'll act as brand ambassador and all round media magnet for Ireland's newest electricity company.
Pinergy kicked off with an official press launch today on the banks of Dublin's Grand Canal where Paul O'Connell, Vivienne Connolly and the Pinergy management team introduced the company to the Irish media.
Unsurprisingly, Paul O'Connell's substantial presence drew quite a crowd. Lunchtime workers looked on as journalists talked to the second row about his new gig with Pinergy and quizzed him about the arm brace that he  sported as evidence of his recent Lions tour.
Pay-as-you-go
Pinergy is a pay-as-you-go electricity company. They work by installing new meters in customers' homes which can be topped up in the same way as prepay mobile phones.
Pinergy has actually been trading since the beginning of the year but they've ramped up their profile this week with a TV ad campaign and today's press launch – both featurning Paul O'Connell.
Pinergy is the second pay-as-you-go electricity company to launch in Ireland with PrePayPower offering a similar service. Both companies have reported strong demand for their services with customers increasingly looking for ways to manage their household budgets. The Commission for Energy Regulation has also shown a marked increase in the number of customers signing up to these non-traditional electricity companies.
Arrears
Until PrePayPower and Pinergy began trading in Ireland, customers that wanted a prepayment electricity meter installed in their homes generally had to be behind on their bills. Prepayment meters are installed by Airtricity, Electric Ireland and Bord Gais, but usually only as a way for customers in difficulty to manage their bills and catch up on arrears.
Customers do not need to be in arrears on their bills to have a Pinergy pay-as-you-go meter installed in their homes.
Pinergy calls their meter a Budget Controller and the company will install it free of charge. The meter shows actual energy consumption in real time and the company claims that households can substantially reduce their electricity usage through awareness of their consumption. Customers can buy credit online, through Payzone outlets and over the phone.
Cost
Pinergy matches Electric Ireland's Standard tariff and adds a 37.5c per day standing charge. The additional standing charge will add €137 to annual bills, but Pinergy reckons customers will make that back and more in savings through awareness of their consumption. PrePayPower's pricing is almost identical to Pinergy's.
Paul O'Connell said that the Pinergy Budget Controller is "great for household budgeting - and knowing there's no electricity bill coming through the letter box is a big weight off your mind."
And that's it really. The pay-as-you-go electricity meter is certainly not cheaper, but it does away with those electricity bills every couple of months, and for many people that's the attraction.
**************************
Pinergy's full product details can be seen at the link below where you can also sign up.
https://www.bonkers.ie/provider-directory/pinergy
-
---