From Christmas lights to keeping buildings warm this festive season, we take a look at how local authorities and businesses plan to tackle their energy bills without jeopardising Christmas festivities.
With energy prices continuing to rise and the threat of electricity blackouts looming overhead, many local councils and businesses are looking at ways to reduce their energy consumption and bills over the Christmas period.
According to an EU agency, Ireland faces up to 14.56 hours without electricity this winter, this is up from an October estimate of 6.25 hours, making it the second-highest outage in the European Union after France.
This has spurred many local authorities and businesses to adopt new energy-conscious practices to ensure that Irish people get the Christmas experience they've grown to love so well, minus the hefty price tag and environmental impact.
How cities plan to combat the cost of Christmas lights in 2022
Visiting the glittering Christmas lights draped across Ireland's most popular city streets is a tradition for many Irish families looking to soak up the Christmas spirit and get some last-minute Christmas shopping done.
However, these lights also threaten to put a strain on the national grid and consume valuable energy needed for Irish households.
With that in mind, let's take a look at how local authorities and famous Irish attractions plan to reduce the energy consumed by their decorative lights this festive season.
Dublin City
Dublin's Christmas Lights
Each year Dublin Town spends six weeks erecting 4km of lights or 1 million light bulbs along 25 streets in Dublin City for Christmas. 300,000 of these lights can be found flickering on Grafton Street alone.
To lower the energy needed to support these light displays, Dublin's Christmas lights have been replaced by LED lights, which use up to 85% less electricity than normal bulbs.
The lighting times for these Christmas displays will also be reduced in a move to save electricity. Typically, these lights were turned on at 2pm each day but now they will only be on between 4pm and 2am.
Grafton Street lights, which usually shine from 7am to 4am daily, will follow the same lighting pattern as the rest of the city.
Winter Lights Initiative
Dublin City Council's colourful and Christmas-themed light projections projected onto major buildings in Dublin, such as Trinity College and the Mansion House, will now be powered by hydrogenated vegetable oil (HVO) generators. This will reduce emissions from these light shows by 90%.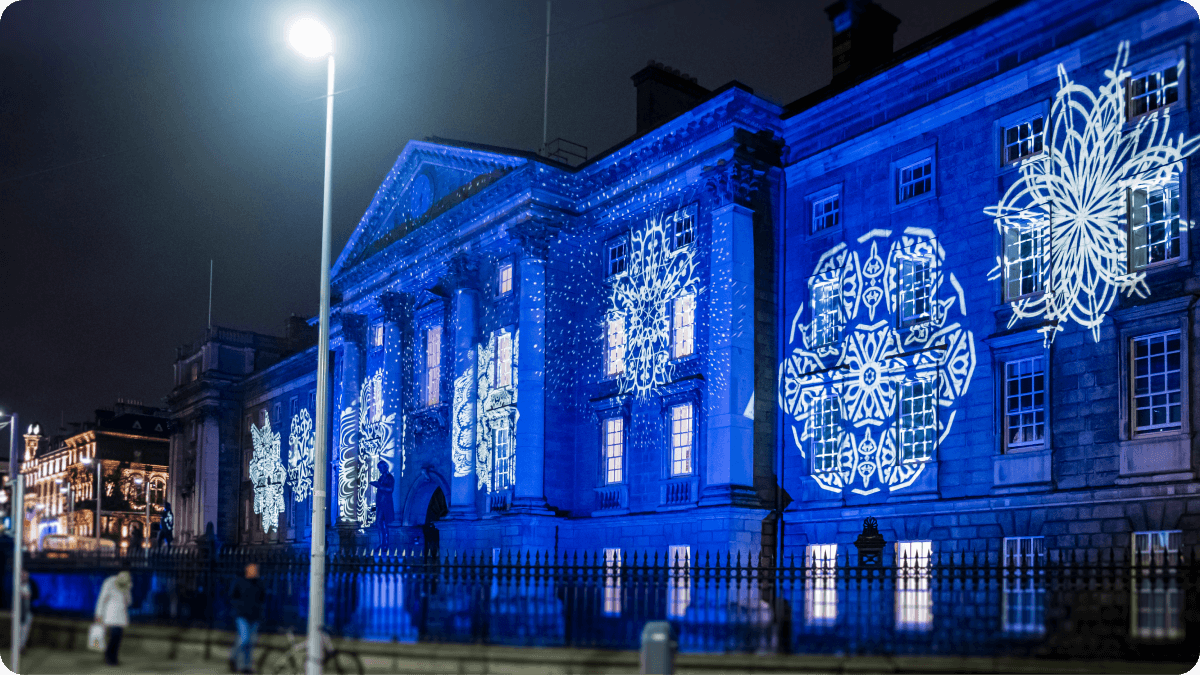 Dublin Zoo's Wild Lights show
Speaking of sustainable energy sources, Dublin Zoo has opted to take its Wild Light show off the national energy grid this year to help protect Ireland's electricity supply. The Magic of Life themed lights display will be entirely powered by HVO and will be turned off one hour earlier.
Croke Park
As a sports stadium, museum and one of Ireland's largest conference and events venues, Croke Park has seen its energy bills increase by 100% for both gas and electricity in the last year.
With this figure only forecast to rise, the home of the GAA has taken steps to try to alleviate its energy bills this winter. Sensor lights have been installed and its lighting fixtures have been upgraded to LED light bulbs. It is also exploring the possibility of using solar energy to help light its offices, TV and pitch screens and catering units to name a few.
Outside of Dublin
Outside of the capital city, cities and towns across the country are looking at similar ways to reduce their use of electricity to keep energy bills down.
Cork
Cork City Council has stated that the current energy and cost of living crisis has led them to adopt a 'balanced approach' when it comes to the Christmas lights this year. They will be using LED-powered light bulbs to brighten up their streets and suburbs.
A number of councillors have also called for the turning on of the festive lights to be delayed until December 8th and to end on January 6th, with one also suggesting for the lights to be switched off every night at 10pm.
Limerick
Up the road in Limerick, a spokesperson for the city and county council stated that they are reviewing all options to combat the electricity crisis, which includes potentially reducing the hours the lights are left on for.
However, not everyone is choosing to let the energy price crisis dim their festive plans. One Limerick pensioner Tony Noonan has said that 'no electricity bill will deter [him]', from putting up his charity Christmas lights show.
The three-time winner of the best private dwelling in Ireland for a lights display, he plans to cover his home with 5,000 lightbulbs this festive season. Mr. Noonan expects his electricity bill this Christmas could reach up to €6,000.
Longford
The Christmas lights will be switched off for approximately 30 minutes every day to save power amidst the soaring energy costs.
How Europe plans to reduce its electricity consumption
Across the continent, other major cities are looking at ways to tackle the energy supply shortage and climate change.
London
The popular Oxford Street Christmas lights display will use two-thirds less energy compared to 2021. It will see 300,000 LED lights made from recycled polymer (plastic) strewn across the streets and working on reduced hours.
Paris
Known as the 'City of Lights', the French capital has opted to turn off the shimmering lights of its most famous landmark, the Eiffel Tower, an hour earlier this winter to conserve energy. The exterior lights draped along the Champs-Élysées will also adopt this energy-saving measurement.
Portugal
Recently, the Portuguese government published a series of guidelines which limits Christmas light displays to only be turned on between the hours of 6pm and midnight, from December 6th until January 6th next year.
Germany
In Germany, it was found that private Christmas lighting consumed 623 million kWh last year, which is the same amount of electricity consumed annually by a city with 400,000 people in it. In response to these findings, Deutsche Umwelthilfe, a non-profit environmental charity, has called for people to forgo private Christmas lighting as a result.
The German government has also introduced several measures to save energy this winter, including switching off the lights of the capital monuments, like the famous Brandenburg Gate, as well as lowering the maximum room temperature in public and office buildings.
Why are Christmas lights important?
Seeing as Ireland and its other European neighbours are in the midst of an energy price and supply crisis, a cost-of-living crisis and an environmental crisis, you may be wondering why are national and local authorities across the continent choosing to put up Christmas lights this year?

Wouldn't it make more sense to forgo Christmas lights altogether this year?

The answer is no. There are a few reasons for this. In fact, Christmas lights have been known to:
Boost the economy

: During the six weeks leading up to and around Christmas, a typical city centre retailer in Dublin will make around a third of their annual income. With the footfall in the capital still not reaching pre-pandemic levels, the allure of the Christmas lights is essential to attracting people into the city centre and making purchases, rather than choosing to shop online.

Lift morale and foster Christmas spirit:

For many people, the last few years have been difficult due to the pandemic and the cost of living crisis. Christmas lights offer some hope and respite from the doom and gloom they may be experiencing.

Help create Christmas memories:

The colourful twinkling of Christmas lights creates a Christmas atmosphere and buzz which helps create lifelong memories for children and their families.
How Irish business plan to keep warm this Christmas
Lighting displays aren't the only energy guzzler that businesses and organisations are concerned about this winter - heating costs are also on the agenda.
In line with the Irish Government's 'Reduce your Use' policy, the Cabinet recently passed measures designed to reduce the energy usage of the public sector and combat heating costs. These measures will see all State buildings lower their temperature to 19°C and turn off the heating two hours before closing.
Doyle's Corner, a bar and restaurant in Dublin, decided to take a more creative approach to tackle its rising heating costs. Throughout October, the pub turned down its heating one night a week and offered a 20% discount to any customers who wore coats indoors.
However, the financial strain on businesses to keep their doors open during the Christmas period was laid bare when one Waterford restaurant owner stated he would need to sell a pint for €15 to €20 to make ends meet.
Unfortunately, this is a common story being heard by small businesses, shops and cafes up and down the country as the financial strain caused by skyrocketing energy bills threatens to close their doors this winter.
Cut your energy bills this Christmas
If you too are looking at ways to lower the cost of your energy bills this winter, take a look at some of our articles on the topic here.
Keep an eye on our blogs and guides pages for more saving tips and helpful suggestions.
Get in touch
What are your thoughts about the Christmas lights this year? You can get in touch with us on Facebook, Twitter, or Instagram.