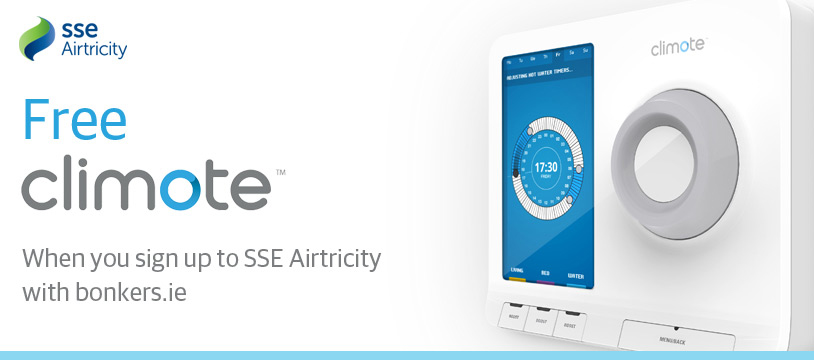 Get a free Climote with bonkers.ie!
*** This offer is now closed - thanks to everyone who ordered a free Climote ***
What are your chances of getting something fabulous for free on Budget Day?
Not too good if you're listening to Michael Noonan, but very good if you're using bonkers.ie!
That's because we've teamed up with SSE Airtricity to give a wonderful Climote Remote Heating Controller to new customers that sign up to SSE Airtricity's biggest discounted gas and electricity deal.
The award winning Climote allows you to operate your heating remotely by text, by app, and online from any computer. And of course you can also operate your Climote the old fashioned way – by using the sleek digital controller itself.
SSE Airtricity will also arrange to install the Climote in your home for free – a terrific deal when you consider that the Climote Remote Heating Controller retails for €399.
And cashback too!
In addition to the Climote, SSE Airtricity will also give you €35 cashback which will be paid out as a credit on your first bill, which is sure to be very welcome as we move into the colder winter months. All you have to do is sign up to SSE Airtricity's new 20% off electricity and 10% off gas deal through bonkers.ie to avail of the Climote and cashback offers.
So tell me more about Climote
The Climote Remote Heating Controller is an extremely sophisticated piece of kit. It allows you to set heating schedules for up to three different zones in your home. You can boost heating for zones with the app or a text message, and you can operate each zone independently. You can even build schedules for different times of year so the heat comes on for the right amount of time in winter or spring.
The Climote can save you money too because it'll help you use heat only when you need it. It also records your usage and you can see reports on how much heat you've used.
Its best feature though is its remote control – which is extremely simple to operate. If you're going to be home late on a cold winter evening, just boost the heat from your phone and come back to a warm home. If you're not going to be home and the heat is scheduled to come on, just turn it off with the app or a text.
So what do I need to do to get a free Climote?
You'll need to sign up to SSE Airtricity's one year dual fuel 20% off electricity and 10% off gas discount tariff which requires online billing and payment by direct debit. This deal will save an average household €260 per year over standard rates. With the €35 cashback, the savings go up to €295.
The offer is only available to households with a piped gas supply and a gas boiler.
This free Climote offer is available for a limited time only – basically there are a decent number of Climote Remote Heating Controllers available through the bonkers.ie/SSE Airtricity offer but when they are gone, the offer is over.
There are terms and conditions which you can see here and SSE Airtricity reserves the right to determine the eligibility of all applicants.
You can compare your current supplier, see how much you'll save and sign up to this fabulous offer through bonkers.ie right here. When you see your results, just click on the "Dual Fuel bundles" tab to see the SSE Airtricity Free Climote Deal.
A little bit of disclosure
I've had a Climote in my home for two years now and I love it. It's a bit like having a smartphone – once you've got one, it's hard to imagine life without it. We're getting into the colder months now too, and although I haven't turned on my winter schedules yet, I'm happy to say that I've been using the remote boost feature when we do need a bit of heat. The last time I did that? From the bed this morning before getting up for work!
Anyway, I'm delighted that we're able to offer free Climote Remote Heating Controllers through SSE Airtricity and bonkers.ie – but hurry! At the risk of sounding like an infomercial, this offer won't last long!
---