Energy Regulator proposes 32% increase in PSO Levy for all households
The Commission for Energy Regulation has today proposed an increase in the Public Service Obligation Levy to take effect from October 2016. The PSO Levy is a government subsidy that is charged to all electricity customers and supports renewable energy generation, biomass and peat-fired power plants. It is also used to ensure that the Irish electricity supply is secure.
Today the CER has proposed that the PSO Levy increases by 32% from €60.09 to €79.48 per year for all households. The increase, which will take effect from 1 October, will see almost €2 per month added to bills when VAT is included.
The CER estimates that the total amount of money needed for the PSO Levy in the 2016/17 period will be €440.9 million compared to €325.3 million for the current period.
Electricity customers currently see a PSO Levy charge of around €10 on bills every two months. This will go up to €13.25 if the regulator's proposed increase goes ahead in October. VAT is charged on the PSO Levy too, so customers will actually pay €15 per bi-monthly bill or €90.21 per year to cover the Levy.
Why is an extra €115.6 million needed for the PSO Levy?
Today's announcement by the CER may represent the highest increase in the PSO Levy since it was first charged in 2010. In addition, the €440.9 million will be the highest amount ever required by the levy – so what's behind the massive increase?
In a nutshell, falling wholesale prices mean that more money will be required by the PSO Levy. The PSO Levy will also support an increase of more than 40% in renewable energy generation in the coming year, which will also add to the levy.
REFIT** and wholesale electricity prices
Wholesale electricity prices are down 30% since this time last year which is very good news for suppliers… and it's pretty good news for households too, who've seen unit prices come down by 9% in the last 12 months*.
However, falling wholesale prices mean that the amount of money needed to subsidise certain types of electricity generation is going up.
It works a bit like this... let's say you're generating electricity using wind. If you're in a government programme called REFIT you may have a guarantee that you will receive 7 cent per unit of electricity that you generate. When wholesale electricity prices are 7 cent or more, you don't get any subsidy money.
However, when wholesale prices are below that 7 cent, you start picking up those subsidy cheques. And you guessed it, that money comes from the PSO Levy.
And right now wholesale prices are at just 3.61 cent per unit of electricity – which means our wind producer will be picking up the extra 3.39 cent from punters like you and me through the PSO Levy.
A worthwhile increase?
Low wholesale prices and extra renewable generation could likely add €150 million to the PSO Levy for the 2016/17 period. Some of that will be offset by PSO Levy-supported schemes have come to an end this year, but ultimately, that extra €22 per year that we will all be paying is because regular electricity prices are falling.
The thing is though, the fall in electricity prices that most households have seen will more than offset the increase in the PSO Levy – and customers will save even more by making sure they are on the best deals. Those low wholesale prices mean that there's plenty of great deals out there too.
We are now generating nearly 25% of our electricity from wind which is more than double that of the UK who are producing around 11%. So, despite the cost to consumers, it would be fair to argue that PSO Levy is doing its job, it's weaning us off fossil fuels, and it's securing our own indigenous supply of electricity.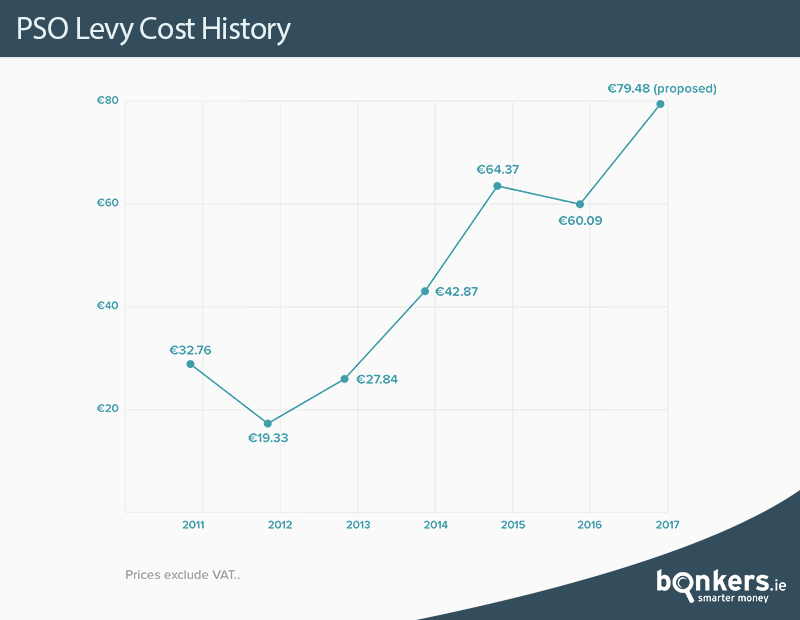 *Electric Ireland is due to cut its standard electricity unit rate by 6% on 1 June which will save households €57.75 per year.
**REFIT - Renewable Energy Feed-In Tariff
---