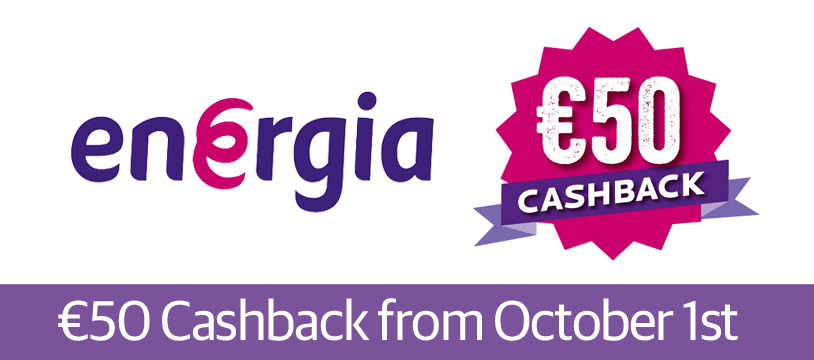 Energia offers €50 cashback deal for new customers
Fancy €50? Energia, Ireland's newest home energy provider has announced today that it will offer up to €50 cashback to new customers signing up from October 1st.
From Wednesday October 1st, anyone signing up online for Energia's top Dual Fuel offer will receive a €50 cashback credit which will be applied to their first bill in 2015. Customers choosing to switch electricity only or gas only will receive €20 cashback. These deals will be available for new signups until Sunday 16th November.
Both cashback deals are offered to customers signing up to Energia's 15% off electricity and gas rates.
This new deal will replace Energia's current SaveMe dual fuel offer which ends on September 30th. The SaveMe deal currently offers an 18% discount off Electricity and a 17% discount off gas.
This of course presents the question… which of the two deals is better? The €50 cashback with a 15% discount, or the SaveMe deal with its larger discounts? Would you be better off signing up to SaveMe deal now while it's still available, or waiting until Wednesday and signing up to the new cashback offer?

How does the new Energia cashback deal stack up?
Well, at bonkers.ie we never shy away from sums like these, so we put the two deals to the test.
If you're an average household* and you sign up to Energia's SaveMe Dual Fuel deal, you'll spend €1,907.66 over the next twelve months.
If you're an average household and you sign up to Energia's new €50 cashback dual fuel deal you'll pay €1,954.95 over the next twelve months.
So SaveMe is €47.29 cheaper than the new deal. However, when you take the €50 cashback into account, you'd be ever so slightly better off on the new deal.
In cash terms, the deals are very similar - there's only a few euro in the difference when you factor in the cashback - and they both stack up very well against the competition. Of course, you'll need to pay by direct debit and get online bills, but nearly all then good discounts require that now so it's nothing new.
There is something about the deal that should appeal to new customers though. It offers the cashback just after Christmas when bills are at their highest and our ability to pay them is at its lowest. And that's certainly something that should be appreciated by plenty of households.
****************
The new Energia cashback deals will be available for comparison and signup on bonkers.ie from Wednesday 1st October.
*Average household consumption is 5,300 kWh of electricity and 13,800 kWh of gas per year according to the Commission for Energy Regulation.
---