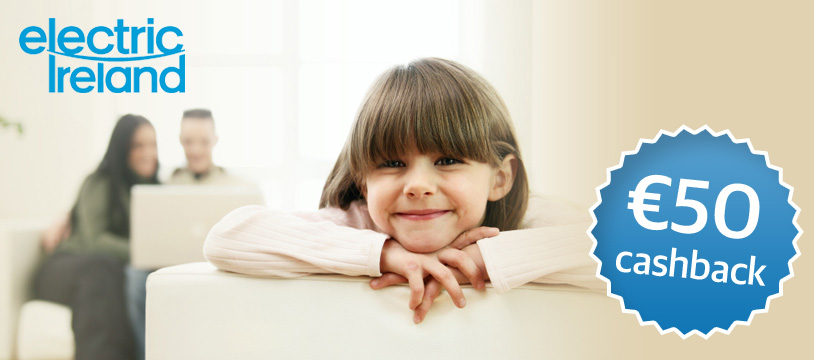 Electric Ireland turns up the heat with €50 cashback offer

Electric Ireland has announced today that customers signing up to its top energy deals will receive €50 cashback on their first bill.
The cashback offer, which is available to new and returning customers, will pay a €50 bill credit to customers signing up from October 1st.
In a move that values single and dual fuel households equally, Electric Ireland will extend the €50 cashback offer to electricity only customers, as well as households that have gas and electricity.
To avail of the offer, customers must sign up for direct debit and opt for e-billing. The tariffs included in the offer are Electric Ireland's ValueSaver Dual Fuel and ValueSaver Electricity.
The cashback deals, which are now available for signup on bonkers.ie, will expire on November 16th - so anyone signing up before that date will receive the €50 bill credit.
Commenting on Electric Ireland's new cashback deal, bonkers.ie Managing Director David Kerr said: "October has traditionally been the time for energy price increases, so it's great to see discounted deals and cashback offers coming out at this time of year, instead of the price hikes that we've become used to."
David Kerr continued: "Electric Ireland is the second company to announce a cashback offer this week which gives customers great choice. We're really pleased to see that Electric Ireland has included electricity only households in the full cashback deal as well, and we're sure that €50 off energy bills will be very welcome as winter sets in."
Electric Ireland's ValueSaver electricity tariff already offers new customers excellent value and could save an average household €153 off standard rates. With the €50 cashback offer, savings will come to €203 in year one making Electric Ireland hard to beat in terms of price.
The Electric Ireland ValueSaver tariffs are available for comparison and signup on bonkers.ie.
---