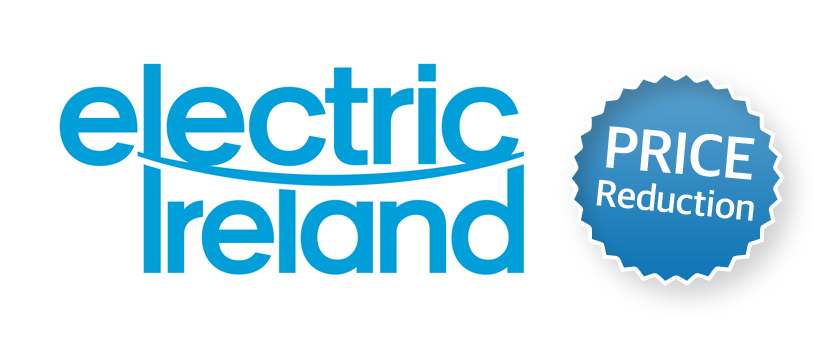 Electric Ireland announces electricity price cut

Electric Ireland has announced today that it will reduce electricity prices on 17 November. The price reduction, which will be passed on to all Electric Ireland electricity customers, should see the overall cost electricity come down by around 2%, saving households €25.27 per year – or just over €2 per month.
Electric Ireland will cut standard electricity unit rates by 2.47% from 17.01 cent to 16.59 cent per kWh and standing charges will remain the same. This price cut will mean that Electric Ireland's discounted tariffs will come down in cost too.*
Electric Ireland's announcement represents the first time there has been a standard household energy price cut since Bord Gáis reduced gas prices by 8% in 2010.
Although the price cut is to Standard unit rates, it will also mean better deals for switchers - that's because new customer deals offer discounts off standard rates. So currently Electric Ireland's cheapest deal is ValueSaver and will cost an average household around €1,083 per year for electricity, but from 17 November this should reduce to around €1,060 which will likely make it the best electricity deal in the marketplace.*
Electric Ireland's price reduction is a positive result of low wholesale gas prices which have fallen for most of 2014 and are currently around 25% lower than they were during the same period last year. More than half of Ireland's electricity is produced by burning gas.
Electric Ireland's 1.2 million electricity customers should all benefit from today's price cut announcement in a move that could cost the company around €30 million.
"We are pleased to see that Electric Ireland will be cutting prices, and today's announcement is particularly welcome because it will have a positive effect on all Electric Ireland customers," said bonkers.ie Managing Director David Kerr. "It will be interesting to see if other suppliers follow Electric Ireland's lead and cut their prices too."
Commenting today, Jim Dollard Executive Director Electric Ireland said; "We are happy to be able reduce prices for our residential electricity customers as we approach winter. We are committed to offering the best value products in a very competitive market place and I believe today's announcement will be good news for our 1.2 million residential customers."

*The calculations on discounted tariffs, and the calculation of the expected standard unit rate to 16.59 were done by me and were not provided by EI. 
 
---