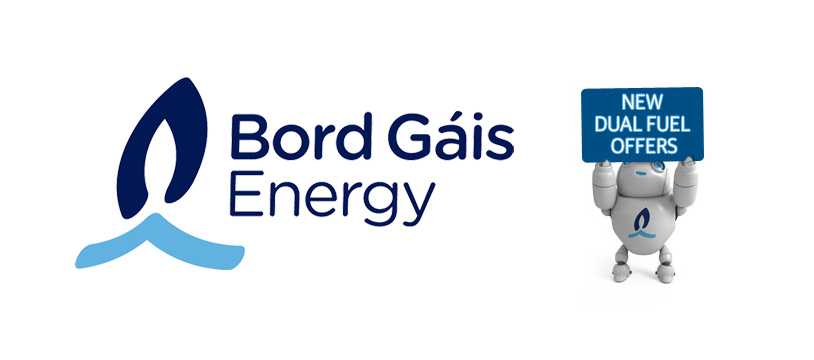 Bord Gáis Energy to launch new discount dual fuel deals

Bord Gáis Energy has just announced that it is to launch its first discounted gas and dual fuel deals this month. The company which was fully deregulated on July 1st and permitted set its own gas prices for the first time, will offer a range of cheaper tariffs to new and existing customers.
Bord Gáis Energy is headlining with a dual fuel deal which will be available to new or returning customers. The deal which offers 10% off gas unit rates and 10% off electricity unit rates will cost an average household €2,003 per year – a saving of around €202 off standard rates.
For the first time, Bord Gáis Energy will also introduce contracts whereby customers can sign up for either one year or two years. Both one and two year contract customers will get a follow-on discount of 5% in year two and subsequent years.

Clubcard Signup Deals
Bord Gáis Energy is also offering Tesco Clubcard points for new dual fuel signups which can be redeemed against their first bills. The signup points are worth €20 to customers agreeing to a one year contract and €80 for those agreeing to a two year contract. When these Clubcard offers are taken into account, customers could save as much as €282 off standard rates in year one – and more if they continue to redeem further Clubcard points against their bills throughout the year.
This is the first time Bord Gáis Energy has offered a true discounted dual fuel deal. They have been in the difficult position of having a regulated gas product which meant they could not set their own gas prices without approval from the regulator, and therefore could not offer any discounts on gas – even to customers that paid by direct debit or had electricity with Bord Gáis. That changed when the company was deregulated last month.
Commenting on today's announcement, bonkers.ie Managing Director David Kerr said "It's great to see Bord Gáis Energy finally able to set competitive gas prices and introduce real discounted dual fuel deals. What they've done is quite interesting too. Rather than lead strictly on price, Bord Gáis Energy seems to be looking for a long term relationship with customers through a combination of discounts, Clubcard incentives and contracts. It will be interesting to see how customers respond."

So how does the new Bord Gáis Energy Dual Fuel deal stack up?
Well, when it's listed on the bonkers.ie comparison pages, it'll come in fourth for most average household searches behind Energia, SSE Airtricty and Electric Ireland. That's because regulated energy comparison sites like bonkers.ie are not permitted to show once-off discounts or incentives in their calculations - so bonkers.ie would not include Tesco Clubcard points or any other type of signup offers in comparison results.
Having said that, we do know that there are battalions of Clubcard holders out there, so the below chart includes what you could expect to pay by signing up to Bord Gáis Energy Dual Fuel in the first year if you cash in the signup Clubcard Points… or if you don't cash them in.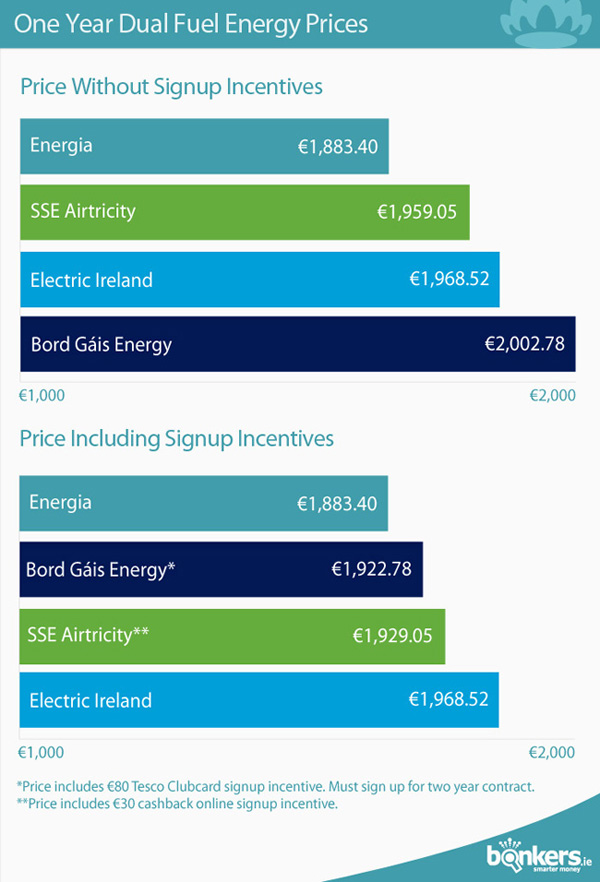 *The deals in these charts are all for new customers only and have eligibility requirements such as payment by direct debit, online billing andone or two year contracts.
New customer deals are usually not available to existing customers. We've shown signup incentives here for illustration purposes only.*
Is Bord Gáis Energy offering anything else?
Sure. They lost 45% of their gas customers when they couldn't do anything about it, so they're trying to get some of them back.  In addition to the Dual Fuel deal, they are offering an 8% discount for new and returning gas customers. That'll save around €67 a year off standard rates.
Gas customers that are already with Bord Gáis Energy can apply for a 5% discount, and existing electricity customers can also apply for a 5% discount. If existing customers go dual fuel by adding gas or electricity, discounts can be increased to 10% in certain cases.

When will these new deals be available?
Bord Gáis Energy will be making these deals generally available from Wednesday 6th August and they'll be available for comparison and signup on bonkers.ie from that date. In advance of that date, customers can also enquire directly through Bord Gáis Energy.

Are there any signup requirements?
Yes, all customers must sign up to a one year or two year contract. All new discounted deals also require payment by Level Pay.

What is Level Pay?
Level Pay is a monthly payment scheme whereby customers pay the same amount every month by direct debit. The monthly payment amount is calculated by looking at a household's usage for the previous year, applying the tariff and discounts to that usage and dividing it into 12 equal payments. There is also something called a "tolerance" which is added to the payment amount to cover unexpected usage. This can be up to 20%. Overpayments can be claimed back after a year, or upon changing tariff or supplier.
---