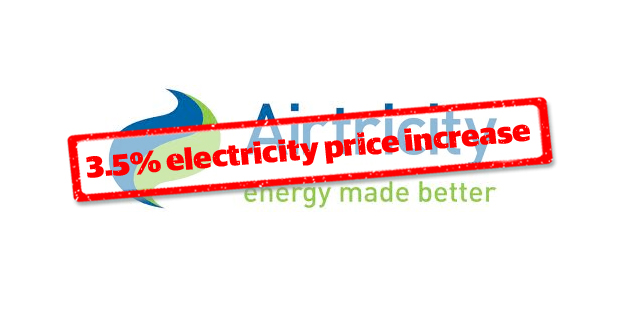 Airtricity to increase electricity prices from November 1st
Airtricity has announced today that it will increase electricity prices by 3.5%.
The price increase, which will take effect from November 1st, will mean that Airtricity customers on standard rates could need to come up with an additional €40.50 per year.
Electricity price increases have generally been expected following the regulator's approval of a 2.04% gas price increase earlier this month, although this 3.5% increase is higher than anticipated.
With this electricity price increase of €40.50, and next week's gas price increase of around €18.43 combined with the PSO levy going up by €17.06 from October 1st, average households can expect to pay an additional €76 per year more than they did last year for gas and electricity.
Stating that most of the factors leading to the price increase were outside of the company's control, Stephen Wheeler, Airtricity's managing director said:
"Unfortunately the factors that contribute to the cost of energy all cost more than they did last year. As a result we cannot continue to absorb the sustained increases in energy costs that we are facing. That's why the price increase that we are announcing today, although completely regrettable, cannot be avoided."
Airtricity is the first electricity supplier to increase prices, but it is widely expected that Electric Ireland and Bord Gais will follow suit with similar hikes.
Commenting on today's electricity price increase, bonkers.ie Managing Director David Kerr said: "It is regrettable that Airtricity customers are facing into this price increase at a time when electricity needs are greatest."
Mr Kerr continued: "Today's statement by Airtricity announces the first electricity price increase, but unfortunately, it is unlikely to be the last supplier to make such an announcement. In previous years, all suppliers have increased prices at the same time and by similar amounts and we expect this year to be no different."
David Kerr concluded: "We strongly encourage all energy customers to these beat price hikes by taking advantage of discounts available from Airtricity and other electricity suppliers." 
---