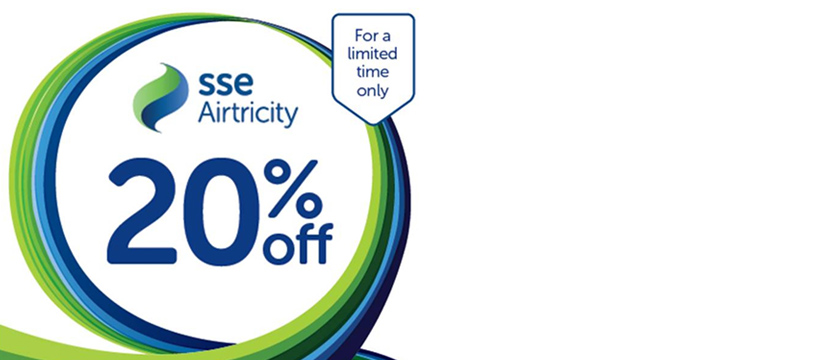 SSE Airtricity launches 20% electricity discount and new dual fuel offer
SSE Airtricity has today announced that it will offer its biggest ever electricity customer discount. In a limited time offer, SSE Airtricity will offer new and returning customers 20% off its standard electricity unit rates, which will make the company the cheapest standalone electricity option for many Irish households.
In addition, SSE Airtricity has unveiled a new dual fuel deal which offers 20% off electricity and 10% off gas unit rates. The deal should help households save €260 a year off standard rates.
So how do SSE Airtricity's new deals stack up against the competition?
Well, as you'd imagine from deals offering discounts of up to 20%, the new SSE Airtricity tariffs stack up very well against the competition.
New or returning electricity customers that are prepared to go with e-billing and direct debit could save €172 per year off standard rates which should make SSE Airtricty the cheapest electricity supplier for qualifying average households.* The year one cost for electricity on this deal is €1,064.
Gas and electricty households can also expect very good value. SSE Airtricity's new dual fuel offer will cost €1,969 per year for an average home, making it one of the cheapest dual fuel offers in the marketplace for qualifying customers.
Comments
David Kerr, Managing Director of bonkers.ie commented today: "It's a good time to be an energy customer, especially if you're looking for a new deal. SSE Airtricity's new offers are very competitive, their 20% electricity deal could save households €172 per year, and the new dual fuel tariff also offers excellent value."
Mr. Kerr continued: "Unlike previous years where we would normally see price increases at this time of year, we are now seeing terrific offers from most major suppliers. Last week, two suppliers announced substantial cashback deals, and this week SSE Airtricity has launched a new 20% electricity discount. You could say that competition is now really working in favour of the consumer."
"Like most discounted offers, SSE Airtricity's new deals are available only to those that sign up, so you need to take action if you want to save in time for the winter," said Mr Kerr.
Stephen Wheeler, Managing Director of SSE Airtricity said: "With the launch today of our new 20% home electricity discount we're continuing to make a real difference for Irish energy consumers. By unveiling Ireland's biggest-ever electricity discount we're continuing in our commitment to deliver real competition and affordability in energy prices that can benefit individual households with savings worth hundreds of euro."
New TV ad campaign
The new discounted tariffs have been released in conjunction with the launch of a new SSE Airtricity TV advertising campaign. The new ad looks at energy through the fresh eyes of an orang-utan as he explores a busy urban environment to the sounds of Nat King Cole's "When I fall in Love." You can see the ad here:
 

SSE Airtricity's new 20% electricity discount offer, and the new SSE Airtricity dual fuel 20% off gas and 10% off electricity deal are now available to compare and sign up on bonkers.ie. The deals will be available until 30th November.
*An average household as defined by the Commission for Energy Regulation uses 5,300 kWh of electricity and 13,800 kWh of gas per year. In order to sign up to these SSE Airtricity deals, customers must pay by direct debit and manage their accounts online. The deals require a contract of one year with an early exit penalty of €50 for electricity only customers and €100 for dual fuel customers. Budget Plan options are available for customers that choose them, but not required. Standard rates - we have used the Electric Ireland Standard and Bord Gais Residential tariffs for comparison in this piece.
 
---