Nothing is worse than signing up for a great new mobile deal only to discover that the network's coverage is terrible in your area. Is there an easy way to compare coverage across networks? bonkers.ie investigates.
Small country, tons of options:
For a relatively small island population, Ireland has its fair share of mobile network operators. With three providers (Vodafone, Three and Eir) owning Ireland's mobile telecommunications infrastructure and a further five mobile network virtual operators or MNVOs (Tesco Mobile, 48, Virgin Media, Postmobile and Lycamobile) running off those networks - it's no wonder that the market is saturated with providers clamouring over each other to offer customers the most competitive deals.
Heavy data users crave better data coverage
It's all very well and good knowing which provider is going to offer you the best deal price wise, but what good are low bills if you're getting poor coverage?
What we really want to know, and what we set out to investigate is which operator is offering you the best bang for your buck when it comes to coverage. Currently, over 80% of Irish people use a smartphone, and with more and more people using their phones for data over calls and texts, the term "coverage" more often than not refers to data and 4G rather than call signal.
How can I check the coverage in my area?
Previously, comparing data coverage across all the networks was a laborious task as you had to go to each network's site and consult their respective coverage maps. The good news is that ComReg recently published a composite national coverage map for all the mobile operators. This will hopefully take the hassle out of choosing the network provider that best meets your needs for where you work and live.
Just visit their site, type in your address or eircode, select your provider, and then view the colour coded map to see how strong the 3G and 4G signals in your area are.
So which network wins when it comes to coverage?
From ComReg's analysis it would seem that Vodafone is your best bet if you're looking for the best coverage nationwide.
That being said, Vodafone still can't boast 100% coverage and there might be some areas of the country where Eir or Three have better coverage. You might also be offered better prices or more data from the other networks if you're willing to make some compromises.
As we always advise here at bonkers.ie; be sure to shop around before you decide to switch providers.
What about speed?
Late last year ComReg carried out a number of speed tests across the country along approximately 5,500km of national roads and in some city areas of Dublin, Limerick, Galway, Cork and Waterford.
Eir came out on top with the fastest average speed for 4G, although Vodafone was just about quickest for 3G. You can see the rest of the results in the table below:
| | | | | |
| --- | --- | --- | --- | --- |
| Average Speed* | 4G (Stationary) | 4G (Moving) | 3G (Stationary) | 3G (Moving) |
| Vodafone | 18.3Mb | 20.3Mb | 11.6Mb | 8.1Mb |
| Three | 18.3Mb | 14.9Mb | 10.0Mb | 7.7Mb |
| Eir | 22.8Mb | 18.0Mb | 11.4Mb | 8.0Mb |
*Speeds greater of less than these can be achieved based on, among other things, distance and location from the serving mobile mast and the number of users on the network.
The coverage in my area is terrible, what's the story?
Despite the fact that all three major operators claim population coverage in excess of 90% for 4G and 3G, under present licensing conditions, Irish mobile operators are only required to cover between 70% and 90% of the country by population, meaning they don't have to provide 3G and 4G to remote, less populated areas.
The good news is that this set to change; future mobile licenses starting with 5G in 2019 will require mobile operators to cover all of rural Ireland and not just the densely populated urban centres. This move will make Ireland the first European country to appoint licenses based on geographical coverage rather than population.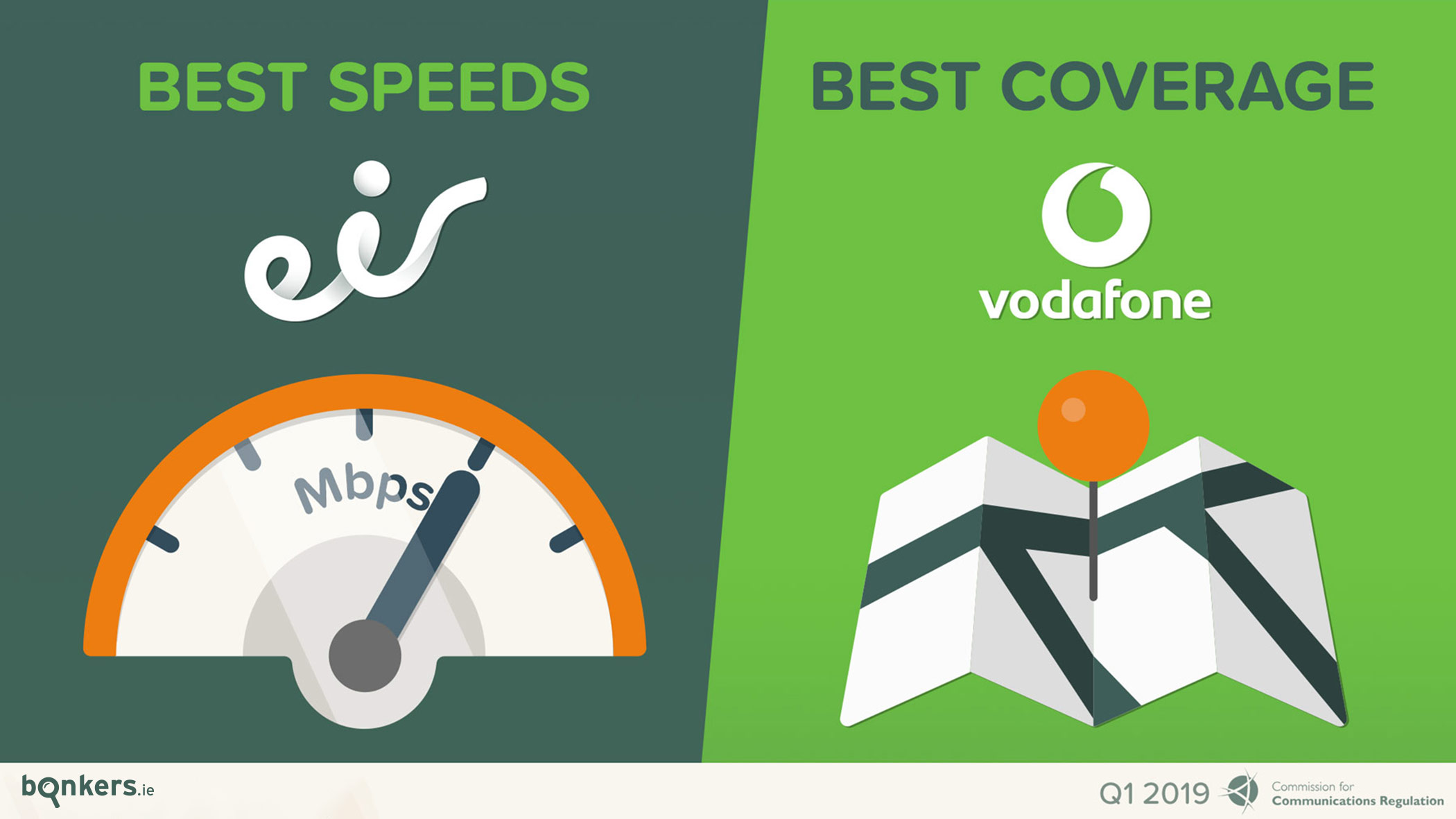 Speaking of 5G
5G is due to be launched in Ireland next year and already Vodafone is trialling the technology in some rural locations as a means of giving people outside the cities better access to high-speed broadband.
5G promises speeds that are up to 10 times faster than 4G. However it's likely to be several years before we see widespread 5G mobile coverage. See here for more on 5G and what it is.
Who wins when it comes to home broadband coverage?
If you're lucky enough to live in an urban area of Ireland you shouldn't have too many issues finding a broadband provider to cover your needs in terms of speed and coverage. All of the major providers offer speeds of up to 100Mb and some even go above and beyond. For instance Virgin Media offers speeds of up to 250Mb as standard, with its top-level package now offering a whopping 500Mb.
However, as almost any rural Irish broadband customer will tell you, the National Broadband Plan (NBP) has proven to be a complete disaster meaning too many rural homes are having to put up with extremely poor connections.
There is a silver lining however. The Government has finally given the go ahead to proceed with the NBP, while SIRO, a joint venture between the ESB and Vodafone to bring fibre broadband with speeds of up 1,000Mb to regional towns across the country, has now passed 250,000 households.
Pure Telecom has also demonstrated a commitment to rural Ireland, having signed a €35 million deal with Open Eir to bring high-speed broadband to a potential two million extra customers around the country.
Wondering which company has the best broadband coverage in your area?
Why not compare all providers and deals right now?