Though media streaming giant Netflix has only been producing original content (including stand-alone films, TV series, documentaries, stand-up specials and more) for the last few years; it's ramped up its production particularly in the last 12 months, debuting shining gems and disappointing flops alike.
Given that we all love a good series binge and we're at the halfway point of 2017, we figured it's a great time to review the winners and sinners of the year so far when it comes to Netflix's Original TV output.
Without further ado we present a near-complete list of Netflix Original series (excluding foreign language series and mini-series) that premiered in the first half 2017 separated into hits, misses and that no man's land of somewhere in between. Category judgements were made based on a combination of critics' appraisals as well as our own personal preferences here at bonkers.ie!
The Hits

Check out our list of the very best Netflix has had to offer since January of this year...
One Day at a Time Season 1 (Released 06/01/2017)
A remake of Norman Lear's classic 1975 sitcom One Day at a Time revolves around a Cuban-American family headed by a recently separated military mom who's navigating a new single life while raising two children with the 'help' of her own mother. Critics lauded the show for breathing new life into old school sitcom formulae while still oozing charm and heart.
Rotten Tomatoes score: 96%
A Series of Unfortunate Events Season 1 (Released 13/01/2017)
Fans of the book and movie adaptation alike found much to love in this new adaptation of the incredibly successful children's book series. Praised for matching the gothic and utterly bizarre tone of its source material, those who loved this version eagerly await Season 2 which was announced shortly after Season 1's release.
Rotten Tomatoes score: 94%
Ultimate Beastmaster Season 1 (Released 24/02/2017)
Like a mashup of Ninja Warrior and the Eurovision, a series of international contestants compete against each other in an impossibly difficult to the average person obstacle course for a chance to be crowned Ultimate Beastmaster. An energetically fun reality show by most accounts, Ultimate Beastmaster is a wholly enjoyable watch.
Rotten Tomatoes score: n/a
Love Season 2 (Released 10/03/2017)
In its first season, Love proved that you can have two really unlikeable leads and still produce a compelling romantic comedy series. In season 2, Love treads the balance between comedy and drama with greater confidence, going deeper into the endearing, frustrating, delightfully realistic relationship of Mickey and Gus.
Rotten Tomatoes score: 95%
Grace and Frankie Season 3 (Released 24/03/2017)
Finding and filling the void when it comes to older character led narratives, the charming Grace and Frankie continues to appeal to audiences of all ages. It's no surprise too when it stars such accomplished stars of the silver screen. As one critic put it "It's no surprise that sticking Jane Fonda and Lily Tomlin in a scene together leads to comedy magic. Throw Sam Waterston and Martin Sheen into the mix, and it's like the show has it too easy when it comes to landing laughs."
Rotten Tomatoes score: 100%
Dear White People Season 1 (Released 28/04/2017)
Set in a fictional Ivy League college, exploring the lives of its minority of POC students; Dear White People is timely, provocative, and sharply written, proving itself as an entertaining blend of social commentary and incisive humour. It is already billed for a second season.
Rotten Tomatoes score: 100%
Anne with an E Season 1 (Released 12/05/2017)
This new adaptation of classic source material uses its complex central character to offer a boldly stylish, emotionally resonant spin on a very familiar story that satisfies in its own right. Starring a young Irish actress from Donegal, Anne with an E is utterly charming in its earnestness.
Rotten Tomatoes score: 87%
The Keepers Season 1 (Released 19/05/2017)
Dubbed this year's "Making a Murderer" The Keepers is a documentary series that explores the case of the abduction and murder of a 1960s Baltimore nun. It draws on riveting, real-life terror to expose long-buried secrets - and tells an inspiring, brilliantly assembled story along the way.
Rotten Tomatoes score: 95%
Master of None Season 2 (Released 17/05/2017)
Master of None's second season picks up where its predecessor left off, delivering an ambitious batch of episodes that build on the show's premise while adding surprising twists. Critics praised it for its astute observations of modern day life. As one critic put it: "The show is as funny and as well-written as ever, and has deepened its commitment to understanding how love and intimacy work in a hyperconnected age."
Rotten Tomatoes score: 100%
F is for Family Season 2 (Released 30/05/2017)
Set in the 1970s, this adult animation plays like a straight family sitcom from that time - which isn't a bad thing. F is for Family follows the ups and downs of the Murphy family; an average middle-class suburban family. Season 2 picks up just after the end of Season 1 where we find Frank at a loss after leaving his job at the airport.
Rotten Tomatoes score: 94%
Glow Season 1(Released 23/06/2017)
Glow or the Gorgeous Ladies Of Wrestling is a 1980s comedy-drama starring Alison Brie as an out-of-work actress desperate for a job. She finds her chance in an unlikely spot when she bags a role as a female wrestler. Critics and public alike across the board loved Glow. According to one critic: "To call it a feel-good hit would be a bit reductive and presumptive, but "GLOW" deserves all the love and respect thrust upon it. Sit back, turn it up, and enjoy."
Rotten Tomatoes score: 96%
The Misses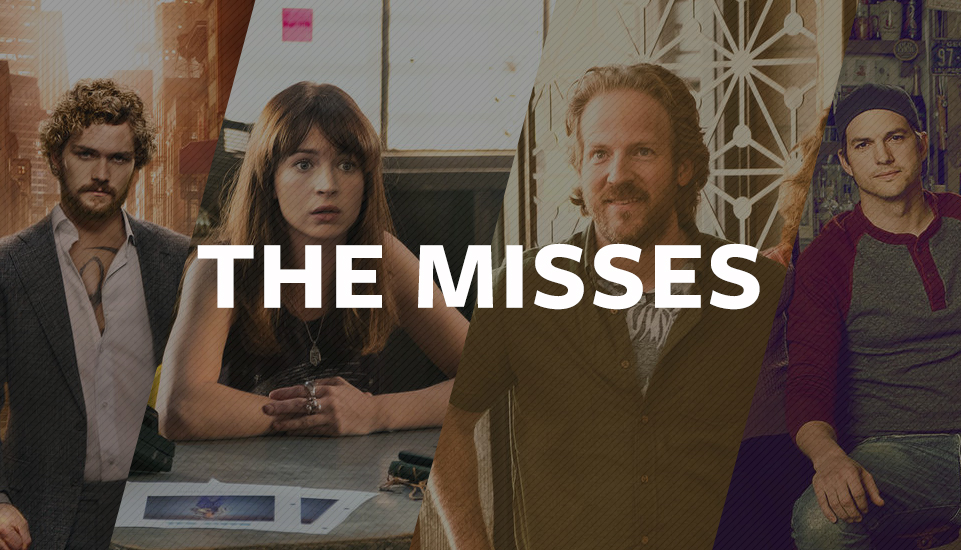 For one reason or another the following original series failed to meet the mark... do you agree?
Marvel's Iron Fist Season 1 (Released 17/03/2017)
Billionaire Danny Rand fights against corrupt criminal New York City with his kung-fu mastery and ability to summon the awesome power of the fiery Iron Fist. Despite some promising moments, Iron Fist is weighed down by an absence of momentum and originality leaving audiences more than a little disappointed. It has yet to be renewed for a second season.
Rotten Tomatoes score: 17%
Girlboss Season 1 (Released 21/04/2017)
Based on Nasty Gal founder Sophia Amoruso's autobiography, Girlboss is a comedy series that follows the story of a misfit who builds an online fashion empire. Due to the mishandling of what essentially boils down to a very unlikeable protagonist, Girlboss fell flat and has already been cancelled, making its first season also its last.
Rotten Tomatoes score: 32%
Flaked Season 2 (Released 02/06/2017)
Despite poor or middle-of-the-road reviews at best for its first season, Flaked returned for a second and given the lack of reviews for the new installment, one comes to the conclusion that no one is watching it. If you're still interested Flaked folllows Chip, a man who falls for the object of his best friend's affection, in this tale of man-child woe. As one reviewer put it; "The end result isn't entirely insufferable - but it's pretty close to it."
Rotten Tomatoes score: n/a
The Ranch Part 3 (Released 16/06/2017)
Admittedly standing a head or two above some other titles on "The Misses" list, the very formulaic third part of The Ranch still left many audiences wanting. Part 3 picks up where we left off in winter of last year: Colt is forced to face the new reality of his complicated love triangle with Abby and Heather; Rooster settles into relationship life with Mary after moving out of the ranch, and Maggie and Beau navigate life as divorced friends.
Rotten Tomatoes score: n/a
Gypsy Season 1 (Released 30/06/2017)
From the director of Fifty Shades of Grey comes Gypsy, a misguided "steamy" series that charts the exploits of a therapist who entangles herself in the lives of the people connected to her patients. For such a titillating setup, Gypsy proves itself to be remarkably boring.
Rotten Tomatoes score: 27%
Marmite Zone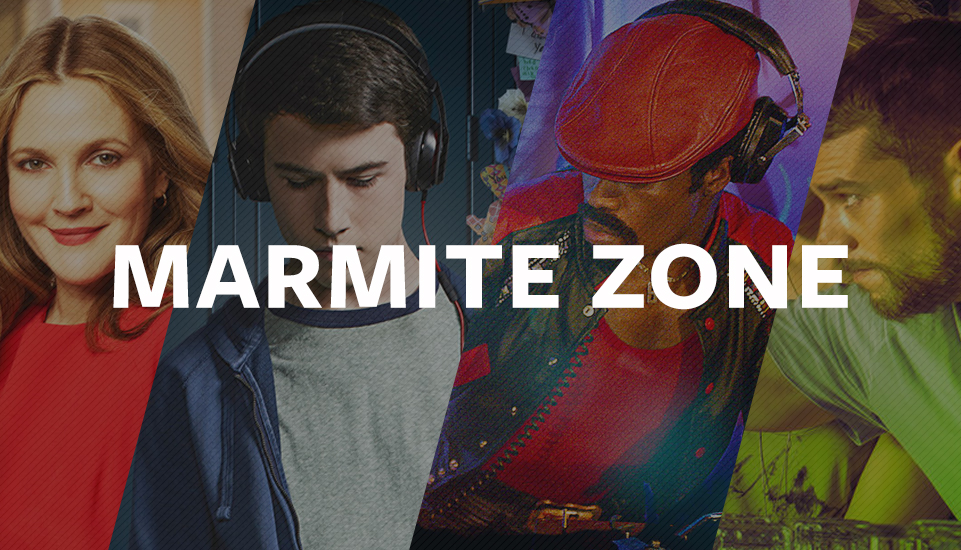 Check out this year's crop of original series that are leaving critics and audiences alike divided - whether it's returning series that just aren't living up to the standards of their previous instalments or just straight up love it or hate it kind of shows…
Santa Clarita Diet Season 1 (Released 03/02/2017)
In this gory comedy, Drew Barrymore and Timothy Olyphant play a couple of very suburban married realtors. Their life is idyllic but humdrum until Drew finds herself craving human flesh. Many critics loved the series and ate it up (if you'll pardon the pun) while countless others found the "comedy" fell flat and that the writers could have done a lot more with the premise.
Rotten Tomatoes score: 72%
13 Reasons Why (Released 31/03/2017)
13 Reasons Why was phenomenally successful amongst its teen target audience but didn't come without its fair share of criticism and controversy. The show alternates between flashbacks and present day in the aftermath of teenage girl Hannah Baker's suicide. She leaves behind 13 tapes, each addressed to someone she blames for her death. Critics praised the show's sensitive portrayal of modern bullying but also severely criticised its essentially very glamorous depiction of suicide as a viable option and suitable revenge.
Rotten Tomatoes score: 86%
The Get Down Part 2 (Released 07/04/2017)
The outrageously expensive hip-hop origin story epic that is The Get Down had audiences split right down the middle. Two opposing critics sum it up best. On one side we have those who respect the series ambition; "In its forthright emotionalism, its overarching ambitions, and its complete and total devotion to telling this story as sincerely as possible, The Get Down is like nothing else out there." On the other side, the following reviewer criticises the show's style over substance approach to storytelling; "While trying to celebrate hip hop, disco and the Big Apple of the late '70s, the expressionistic 'Get Down" makes the mistake of piling on style as a way to over-communicate how special, fertile and important this period is." Either way, it was announced that that series is cancelled after its second season came out.
Rotten Tomatoes score: 75%
Sense8 Season 2 (Released 05/05/2017)
Though reviews for season 2 of Sense8 very markedly stronger than those of season 1, the show has nevertheless been cancelled save for a 2 hour special coming out later this year to wrap things up. With somewhat of a cult fan base, season 2 of Sense8 maintains its stunning visuals, Wachowski wackiness, and great heart - though its individual characters deserve more development.
Rotten Tomatoes score: 86%
Unbreakable Kimmy Schmidt Season 3 (Released 19/05/2017)
Though Kimmy remains the darling of critics, for me, season 3 fell down a lot in terms of quality. This season sees Kimmy go to college and though the show has always been outlandishly cartoonish, it was just that step too far for me. The jokes are fairly hit and miss, some of the storylines are just plain boring (I'm looking at you Lillian) and the fact that they straight-up replaced Jacqueline's boyfriend with another actor irked me.
Rotten Tomatoes score: 96%
Bloodline Season 3 (Released 26/05/2017)
Bloodline managed to produce 3 seasons, so it must have something going for it but it has been consistently called out as a victim of the era of too much premium television. For all intents and purposes, it's a good show - but no one is watching it. Its ratings have gone from pretty good to less than impressive. As Ben Travers of Indiewire summed the third season up; "For those curious, if the final season of "Bloodline" is worth it -- the basest function of a review -- I will quickly and succinctly answer: No."
Rotten Tomatoes score: 29%
House of Cards Season 5 (Released 30/05/2017)
Many argue that the drama about a ruthless congressman and his equally ambitious wife navigating the corridors of power in Washington, D.C. peaked a couple of seasons ago, and it's true that at least in terms of ratings, season 5 has the lowest yet. That being said, the show is still rated very high compared to other programmes. As Katy Waldman of Slate put it; "The bleakest (yet somehow still extremely fun to watch) season of the show yet."
Rotten Tomatoes score: 72%
Orange is the New Black Season 5 (Released 09/06/2017)
Like House of Cards, OITNB seemed to suffer a bit from season fatigue. This was the first season in which the entire drama takes place over just a few days and the result was that you really feel every single hour of the series 13-hour length. Certain characters throw in phenomenal performances but overall the erratic tone of the season is off-putting - at least for this viewer.
Rotten Tomatoes score: 76%