The awards, now in their sixth year, were broadcast online from EPIC The Irish Emigration Museum and hosted by podcaster and comedian Jarlath Regan.
Our annual awards are always a big night in the bonkers.ie calendar!
The awards are about celebrating companies that provide exceptional value and service to consumers in Ireland and this year there were over 30 companies represented in 18 award categories.
This year's event was once again a tad different to previous years as the Covid pandemic meant it wasn't quite possible to have our usual black-tie event in the Round Room, at the Mansion House, in Dublin. As a result, we had a scaled-down (but no less fun!) ceremony from the beautiful EPIC Irish Emigration Museum instead, which we broadcast online.
The event was presided over by Irish comedian and podcaster Jarlath Regan, assuming the mantle with aplomb for the third year in a row.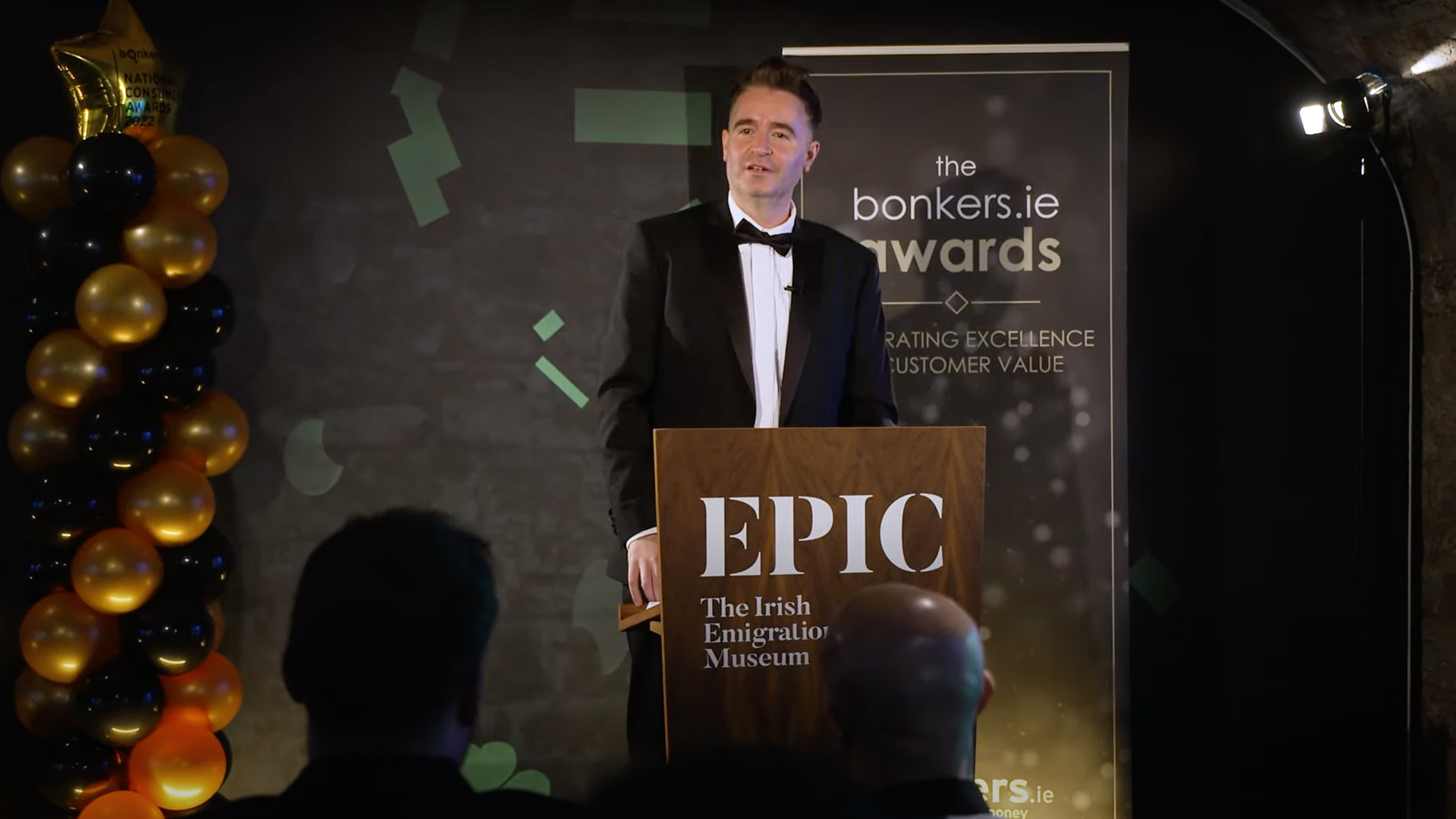 Speaking about the event, the founder and Group CEO of bonkers.ie, David Kerr said: "The past year has been a difficult time for us all yet many businesses went above and beyond for their customers. So this year we felt that recognising the companies that have provided excellent service and value to consumers in Ireland was more important than ever.
"The mission of bonkers.ie since we started in 2010 has been to help consumers take advantage of the best products on offer from suppliers in Ireland and to get better value. At a time when prices are rising and inflation is on many people's minds. I'm delighted that bonkers.ie is able to play such an important role in helping households reduce their cost of living."
Just click here to visit our YouTube channel if you'd like to look back on this year's event.
The winners
Electric Ireland, Permanent TSB and An Post Money were all big winners at the awards.
Electric Ireland won three awards, including Best Customer Service, while Permanent TSB also picked up three awards for Best Community or Charity Engagement, Best Current Account and Best Mortgage For First-Time Buyers.
Other notable winners were Virgin Media for Best Broadband Provider and GoMo for best SIM-Only deal.
In the insurance categories, Royal London won Best Mortgage Protection for the fourth year in a row while Zurich Life won for Best Term Insurance.
The Grand Prix is perhaps the most coveted prize at the awards each year and it was An Post Money who took home this year's trophy, as well as the award for Best Credit Card.
All the winners at today's awards have shown excellence in consumer value over the past year and many could have been chosen as this year's Grand Prix winner. But sitting inside a wider organisation which has been transforming over the last number of years into a leader in areas such as gender pay equality, innovation, and customer service, An Post Money stood out for its values, vision and purpose.
Chairperson of the judging panel, Bobby Kerr.
| | |
| --- | --- |
| Best term insurance | Zurich Life |
| Best sim-only deal | GoMo |
| Best rewards or loyalty programme | Revolut |
| Best community or charity engagement | Permanent TSB |
| Best credit card | An Post Money |
| Best mortgage for switchers | Avant Money |
| Best electricity plan | Electric Ireland |
| Best broadband provider | Virgin Media |
| Best 5G provider | Eir |
| Best mortgage for first-time buyers | Permanent TSB |
| Best mortgage protection | Royal London |
| Best bundle | Sky |
| Best retrofit service | SSE Airtricity |
| Best smart home package | SSE Airtricity |
| Best dual fuel plan | Electric Ireland |
| Best current account | Permanent TSB |
| Best customer service | Electric Ireland |
| Grand Prix: Best Consumer Business | An Post Money |
Competition winner
During the awards we ran a competition giving viewers the opportunity to win a pair of premium tickets to see Billie Eilish in the 3 Arena.
To be in with a chance of winning viewers had to tweet using the #bonkersawards hashtag. We got some great entries throughout, but there could only be one winner...
Congratulations to Grace Tooher. We hope you enjoy your prize!
Thank you
On behalf of the entire bonkers.ie team, we'd like to thank everyone who tuned in to the awards ceremony and who helped make it such a special occasion.
We'd also like to thank our hosts, EPIC, and our presenter Jarlath Regan.
And finally we'd like to give a huge thank you to our esteemed panel of judges.
These awards, which have grown in size and stature each year, are so important because they help consumers make better informed decisions by showcasing the companies that go the extra mile and provide excellent value to consumers in Ireland.
We look forward to celebrating next year in person at the Round Room in the Mansion House!