The Sky Kids app is available for free from today. We take a look at what the app is offering to kids and their parents.
Some of the earliest adopters among us aren't tall enough to ride the big wheel at Funderland! An incredible 80% of kids in Ireland and the UK have access to a tablet these days. And this smartphone-savvy demographic expect to be able to watch Spongebob, Dora and Peppa whenever and wherever they like.
The good news for kids (and their parents) is that Sky has launched a brand new app, specifically designed to improve their viewing experiences. And the Sky Kids app is available for free to all new and existing Sky Variety and Sky Q customers from today.
We went along to a demonstration of the app today, here's what we learned.
Why should kids care?
At today's demonstration, Sky's Head of Kids Content, Lucy Murphy described the Sky Kids App as one that "little humans can love and big humans can trust".
The main advantage of the app to kids is that all of their favourite TV programmes are neatly held together in one place.
All nine kids channels that are available with Sky TV are available on the app, which is as easy to use as a kids app should be.
Each user will have a personal profile and can select an avatar, or 'Sky Buddy', which will guide them around the app and help make the experience fun and friendly. These personalisation options create a sense of individuality, which is likely to be appreciated by free-thinking eight- and nine-year-olds out there.
Once within the app, kids can swipe through the nine channels available to them, pick their favourite programme and watch endless episodes on demand. There's also a home screen, which shows an aggregation of the most popular and most recent programmes across all channels.
After extensive research with kids and their parents, Sky has come up with an interface which is friendly, bright and image-driven and, with the friendly Sky Buddy always around for company, it's likely to be very popular among three-to-nine year olds.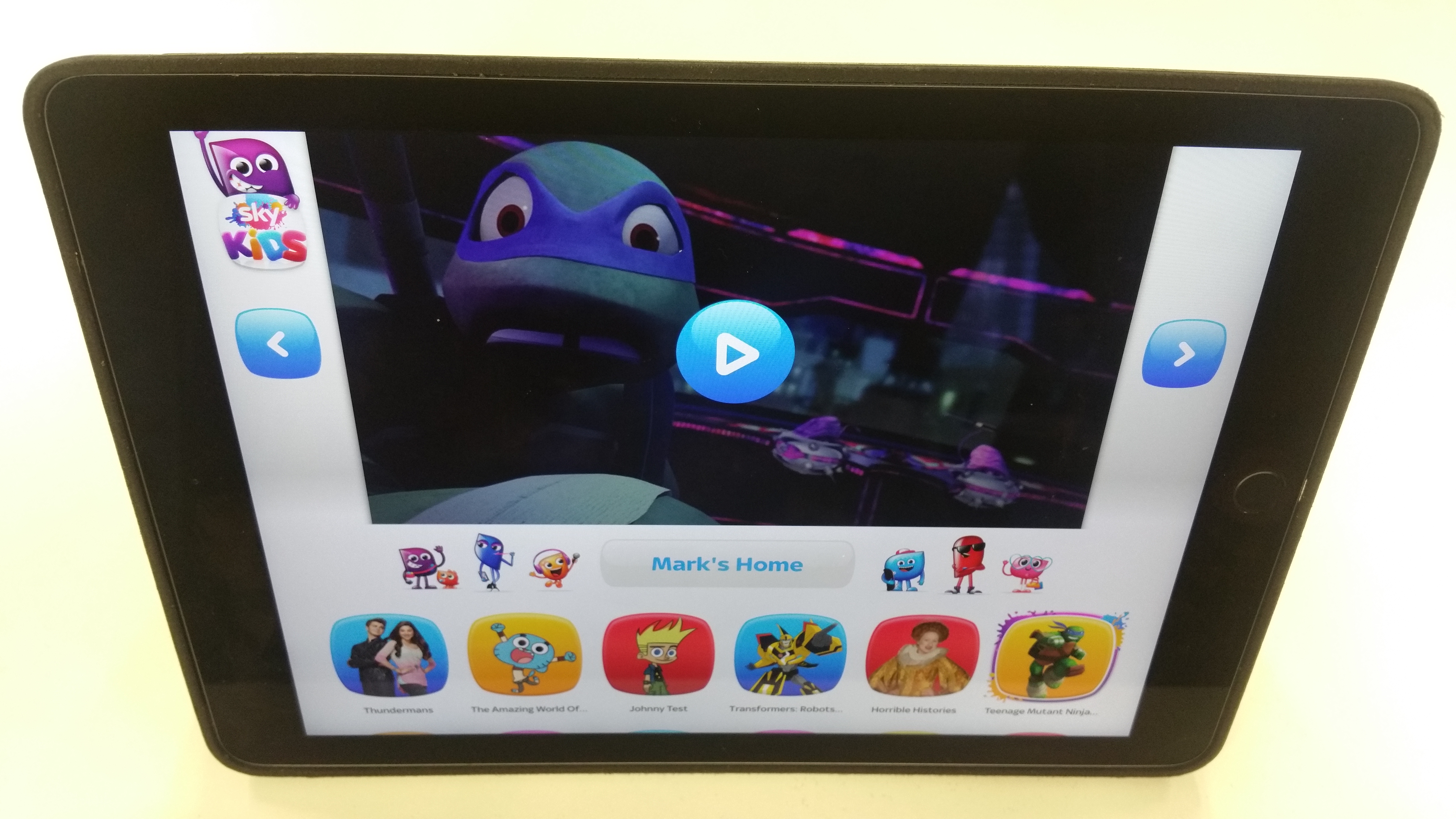 Fig 1: Sky Kids app home screen
Why should parents care?
The most appealing aspect of the Sky Kids app for parents will be the peace of mind that their kids will be protected from inappropriate content while in the app. It's essentially a walled garden of kids content, so parents won't have to worry about programmes aimed at older folks popping up on screens.
There's even a further privacy setting within the app, which allows parents to block any of the nine channels that are available. For example, if your kid is only three or four, you may want him/her only watching junior channels such as Nick Jr., Cbeebies and Disney Junior. And you can easily make this happen.
The app also has a bedtime feature, which allows parents to set a time after which kids won't be able to use it. When selected, the Sky Buddy will start to yawn and get ready for bed about ten minutes before the app shuts down for the evening.
How do I get it?
The Sky Kids app is available on iOS and Android tablets from today, and may be available on mobile and smart TVs in the future.
Just search 'Sky Kids' on your app store and download it in a few seconds. You may have to scroll a bit to find the app, but it's there!
And, as mentioned, it's completely free to new and existing Sky Variety and Sky Q customers.
Original kids content is coming
At today's demonstration, it was also announced that Sky will soon be launching original content designed specifically for under nines.
This move will see the triumphant return of Morph (remember him?) to screens!
Available now
You can sign up for Sky's Variety package or Sky Q through bonkers.ie today and be up and running with the brand new Sky Kids App in no time!