The last 10 years bore witness to some of the foremost infrastructural and technological advancements of our age. Needless to say, things are moving pretty fast, especially in the realm of broadband.
With 2019 coming to a close, we took the opportunity to look back on what has happened in the world of broadband over the past decade and look towards what consumers can expect for 2020 and beyond.
National Broadband Plan
One of the biggest stories of the last decade, at least from a connectivity point of view, is the finalised development and the planned roll-out of the Government's long-overdue National Broadband Plan (NBP), which will see over half a million homes and businesses across rural Ireland finally provided with a fibre connection.
For what many now see as a basic public utility, having a good internet connection has quickly become an integral and functional part of our everyday lives, and is the fulcrum around which our day turns.
While the prospect of 'ending the digital divide' remains an exciting one, the Government has a huge task ahead in creating a robust and enduring service. So what does the next decade hold for consumers and what can we expect to see from the NBP?
Connectivity
The plan is set to cost the State up to €3bn over the next 25 years and will see a total of 1.1m people connected, over 100,000km of fibre-optic cable laid, with a total connectivity rate of 100% in seven years.
With more immediate effect, inhabitants of rural Ireland will begin to see the setting up of approximately 300 broadband connection points or BCPs, which will be based in communal areas such as libraries, community centres, and GAA clubs. These BCPs will act as shared hubs for those awaiting connectivity under the plan in their homes or workplace, with a minimum of 12 hubs being built per county.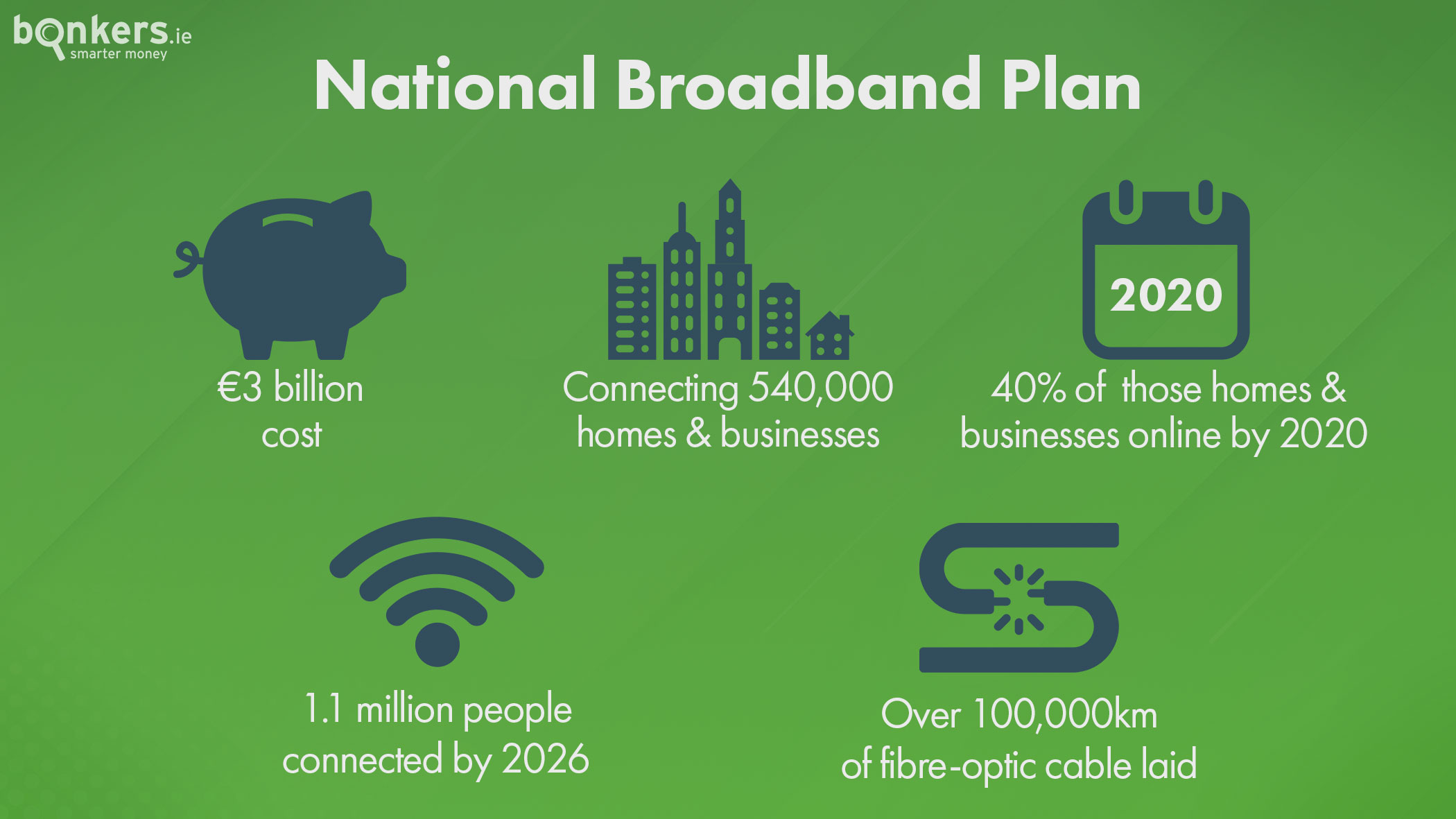 Timeline
With the planning and tendering stage now fully complete, those in rural Ireland can expect to see the commencement of work as soon as January 2020, with a full survey of potential and viable infrastructure taking place in the New Year.
This process will initially involve the surveying and upgrade of ducts and poles through which the network of fibre-optic cable will be run and maintained.
Government has outlined that it aims to have all premises connected within five to seven years. However in areas where no infrastructure exists at all it will have to be built from scratch and those in larger rural towns or villages will likely be served before those in the remotest of areas.
The plan is to have all BCPs finished by 2020. After that, 40% of homes and businesses currently without a fibre connection should come online by the end of 2022 with rural areas around Limerick, Kilkenny, Galway and Cork being the first to get connected.
The transformation of rural Ireland will see over half a million homes and businesses connected to fibre-optic broadband by 2026, along with minimum download speeds of 150Mbps - all going to plan.
IoT & Smart Tech
From the more recognisable service of the internet, we now move to something a tad more advanced - the Internet of Things (IoT).
If you haven't been living in the wilderness for the past decade you'll be aware of the impact that IoT is already having, and its potential to transform our everyday lives in the coming years.
In its simplest terms, IoT is any computing device, be it mechanical, digital or organic, that that has the ability to transfer data over a network without necessarily requiring human input. Or as an engineer friend once kindly delineated: 'It's when your fridge is connected to the internet'.
The potential uses of IoT are never-ending: from being able to turn on the kettle from the bedroom using your voice, and a fridge that's able to order you milk because it knows you're about to run out, to lights which can be turned on or off on your command. In fact, it's quite possible nowadays to think of any common household activity and develop a useful IoT solution to make it easier to do.
So advanced is the development of IoT devices for the home that competitors Apple, Google, and Amazon (among others) have recently announced a joint partnership to ensure that smart home technology is easier to use for customers. Despite their quest to shore up the market, the respective market leaders have made a decision to ensure compatibility across a range of their smartphones, voice assistants and apps.
As IoT has grown steadily over the past decade so too has the number of IoT devices, while companies are beginning to offer more and more solutions that bring IoT technology into the home and beyond.
The next decade will open the doors for the adoption of smart technology across society as a whole, which is an exciting prospect.
5G Technology
5G is the most advanced wireless technology to date and will see connectivity speeds become up to 10 times faster with far less latency; in other words less lagging and buffering. This will make possible a host of new applications, chief of which is the feasibility of automated cars.
How it works
Like 4G, the new technology operates using radio waves, but at a higher frequency, requiring a larger bandwidth in order for it to function. Because of the increased bandwidth required, the technology needs increased levels of infrastructure to operate, which is the first major change we can expect to see in the next decade.
To provide 5G successfully more transmitter masts and antennae are required. Vodafone and Eir currently have 5G services operational in Ireland, available in urban areas of Dublin, Cork, Limerick, Galway and Waterford. In the near future, Vodafone has pledged a further rollout of 5G to begin within the next two years.
As we are all too aware from public discourse, parts of rural Ireland are without the most rudimentary broadband connection, with plans finally announced in the National Broadband Plan to secure access. But it could be a while yet before rural areas see anything close to what 5G can offer.
Depending on how long it will take to roll out, 5G technology will change how we get internet at home and at work. While the wireless system won't fully replace existing phone lines and cables, it will significantly reduce the need for them, especially in high-density urban areas.
Streaming
The major streaming-services we've come to know and love all launched toward the end of the noughties. Despite this fact, it will, however, be the 10's that will be regarded as the real dawn of the Streaming Service; developing from its infancy to realising its true potential and capability.
Streaming platforms are positively stacked with quality content today, with both Netflix and Amazon Originals being the lodestars of the last decade for the future development of quality programming and film-making.
This leads us to the question: Where could streaming possibly go next?
Originals and viewing experience
As new platforms continue to launch, Disney+ being the most high-profile of late in the US, there is an increasing push for already-established platforms to further develop and expand their original content offering. Already being felt are the ripples, if not waves Amazon Studios is making in Hollywood with the awards they have won, and are continuing to pursue.
As bandwidth broadens all thanks to 5G, so too does the possibility of a better quality picture resolution for consumers. The majority of all newly-produced content is now made and available in 4K, while the vast majority of content is available to stream in High Definition.
When considering what might be the next big thing, we can unfortunately already rule out 3D streaming as Netflix has already tried to introduce it to customers in 2012 but to little enthusiasm. Customers want ease of access and don't want novelty. And with many major TV manufacturers having put 3D TV production on the back burner, it seems this isn't a runner, at least not in the very near future at any rate.
This brings us to our next point, what the people want!
Collaboration & new ways of watching
We can't predict future technologies, not least their impact on streaming services, but we can analyse the current trends and what they might be suggesting. We see the future of streaming, or at least part of it, conducted through conscious collaboration. We're all aware that the possibility of Netflix teaming up with Amazon is quite unlikely for now. However, what has already begun to happen is that the streaming giants are beginning to shore up and consolidate their market share in response to new entrants into the market.
We have seen this most recently whereby Netflix, in response to the launch of Disney+ in the US, announced a partnership with kids entertainment giant Nickelodeon. The partnership will see them targeting the family demographic in the production of original content for Netflix's streaming service. The move is where streaming is likely heading, at least from a strategic point of view.
As well as the opportunity to go pretty much anywhere to watch content, consumers now have the expanded option of being increasingly loyal. What we mean is that certain technological advancements have opened doors for customers to stay with one brand or service provider. This has become apparent when, back in October, Eir announced a partnership with Apple TV, whereby Eir customers could use the Apple device as their sole set-top box.
This partnership is opening doors for streaming giants to innovate and eschew traditional avenues of gaining subscribers by going directly to the source of already established networks. Combining streaming services with an established TV service provider is but one of the many new ways of watching that could change how we watch in 2020.
Let's hear from you
What do you think the next decade has in store for broadband and telecommunications?
Let us know your predictions in the comments below or get in touch over on Facebook, Instagram or Twitter!