This article is quite old, you might prefer our latest
Banking
pieces
The coronavirus has impacted people's spending behaviour, with more and more embracing contactless and digital wallets to pay for goods and services.
As another week passes by in lockdown it's hard not to notice how so many aspects of our lives have changed, or rather, adapted to the new living arrangements.
From working from home and homeschooling, to social distancing and self-isolation, every day we've encountered a new challenge.
Another aspect of our lives which has changed is how we pay for goods and services, and new data from AIB has revealed how Covid-19 is impacting this behaviour.
The data has shown a rapid increase in customers using contactless card payments, as well as digital wallets when shopping in store or online.
Take a look at the latest research below.
Spending habits
The data revealed that Irish consumers are more frequently tapping their cards, with contactless spend up 30%, indicating that consumers are looking to avoid unnecessary in-store interactions due to Covid-19.
The data was compiled from over one million debit card transactions between 1st and 12th April - AIB notably increased its contactless card limit at the beginning of April.
Consumers also embraced Apple & Google Pay during the pandemic with average spending up 41% and 45% respectively.
AIB's data demographically broke down spending habits over the period and interestingly revealed that customers over the age of 45 are spending 31% more using their digital wallets (Apple & Google Pay).
Apple and Google Pay at the same time accounted for one third of all in-store transactions from those under the age of 25, with the average in-store spend from this age group up 24% and 35% for Apple and Google Pay respectively.
Chief Digital & Innovation Officer at AIB, Fergal Coburn, said:
"As seen from our insights, Covid-19 has rapidly changed the behaviour of Irish consumers and how they spend their money. The data shows a shift across all demographics towards spending more using contactless payments since the spending limit was increased to €50 at the start of April.
What is even more interesting is the shift towards Apple Pay and Google Pay, which have a higher limit than contactless on cards, which points to consumers looking to further avoid unnecessary interactions with chip and pin terminals and pay for more of their goods and services using contactless."
A closer look
The data reveals the difference in consumer's contactless spending by age group. We take a closer look at the breakdown below.
| | | |
| --- | --- | --- |
| Age | % Contactless payments | % spend increase |
| 25 - 34 | 56% | 31% |
| 35 - 44 | 60% | 30% |
| 45 - 54 | 60% | 26% |
| 55 - 64 | 59% | 22% |
| >65 | 56% | 20% |
Contactless using a debit card was the most popular choice of in-store payment method among all age cohorts, except those under 25 where it accounted for 28% of spend.
Digital wallets
Back in March the five major banks in Ireland agreed to a provisional increase on contactless card payments to €50 in order to help minimise unnecessary contact.
The data from AIB revealed an increase in the amount of consumers using Apple & Google Pay, which observably are not subject to the €30 contactless limit - in fact they don't have a limit at all.
This means customers can happily pay for goods using digital wallet services far easier and safer than when using chip and pin, thus helping to limit the spread of the virus.
However, both Apple and Google Pay may be subject to card limits in certain stores, such as Tesco, where card terminal limits are imposed.
Payments using your phone or smart watch are charged the same as contactless by all banks. Consult our table on current account transaction fees for all the information you need.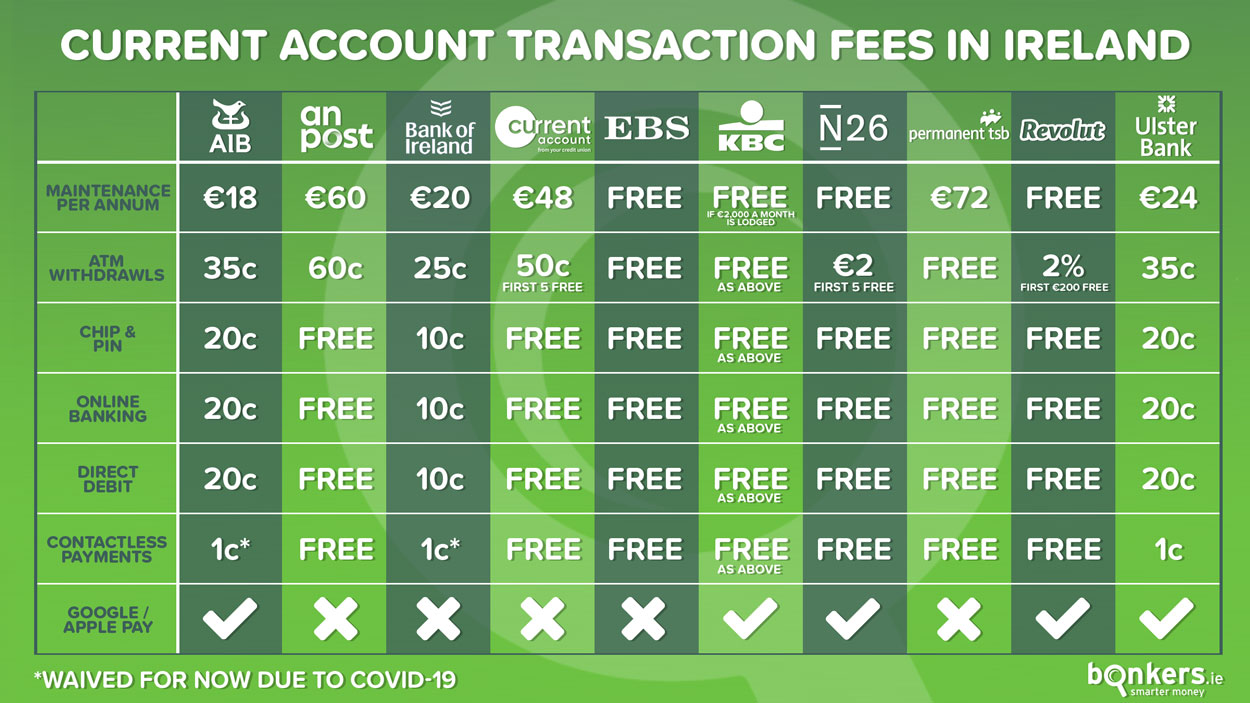 Compare current accounts
Fed up of all the current account maintenance fees? Thinking of switching? The only way to find the best value current account for you is to compare all those available and see which one works.
Check out some of the best value current accounts on the market right now by clicking here.
You can also use our current account comparison tool to accurately research and browse the right account for you.
We're listening
What do you think of the latest data from AIB? Have you been using your digital wallet to buy your groceries? Let us know in the comments below what you think.
You can contact with any further consumer queries over on Facebook, Instagram, and Twitter.