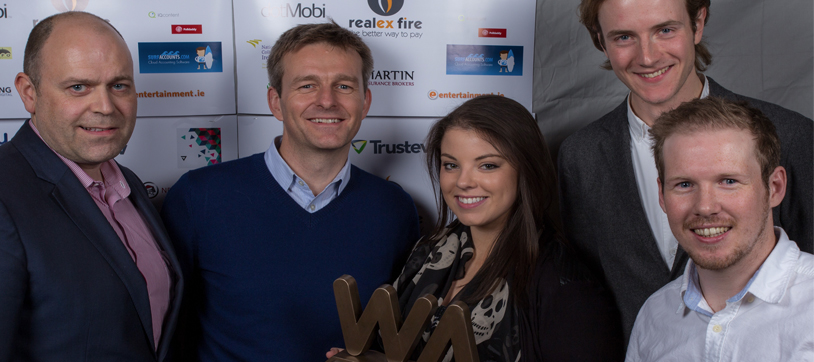 bonkers.ie wins the Grand Prix at the Irish Web Awards
bonkers.ie took home the Grand Prix for Best Website in Ireland at the Realex Fire Irish Web Awards last night.
We are thrilled, honoured and humbled, said managing director of bonkers.ie David Kerr. "The Web Awards is a fantastic event that showcases the very best of the Irish web, and we are delighted to receive this recognition."
"bonkers.ie didn't happen overnight. Our service has been developed in Ireland by a dedicated Irish team, and we've been adding to and improving the service we offer to Irish customers for nearly four years now. I really want to thank our team for all their hard work and I would especially like to thank our customers."
bonkers.ie also won the Web Award for Best Practice in Technology, and for the second year in a row, bonkers.ie won the Best Financial Services Website despite stiff competition that included AIB, HIA and chill.ie.
The award ceremony, which took place at the Four Seasons Hotel in Dublin, was hosted by RTE's Rick O'Shea and is known for its fun and informal atmosphere. Other notable winners included Siliconrepublic.com, JOE.ie and The Irish Times.
In the picture are David Kerr, Simon Moynihan, Sarah Burns, Mark Whelan and Paul Mannion at the Web Awards in the Four Seasons Hotel Dublin.
2013 Realex Fire Web Award winners - the full list
Best Online Publication – sponsored by CFOServices: The Irish Times
Best Web Only Publication: Cool and Dandy
Best Daily Web Only Publication – sponsored by Newsletter.ie: Joe.ie
Best Radio Website: Spin 1038
Best Independent Podcaster: The Comic Cast
Best Sports Site: The Journey
Best Music Site: Nialler9
Best Entertainment Website – sponsored by Poll Daddy: Brand New Retro
Best Arts Website: National Association for Youth Drama (NAYD.ie)
Best Science and Technology Site – Sponsored by BH Consulting: Siliconrepublic.com
Best New Web Application/Service – Sponsored by EURid: Niice.co
Best Website of a Startup – Sponsored by Blacknight: Cuckoo Events
Best Government and Local Government Website: Bridges of Dublin
Best Education and Third Level Website: UCD International Office
Best Student Web Project – Sponsored by National College of Ireland: BetterExaminations.ie
An Suíomh Gaeilge is Fearr: An Spailpín
Best Microsite: Break It Down
Best Financial Services Website – sponsored by Trustev: Bonkers.ie
Best eCommerce/Services Website – sponsored by Wolfgang Digital: Sex Siopa
Best SME/Small Business Website – sponsored by CFOServices: Newsaccess
Best Mobile Site – sponsored by iQ Content: Childline
Best Responsive Design: The AA
Best Practice – Sponsored by dotMobi: Bonkers.ie
Most Beautiful Website in Ireland: Fusion and Street
Ugliest Website in Ireland – Sponsored by V7: RoadSignServices.ie
Most Useful Website in Ireland – Sponsored by Martin Insurance Brokers: Hit The Road
Most Innovative Website: Taggled.tv
Web Agency of the Year: Kooba
Grand Prix, Best Website in Ireland – Sponsored by Realex Payments Fire: Bonkers.ie
---