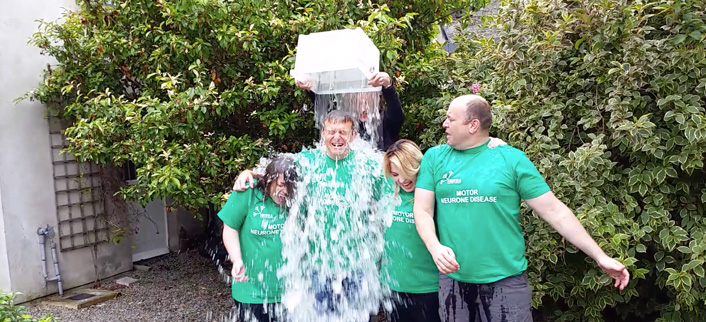 bonkers.ie gets a good old fashioned soaking in aid of IMNDA...

... and so do all of our nominees!
The Ice Bucket Challenge has taken Ireland by storm and at bonkers.ie we were delighted to be nominated by Electric Ireland to take part.
Showing true bonkers.ie spirit, our MD David Kerr set off this morning in search of ice - and came back with as much as he could carry. After hauling the stuff back to the office he gathered up a basin and a big perspex box (much larger than your standard bucket mind you!), filled them with bag after bag of ice and topped them off with cold water from the outside tap – not one to do things by halves our MD.
And so an icy soaking was delivered out the back of bonkers.ie HQ! Quite a morning shock to the system I can tell you, and of course we videoed it and you can see the whole freezing spectacle below.

This social media phenomenon is set to hit €1 million in funds raised for the Irish Motor Neuron Disease Association today and the extraordinary show of generosity will help hundreds of Motor Neuron Disease sufferers across Ireland.
As part of the challenge, we have nominated a few more organisations to take part and look forward to seeing RaboDirect, Sky Ireland and UPC show their mettle too!
If you'd like to donate for the #IceBucketChallenge, you can text MND to 50300 and that'll donate €2. 100% of text money goes to IMNDA across most network providers. If you'd like to give a little more, you can also donate by visiting http://imnda.ie/get-involved/donate/
***** UPDATE 03/09/2014
The good folks at RaboDirect, Sky and UPC were great sports and did their own challenges. UPC raised over €1,500 for Irish Motor Neuron Disease Association which helped tip them over the €1M mark. Congrats to everyone who got dunked for such a good cause! 
Rabo Direct - congrats to Aoife Mahon and the RaboDirect team
Sky Ireland - congrats to JD Buckley and Sky Ireland team
UPC - congrats to Anna-Maria Barry, Jason Campbell and the UPC team
---