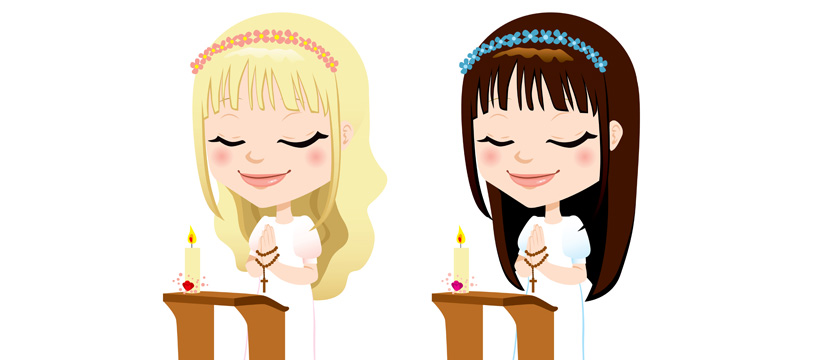 Communion Money - the best Child Savers for your kids' cash

At bonkers.ie we don't do discount Communion dresses, we can't tell you where to get the best buffet bargains for the big day, and we certainly couldn't tell you how to bake a decent Communion cake…
And one thing we really can't recommend is how much you should give your nieces and nephews when they come calling on their Communion day.
Cash
By all accounts, the kids are doing allright though, and the adults still seem to be pretty flahulach too. Despite us grownups being seriously squeezed by Noonan and Co, we're still well able to come up with a few bob for the kids at this time of year. In fact, we give them so much that at the last count the average kid was pocketing a whopping €455 in Communion money.
So what's a seven year old to do with all that cash? I'm sure they have plenty of great ideas of their own. Should you let him spend it all on a shiny new XBox One? Maybe let her buy a new bike? Not a bit of it. That's not what we do at all!
Cruelty
For a kid that has just laid hands on an eye-popping amount of cash, it does seem intolerably cruel to march him down to the bank and make him hand it all over in exchange for a piggybank, a passbook and maybe a few stickers. But then opening a savings account after Communion is so much a part of the whole Irish tradition that it's practically a part of the ceremony now too, so what can you do?
And of course, we're not ones to knock tradition, so we thought we'd put together a handy guide to all the Child Savings Accounts out there to help you choose the one that's right for your and your newly minted kid.
Communion Money
So here's our quick guide. We've listed the accounts in order of merit (as determined by us), and we've even given a short report card at the end of each one.
Ireland State Savings – Childcare Save

Interest rate – 0.25%
Cash bonus – None
Gimmicks – None
Online Access - No
Limits – None

Report card – It used to be that the Post Office was the place to take your Communion Money. There was one in every town, it was safe and there was usually a decent rate of interest to be had. Not any more it seems. With a rate of 0.25%, Ireland State Savings is joint last in terms of interest and with no other gimmicks or bonuses on offer, it really doesn't have much going for it. Poor
Bank of Ireland – Young Savers Account

Interest Rate – 0.25%
Cash bonus – None
Gimmicks – Free backpack when you set up a standing order. Choose from Leinster, Munster, Ulster and neutral blue (where's Connacht?). There may be a moneybox available too.
Online access – Yes (for parents)
Limits – Min €1 Max €10,000

Report Card – Anaemic interest rate, no bonus and fairly tight on the gewgaws. The backpacks are cool, but you need to set up a standing order to get one, so not for everyone. Could try harder
AIB – Junior Saver

Interest Rate – 1.05%
Cash bonus – None
Gimmicks – Money box, welcome pack and "the savings gang".
Online access –
Limits – None that we could see

Report Card –There's not much on offer here to entice kids to part with their hard hustled cash. The savings gang have been around for a while and are looking a little tired, the interest rate isn't great, there's no cash incentive and there doesn't seem to be online access.Could do better
Ulster Bank – urfirst account

Interest Rate – 1.50%
Cash bonus – None
Gimmicks – The most famous of them all - Henry Hippo moneybox – along with "updates and goodies from Henri throughout the year"
Online access – Not that we can tell
Limits - €5 min – no max that we could tell

Report Card – This is a so-so account. The interest rate is ok. There's not much else to say except that there's Henry, who's been around since I was a kid. Third in class
RaboDirect Children's Savings Account

Interest Rate – 1.75%
Cash bonus – None
Gimmicks – RaboDirect PRO12 rugby ball, bag and stickers. There's also draws for match tickets, kicking classes and player meets.
Online access – Yes
Limits - €1 – €20,000

Report Card – This is a good account and it has most of what a kid would want. It's online, the goodies are cool and the interest rate is decent. The limit is also nice and high. This account is really a rebadged RaboDirect Savings Account, and that's a good thing. Joint second in class
Permanent TSB - Children's Safari Saver Account

Interest Rate – 2.00%
Cash bonus – None
Gimmicks – None
Online access – Not that we can tell
Limits - €1 - €19,999.99

Report Card – Good interest rate. Nice big limit before the rate falls. That's about it. It's a demand account with a kid's name on. Joint second in class
EBS – Children's Savings Account

Interest rate – 2.00%
Cash bonus- €20 bonus paid after 6 months as long as a minimum balance of €50 has been maintained.
Gimmicks– Piggybank, activity book, stickers and a birthday card for the kids from EBS.
Online access - Yes
Limits - €1 to €5,000

Report Card – Top of the class. This account has about as much as you could hope for from a kid's account. A decent interest rate, online access, a cash bonus, kid friendly gimmicks and online access. It's only drawback is the low limit, but then who gets €5,000 for their Communion? First in class
We did a Child Saver review at Communion time three years ago. Since then the only thing that has really changed is that interest rates across all Child Saver accounts have fallen. I know low interest rates are a symptom of the times, but when you throw in DIRT at 41%, then rates like 0.25% from Ireland State Savings and Bank of Ireland would give your kid just 67 cent interest on his €455 after a year. If I were a seven year old, I'd be thinking why bother? I'll have that Xbox instead.
If we are going to get our kids into the savings habit, I think we need to offer them more. Most seven year olds are already online, so why are so few of their bank accounts? The idea that they should need to use a passbook and wait for an annual statement just doesn't make sense in 2014.
We also know that Irish grownups really don't like to change banks or bank accounts, so the chances are that the bank that gets a kid now will keep him as an adult. So shouldn't they be trying a little harder? Our kids are much savvier than our banks are giving them credit for, and of course, these kids are the banking customers of the future.
---