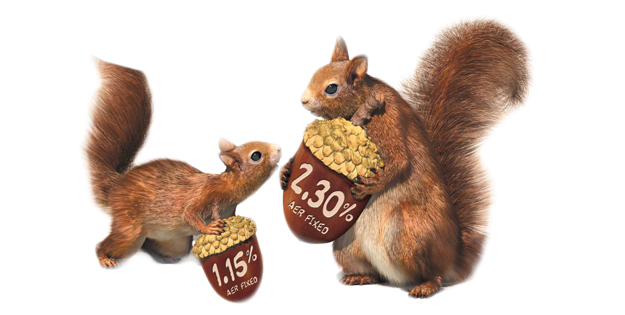 Bank of Ireland Launches Clever Savings Account
Today Bank of Ireland announced and launched a new Savings Account to the Irish market.
The account is pretty clever, as it seeks to maximise the flexibility of a demand account with the interest bearing element of a term account.
The account is named "Double Up 12 Month Deposit Account" and works like this: if you have between €5,000 and €500,000 to place on deposit somewhere, and you're not sure if you need to get at it within 12 months, then this account will offer you a rate of 1.15% AER (fixed) as standard, but then will double that rate to 2.3% AER (fixed) if you don't make any withdrawals.
This is a pretty clever account in that the bonus is optional based on the behaviour of the account holder - if it's left alone the rate is 2.3% AER but if the account holder needs to get at it, the rate is 1.15% AER. 
The Double Up 12 Month Deposit Account account will offer a very decent rate if it is treated as a term account. 2.30% AER (fixed) for a deposit of €5,000 can only be bettered by 2 institutions at today's rates, and only by a small amount (the best rate is 2.41% AER fixed - and the funds are locked away for the full 12 months).
What about demand accounts? It is the case that there are demand accounts out there which offers a similar rate of return - in fact for the same €5,000 the highest yielding demand account you can expect offers a rate of exactly 2.30% AER (variable).
And there's the factor. Did you notice it? The rate for a demand account is variable, whereas this Double Up 12 Month Deposit Account offers a fixed rate. If you track savings account rates on our price change calendar page, you'll see a lot of red arrows, signifying a reduction in consumer value: the interest rates are going down.
In fact, the rates being offered by banks for our savings has been in steady decline over the past 18 months. If you have an account on a variable rate, then you will probably see your rate reducing over the next year. There's no escaping that. If you pick up this account though, your rate is guaranteed at 1.15% AER if you make a withdrawal and 2.30% AER if you don't. Nice.
The Double Up 12 Month Deposit Account account offers a competitive fixed rate and the flexibilty of a demand account, if required. If you're into maximising your return but want to have the pressure release valve of instant access if you really need it, then this account is definitely worth a look. 
---