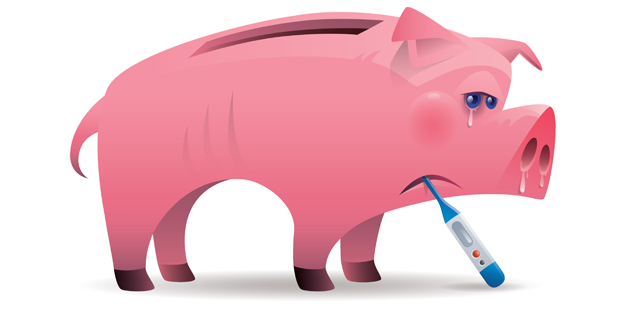 Are we being discouraged from saving our money?
Irish people are not happy about their money, the lack of it, or their ability to save it says Nationwide UK (Ireland) in their latest Savings Index.
Nationwide UK (Ireland) runs a regular survey that asks Irish people how they feel about saving. Essentially, the people they've surveyed believe that the current environment is terrible for savers in Ireland.
The savings provider has found that young people are not happy with how much they are able to save, older folks are not happy with the returns on their savings and the number of people actually saving across all age groups has fallen considerably. Worse still, most over 50's believe that government policy now actually discourages saving.
Nationwide UK (Ireland) has captured a pretty serious sentiment here. It seems that many people simply can't save because they have nothing left at the end of the month after paying their bills,* and for those that can save, the incentive is dwindling because rates are falling and the government is actively discouraging saving with higher taxes.
There could be something to the theory that the government is out to discourage saving. There are many studies showing that when the ratio of savings to household income goes down, economies warm up - something akin to the paradox of thrift - so is that evidence of some sort of conspiracy? And has an anti-savings environment really developed in Ireland?
Well a lot has certainly changed for savers in a very short amount of time, and none of it is for the better of savers.
All banks cut rates for savers
Six months ago we reviewed Ireland's best term deposit accounts on bonkers.ie. We kept our review pretty simple by looking at 1 year term accounts only because our data shows that they are the ones that people are really interested in. At that time Permanent TSB, KBC and Ulster Bank were our top three picks and each bank offered an AER of 3% or more on 12 month term accounts.
Since then, Permanent TSB, KBC and Ulster Bank have all cut their one year term rates. Now, the best AER you can get from any of our survey's top three banks is just 2.5% from KBC. In fact, every single one of the eight banks we reviewed back in January has since cut the rates on their 1 year term accounts.
 

Rate drops from January to July 2013 for 1 year term accounts
Of course it doesn't stop there. The same is true of Demand Deposit accounts. Traditionally, demand accounts offer less interest than term accounts because customers can get at their money whenever they want without giving notice or incurring a penalty. However, competition in the sector, brought on by newer banks offering good rates forced the traditional banks to up their games a little, and there were some very good demand accounts out there as a result.
We reviewed the best of the demand accounts back in December. RaboDirect, Permanent TSB and KBC came out tops with a best rate of 3.25%.
Since our review, the only demand account that has not seen a rate cut is Permanent TSB's Online Instant Access Account which still delivers 2.5% AER. The rest of them have all cut rates, some quite dramatically - with the best now from KBC at just 2.6%.
AIB Direct Deposits didn't make our top three back then, but the bank still offered a decent 2.1% AER for their Access demand account. Now they are paying just 0.75%. If you have money on deposit with them, it's the equivalent of seeing your return slashed by 64%.
Then there's the issue of tax. On January 1st, the government hiked the DIRT rate again to 33% and thus laid claim to one third of our savings interest. And anyone receiving interest less than once a year can expect to pay a staggering 36% DIRT. Then the government will also levy PRSI on interest at the end of this year for everyone.
A conspiracy to bring down the household saving ratio? Probably not. But Nationwide UK (Ireland)'s survey has certainly tapped into a sentiment fuelled by the worst savings environment we've seen for quite some time.

*The Irish League of Credit Unions "What's Left" tracker said that in May 2013, 1.2 million people in Ireland had €50 or less left at the end of the month after essential expenditure and paying bills.
 
---