Dishing the DIRT on Budget 2014
The government leaks. But that's on purpose of course. They've drip, drip, dripped the budget bit by bit over the last couple of weeks – focusing on the positive of course – but also tenderising us in preparation for the cuts and blows to be imposed in this year's budget. 
Budget 2014 is not the blunt instrument that was used to thump families last year, but it is harsh nonetheless. It takes benefits from new mothers, young jobseekers, the elderly, the ill and even the dead. It penalises people for saving money and adds more tax to reliables like wine, beer and cigarettes.
Some of these cuts have been tempered by new benefits such as GP care for the under fives and the addition of new teachers, but this is a Troika budget, so it's really all about the cuts.
Of which there are plenty…
Jobseekers allowance for under-25s will be slashed by a third from €144 per week to €100 per week. By any measure, this is a brutal cut which will seriously affect most of the 71,300 under-25s on the live register right now. But then the government must be gambling that they are not going to take to the streets and protest en masse. They know that the number of unemployed under-25s is actually falling - and it's not because they are getting jobs – it's because they are emigrating en masse.
Then there's the phone allowance for the elderly.  The government is cutting it altogether and reckons €44 million will be saved. It represents €114 per year or just €9.50 per month per person, but it has probably caused a few sleepless nights amongst cabinet members because there are more than 300,000 people in receipt of this payment – and unlike the kids, the pensioners have shown that they do protest en masse.
What actually might push the pensioners over the line though is the abolition of the Bereavement Benefit. At €850 a pop, it's substantial - but  no mention from Michael Noonan as to how much he hopes to save on this one...
Even mums and babies aren't immune. The maternity benefit, which was worth €262 per week, will be reduced to €230 from January 1st. A cut of 12% which the government reckons will save €30 million.
Then there's the old reliables…
Smokers, who already pay the second highest cigarette prices in Europe, will pay an extra €0.10 per pack. Sure, €0.10 is not much of an increase, but it brings the price of a pack up to €9.50 - of which the government now takes an unbelievable €7.44.
Despite levying nearly 80% tax on tobacco products, it has been well argued that hiking the price of cigarettes all the way up to €10.00 or more per pack would have a huge effect on smoker quit rates. The government has decided against it again though. Perhaps for exactly that reason.
Then there's the posh tax. Following on the huge success of last year's €1.00 wine levy, Michael Noonan has decided to pop another €0.50 on every bottle. It may sour the Sancerre somewhat, but probably won't stop the party altogether.
Getting away lightly enough though is the humble pint which has only attracted a €0.10 increase (Diageo lobby?). Shots of spirits get just €0.10 too. Although not huge increases, they got €0.10 cent each last year as well when the bottle of wine got hit with €1.00.
The real old reliable..
There were rumours going around before the budget that the government was planning to reach into our bank accounts and help themselves to our savings Cypress style. The lads and ladies of Leinster House have shown more finesse than that though. There was no great grab at our cash, but they still went after our savings without mercy. It what has become an annual tradition, the rate of DIRT was hiked again. But this time the hike was massive. An increase of almost a quarter from 33% to 41%.
It didn't used to be like this though. From 2002 all the way through to 2008, savings were believed to be sacrosanct and DIRT was kept stable at 20%. That didn't change until the collapse of the banks and the introduction of the blanket bank guarantee. Then the government eyeballed the DIRT rate as a new source of income. That was five years ago. And it proved to be pretty good source of income too, because since then this government and their predecessors have increased DIRT six times.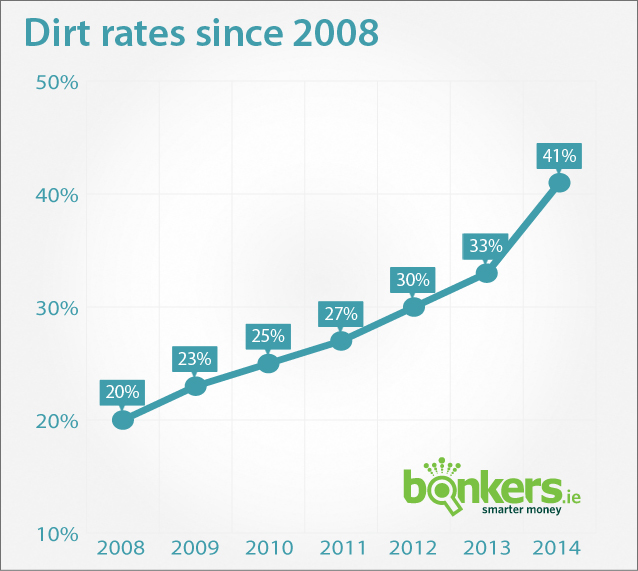 It could be argued that the new super-high DIRT rate has been brought in line with the upper income tax rate. Which is almost true. Savings interest is treated as income in other countries, so banks don't charge DIRT; instead savers must declare interest on their tax returns. But that's where the similarities end. DIRT at 41% doesn't allow for a lower tax rate. It doesn't take credits and allowances into account either. Nor does it know whether you are employed, working part time or unemployed. It's just a big flat indiscriminate tax on the people that try to put away some cash for a rainy day.
********************************
Having said all that, this budget isn't as brutal to families as Budget 2013 where child benefit was cut, college registration went up, the PRSI allowance was removed, property tax was introduced and the price of petrol went up. There were actually a few decent initiatives in this budget.
There's the planned recruitment of 1,250 teachers which is great. But the increase in university registration fees and planned cuts to third level will probably balance this out.
Then there's free GP care for the under fives which is great as well. Although it is somewhat ironic that the cut in maternity benefit will pay for most of this too.
---