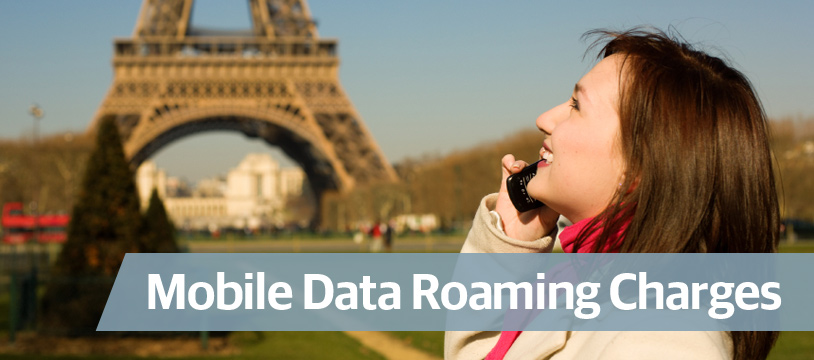 Still scared of mobile roaming? Good news for travellers this summer

No doubt there are good and decent Irish citizens across Europe right now wondering whether they should risk using their mobile phones. You know, to call home and let their families know they won't be sleeping in an airport for the foreseeable future now that the French Air Traffic Control strike is over.
Many of these poor souls are surely worried that they'll get swizzed by their mobile companies if they dare to use their phones in France or Spain or across Europe. And with good reason!
This fear is a well-recognized condition called Roamophobia. It's very common across the Eurozone, you've probably got a dose of it yourself, and strangely enough, it is one of the few afflictions that forces people to go completely incommunicado for days or even weeks at a time.
Bill-shock
Generally brought on by holiday-bill-shock, the roots of Roamophobia can usually be traced back to specific episodes - like using the internet on your phone in France in 2010, or sending pictures home from that holiday in 2011.
In fact, there was a time when stories abounded of stunned mobile customers who came home to find €21,000 bills waiting for them after skiing trips, or being burned for 10 large after sending funny holiday snaps to all their friends. It was so bad that the general consensus when travelling abroad was to avoid using data altogether, make calls in emergencies only, and text like a grandmother not a teenager.
We've all been stung - some of us very badly indeed - and there's a reason for it. Until 2011, data roaming was about as regulated as the Wild West. In fact, just a couple of years ago you could be charged ANYTHING for sending and receiving data; so that's exactly what some of our mobile companies did, and lots of their customers found out the hard way.
Can't get fooled again
It happened to me after a trip to Italy. I won't bore you with the details because you've probably been in the same position yourself, but I've never quite recovered from the shock of it. As George W Bush once famously said: "Fool me once, shame on… shame on you. Fool me, you can't get fooled again!"
And I didn't get fooled again. I became maniacal with my phone when I travelled abroad. I'd keep the data off, choose the right provider and check beforehand for costs.  And even now, when I get to where I'm going, I generally don't make calls, screen everything that comes in, or just leave the phone locked away in the hotel room safe. And of course, absolutely no mobile data unless it's a matter of life or death!
But things have actually changed quite a lot since I got lost in Italy and needed to use mobile maps – which got me scorched by my phone company – and this is where I introduce Neelie Kroes…
…Neelie Kroes is a Brussels politician!
…now hang on, hang on! Before you utter an expletive and click off this page, consider just this – when you go away on holidays this summer you'll finally be able to upload pictures to Facebook, talk on your phone and text away without having to unduly worry that your mobile bill will cost more than your holiday – and that's pretty much all thanks to Neelie Kroes.
So what's Brussels ever done for me?
Neelie Kroes became the (substantially titled) Vice-President of the European Commission responsible for the Digital Agenda for Europe back in 2010. And with that, she got stuck right in and started fighting to regulate the cost of travelling around Europe and using a mobile phone at the same time.
By July 1st 2014, Neelie Kroes will have taken a completely unregulated mobile data roaming market, where you could be charged just about anything for using the internet on your phone, and tamed it down to a really rather respectable 20 cent per megabyte. Which is pretty cool...
And that's because just a couple of years ago, if you went a-roaming with your 02, Meteor or Vodafone phone, you could pay up to a fiver per megabyte for data, and even more in some cases. And all the companies had really complicated ways of billing for data so the plans were impossible to understand. But the basic message was "use the internet at your peril!"
And perilous it was. A single picture sent home from you phone could cost a fiver. A single song could cost you €15 and streaming video could use up your savings.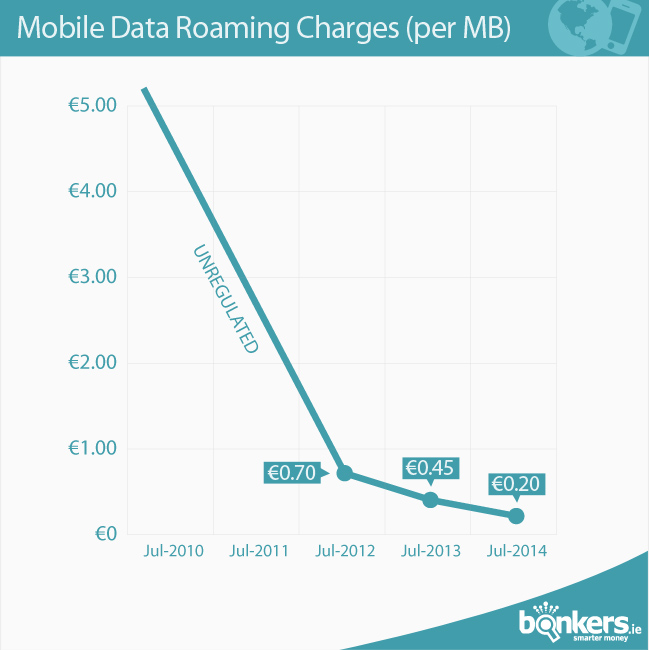 But Neelie has fixed all that. It's now pretty simple. In fact I've put together a handy guide of how much you'll pay this summer and what you're saving over last year.
So here's the deal on roaming with your phone from July 1st 2014
- Making calls will cost no more than €0.19 per minute - that's a drop of 21%.
- Receiving calls will cost just €0.05 – down 29%
- Sending texts will cost €0.06 – down 25%
- Receiving texts is free (which is nice)
- And best of all…
- Data will cost just €0.20 per megabyte – down 56% !!
Roaming free
You can't quite roam free just yet, but with one minute on the phone now costing around as much as one megabyte of data, why would you bother calling at all? With an array of apps out there that let you send messages over the internet, you should be able to stay in touch for about the price of a minute on the phone.
Happy travels!
---