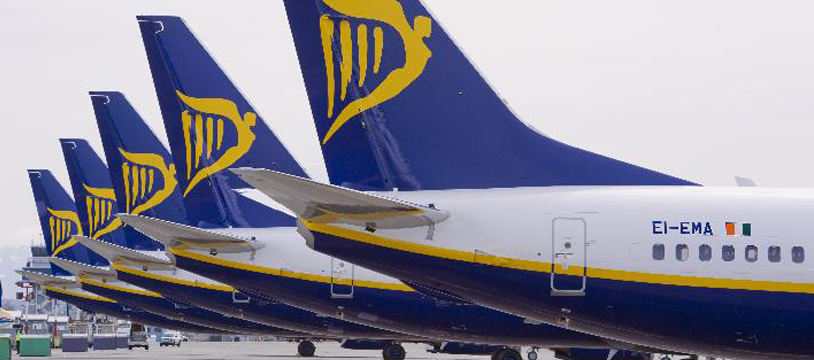 Is the new Ryanair actually for real?

Have you flown Ryanair lately? Of course you have, and so have around 80 million others during the last twelve months. And if you've travelled with them recently, you've probably noticed that the world's most talked about airline seems to be growing up and changing, and with it, weird things are happening. Like you no longer have to scrummage to get a seat, staff are trying to be nice, and the price actually seems to be the price.
The origins of the friendly new Ryanair seem to trace back to September 2013, when boss Michael O'Leary took a roasting after a grieving father was charged €188 to change his flight when his entire family was killed in a fire. In the same month, Ryanair was voted the worst company in Britain for customer service by Which? Magazine, and just prior to that the company hit the headlines when it refused a refund for a customer who had died too soon before her flight… and as if that wasn't bad enough, the Ryanair CEO had to deal with disgruntled shareholders and a falling stock price too.
The pressure must have gotten to Michael O'Leary because in that same September he told those Ryanair shareholders that he would really try not to "unnecessarily p*ss people off" anymore… and he seems to have been working away to make good on his promise ever since.
Cabin pressure
I'm certainly a Ryanair customer, aren't we all? But I'm a reluctant one at times. Sure, the lure of great prices can be hard to resist, but there were just so many things that p*ssed me off about the airline that Ryanair was not usually my first choice. If I was going somewhere and another airline went there too, I might pay the extra few bob just for the peace of mind. The way I saw it, Ryanair could frequently find some way to ruin my day, or make me miserable along the way.
Like in September 2013, while Ryanair was taking that bruising in the press, I was travelling to Biarritz with the airline and had paid a very low price for my ticket. When I got to the airport, I found that I didn't have my boarding pass (yes Mr O'Leary, I know I am an idiot) so I went to the Ryanair customer service desk, just as the previous customer was leaving on the verge of tears. I explained my predicament and was told it would be €60 for a new boarding pass. No room for negotiation, no compassion, no reason.  Not even a please. Just €60 - or no flight for you. And what galled me particularly was that the €60 they wanted for a printout was more than I paid for my flight!
I know we all have stories like this one, but it is incidents like these that made me look to other airlines first. I know they've done a huge service for us all, they have changed the industry and made airline travel accessible to millions. They've retrained passengers too. If you fly Ryanair, you fly by their rules. And so people pack less, pay less, and fly more. It's the trade-off. The more like cargo you behave, the easier it is for airlines to move you from place to place. But I don't like being treated like cargo all the time…
And now something remarkable seems to be happening. The guy who called his own customers idiots (I took this personally) and called other execs in the airline industry a "platoon of goons" seems to have changed tack entirely.
Where is the real Michael O'Leary?
In January, Ryanair ran their first ever TV ad campaign and in it, the CEO said stuff like "Thank you for flying Ryanair" and "I hope you enjoy these new services as much as we look forward to welcoming you on board in 2014". Not a single expletive or beeped out F-word. It was so weird it had me thinking "holy crap can we please have the real Michael O'Leary back?"
But the nice, friendly Michael O'Leary is still going. And he's got people everywhere shaking their heads – and most importantly – talking about Ryanair. Could they really change their ways? Could they really be nice to the people they have for so long held in distain?
Well, I wouldn't put anything past Michael O'Leary. He is a remarkable businessman and a PR genius. And he really knows how to work the press, even if he's been known to push it little too far from time to time. Remember "beds and bl***obs", or "pay-per-pee", or "you're not getting a refund so f**k off"? Ah, see? You do remember, and that's the point.
Michael O'Leary has always been great at grabbing headlines and keeping people talking. As he said himself a few years ago, "the gobbier I get, the more cheap headlines I get, the more tickets we sell." But he's certainly able to see that times are changing, and he's obviously taking this new friendly lark very seriously. So much so that he's hired a special dude to make sure Ryanair is nice to people from now on.
And so once again, Michael O'Leary has surprised everyone so much that we're all talking about him again!
Changes
The first major change we noticed here a bonkers.ie is that they dropped the Ryanair Cash Passport at the end of March. That one little piece of plastic perfectly represented the old Ryanair strategy of catching out customers with hidden charges and ancillary fees. The Ryanair Cash Passport was the only way to avoid the €6 "administration" fee that Ryanair used to levy on each leg of each customer's journey. And it was the worst prepay money card in the market by a long stretch.
The much loathed administration fee is gone now too. And the prices you see on Ryanair.com are the prices you actually pay, with taxes and charges and all. The only catch? If you book with a credit card instead of a debit card, you'll pay another 2%, but that's it. Heck, even Irish Rail does that – and us tax paying punters are supposed to own that company.
Then there's the legendary lost boarding pass fee. That's been dropped from €60 to just €15, which should be just enough to gently remind passengers to remember their boarding passes without making them feel like idiots, and preventing tantrums and tears at the customer service desk.
Insurance
They're still doing the old travel insurance wheeze, but most people are wise to it at this stage. There's now actually some text on the website that says that you can pick "Don't insure me".  Of course, it's still buried between Denmark and Finland in a dropdown box that says "Please pick a country of residence" but you can only take nice so far right?
Well no. It gets better still. You get your very own seat on Ryanair now, and if you get one of those incredible Ryanair fares, sure you can splurge a tenner and choose your very own. I flew Ryanair last month for the first time since the Biarritz Boarding Pass Incident, and I'm very pleased to say that I sat in seat 7A on the way out, and in seat 7A on the way back too.
In fact, on my last trip I was so impressed with the new Ryanair that I've just gone and booked another trip with them to a city that Aer Lingus flies to as well. I'd never have done that a year ago. But it gets better… I needed to change one of the flights. With the old Ryanair, well… we know what would have happened with the old Ryanair. But with the new Ryanair, it cost me €40 and took just a few minutes online. I was amazed. And even with the change fee, the whole thing was still cheaper than Aer Lingus.
Now that deserves a blast from the Ryanair bugle, but apparently they don't even blow their own trumpet anymore!
---