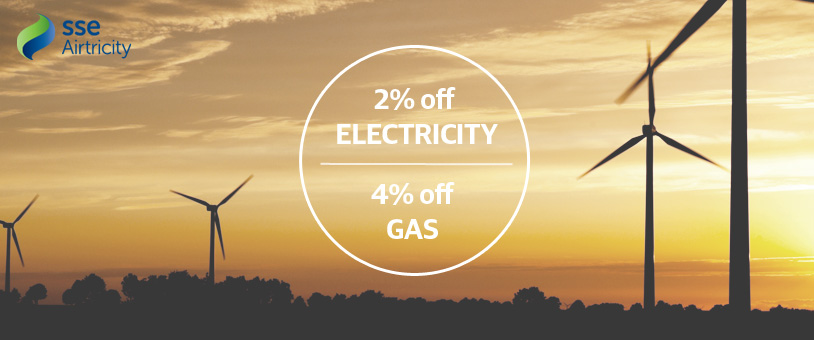 SSE Airtricity to reduce electricity and gas prices

SSE Airtricity has today announced that it will cut electricity and gas prices. The price cuts, which will reduce bills for all SSE Airtricity customers, will come into effect from April 1st.
The cuts will see the company reduce prices for new and existing customers by 4% for natural gas and by 2% for electricity. SSE Airtricity has said that the reductions will apply to unit rates and standing charges. 
Savings
SSE Airtricity says that the electricity price cut will mean savings of €23 over current rates and the gas price cut will mean savings of €35. Overall, a dual fuel customer can expect to save €58 per year once the price cuts take effect.
SSE Airtricity is the third company to announce electricity price cuts and the second to announce gas price cuts. In November, Electric Ireland cut electricity prices by 2.5%.  Last week, Bord Gais Energy announced that the company is to cut standard gas unit rates by 3.5% and electricity unit rates by 2.5% from 16th March.
SSE Airtricity says that standing charges as well as unit rates will be cut. The company has also said that prices will be reduced for customers on Pay-As-You-Go meters and should offer gas and electricity PAYG customers savings of €55 per year.
The price reductions announced today will apply to SSE Airtricity's 440,000 household customers.
SSE Airtricity is owned by Scottish and Southern Energy (SSE), one of the UK's "Big Six" energy firms. SSE also announced today that it would be cutting gas prices for their UK customers by 4.1%. The company says that price cut, which will take effect from 30 April, should save their average customer £28 a year. So far, five of the Big Six energy companies in the UK have announced price cuts.
In Ireland, price cut announcements have been made by Electric Ireland, Bord Gais Energy and now SSE Airtricity. Only Electric Ireland's electricity price cut is currently in effect. Of the domestic suppliers, Energia and Flogas have not made price cut announcements.
Wholesale gas prices
Commenting today, SSE Airtricity Managing Director Stephen Wheeler said: "Our approach to buying energy on wholesale markets ensures we can offer prices to customers that are both competitive and stable."
Mr Wheeler continued: "We've always made the commitment that if we can lower prices, we will. I'm pleased today that we're announcing price cuts to our standard unit rates as well as our standing charges that will save our dual fuel customers €58 on average. In this way we're delivering on our commitment and making a difference for our customers."
Today, a report issued by Vayu Energy found that wholesale gas prices were down 30% on the same period last year. About half of household energy bills are directly influenced by wholesale gas prices, however energy companies typically buy supplies a year or more in advance.
Managing director of bonkers.ie, also commenting on today's announcement, said: "SSE Airtricity's price reductions will be welcomed by their customers and it's good to see suppliers passing on some of the savings from falling wholesale prices."
"I would encourage energy customers to take advantage of the savings that are already available to them as well." Mr Kerr continued: "Today's announcement from SSE Airtricity will mean annual savings of €58, but a customer switching away from standard rates now could save over €300, which is more than five times as much. And they'd still benefit from the price cuts when they take effect in a couple of month's time too."
 
---