PSO Levy reduction announced by regulator
The Public Service Obligation Levy is a government subsidy that is charged to all electricity customers. The PSO Levy subsidises renewable energy generation, biomass and peat-fired power plants. It is also used to secure the Irish electricity supply. The Commission for Energy Regulation (CER) has announced that the PSO Levy charged to domestic customers will come down from October.

The PSO Levy is finally coming down.
After three years of increases, the Commission for Energy Regulation has announced that the PSO Levy will fall for all households and businesses from 1 October.
Domestic customers currently pay €64.37 per year in addition to their electricity usage charges for the PSO Levy. This is set to fall to €60.09, a reduction of €4.28 per year.

Reasons for the reduction
The total amount of money that will needed for the PSO Levy in the coming year is €325.3 million. This a drop of €10.1 million from €335.4 million needed for the current period.
The main reason for the reduction in the PSO Levy is that contracts for power plants at Edenderry, Tynagh and Aughinish are all due to end in 2016. These plants currently receive money to subsidise the electricity they produce. The end of these contracts will reduce the amount of money needed by the PSO Levy by €41.3 million.
In addition, Electric Ireland has volunteered to rebate almost €13 million back to the Levy due to a clarification over payment rules.
There is also a reduction in what is known as the R-Factor* which will save the PSO Levy a further €4.9 million.

Smaller than expected reduction
Unfortunately, wholesale electricity prices are substantially lower than they were last year. Of course, this should be considered a good thing for consumers, and has certainly resulted in price cuts and much better deals from suppliers. However, it is not good news for the PSO Levy. That's because power plants supported by the scheme receive less money on the open market and in simple terms they need to be topped up by the Levy.
And these lower wholesale prices mean that the most of the savings from contracts ending and supplier rebates have been wiped out.
In fact, lower wholesale prices have meant that the €30.6 million cut to the PSO Levy proposed by the CER in June will actually be just €10.1 million. And this will save individual households just €4.28 per year.

PSO Levy costs and benefits
The PSO Levy, which currently makes up around 6% of a household's total electricity bill, is a charge which has resulted in some debate with consumer advocates arguing that homes and businesses should not be forced to subsidise the cost of generating power from wind and peat. The fact that VAT is added to the Levy doesn't help quiet this debate.
However, the PSO Levy is helping to reduce the amount of gas we use to generate electricity and increase renewable generation. And in turn, this makes us less vulnerable to the kind of price shocks we've seen over the last few years.
 In 2010 when the PSO Levy was first charged, 64% of Ireland's electricity was generated using natural gas. In 2013 just 44% of our electricity was generated using gas.
In addition, renewables, which account for the largest portion of the PSO Levy, jumped from just 12% of total generation in 2010 to more than 30% in 2013.
 The figures that detail how we made our electricity in 2014 are due soon and will likely show a further increase in renewable generation, which helps to secure our electricity supply and brings us closer to our goal of 40% renewable electricity by 2020. Renewables also bring us closer to energy independence, a goal that would be much harder to achieve without the support of the PSO Levy.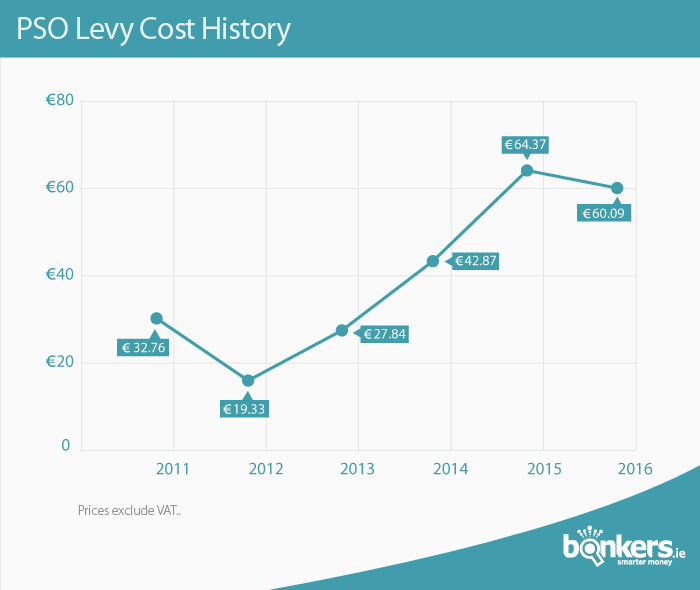 * This is the CER's definition of the "R-Factor" - The PSO levy is determined ex-ante each year based on estimates of costs to be recovered by all relevant parties, relative to the forecasted PSO benchmark price. In line with the Notification, this amount is reconciled retrospectively ('R-factor') two PSO periods later, once actual, audited costs are verified and the true market price and generation levels are known.
---