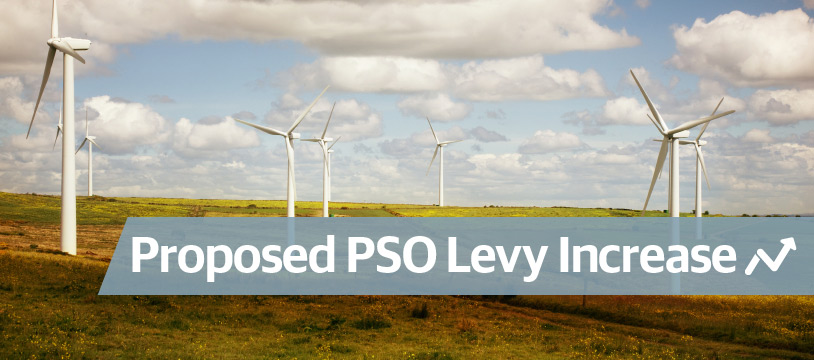 PSO Levy - increase of 47% proposed for electricity customers

Irish households may soon see an increase of 47% in the PSO Levy portion of their electricity bills. If the proposed increase goes ahead, customers will see the levy go from €42.87 to €63.01 per year. That's an increase of €20.14. VAT is charged on this, so it'll mean every household may soon have to pay €71.52 regardless of how much electricity they use.
So what is the PSO Levy and what is it used for?
All electricity customers pay the Public Service Obligation Levy. It's a tax of sorts that is used to subsidise renewable energy generation and peat burning power plants. For supply security reasons, it is also used to top up the costs of some big gas burning plants where all running costs are not recovered by the sale of the electricity generated.
The Commission for Energy Regulation sets the level of the PSO levy every year. They must take a range of factors into consideration before deciding how much money will be needed in the following year.
Last time around, the CER set the PSO Levy at €210.9 million. They are currently proposing that €327.7 million will be needed for the 2014 to 2015 period - which is an overall increase of 55% and will be paid for by households and businesses.
Why is such a large increase in the PSO Levy necessary?
The PSO Levy is primarily driven by the price of electricity. If electricity prices are high, less money is needed to subsidise renewables like wind, small-scale hydro and biomass. Indigenous peat burning power plants will need less subsidy money too. That's because they receive more on the open market for the electricity they produce.
Conversely, if electricity prices are falling, more money is needed to subsidise renewable and indigenous supply.
Currently, burning gas to make electricity is cheaper than renewable and indigenous methods.  Wholesale gas prices are falling right now too, so it should become cheaper again for traditional power plants to make electricity in the coming year. Therefore the renewable and peat generators will need bigger subsidy cheques. And in somewhat oversimplified terms, that where the punter is needed to fill the cash gap.
What will the proposed €327.7 million PSO Levy for 2014/2014 actually pay for?
35% - €114.7 million - Peat power plants
Edenderry
West Offaly
Lough Ree
33% – €107.9 million - Security of Supply gas power plants
Tynagh
Aughinish
27% – €87.8 million - Renewables
Wind
Small scale hydro etc.
5% – €17.2 million - Administration and cost recovery for 2013/2014
€1 million is listed by the CER for administration costs. There are other costs too, but it seems the biggest will be paying back Eirgrid. It looks like the East-West Interconnector paid €9.8million in PSO charges last year when it didn't need to. As a result the PSO Levy last year collected more than it should have - which benefitted customers at the time. However, it seems that €9.8 million needs to be paid back now. And once again it looks like the punter will need to step up.
Does the PSO Levy go down?
Over the last five years, the PSO Levy has gone down once for the 2011/2012 period. During that period, energy prices increased substantially so less money was needed to subsidise renewables, biomass, small-scale hydro and peat.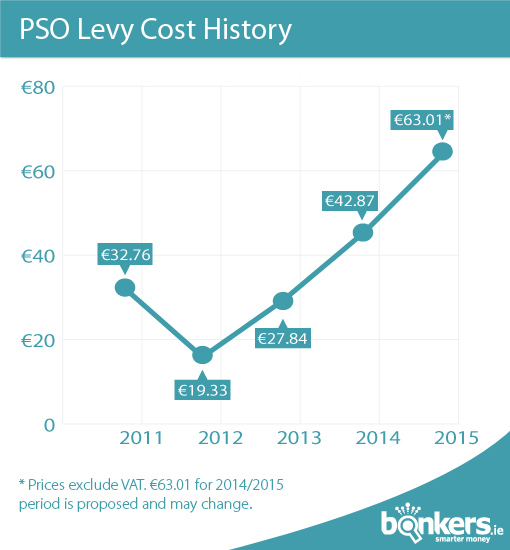 **********************
Bord Gáis Energy Index
It is interesting that at around the same time the CER has proposed to increase the PSO Levy, Bord Gáis has released their Energy Index which shows that gas prices are falling and consequently electricity prices are falling too. I'll quote Bord Gáis directly because it makes for interesting reading and doesn't need any editing from me:
Electricity (-4%)
In May the monthly average Irish wholesale electricity price fell by 4% month-on-month primarily as a result of softer wholesale gas prices (as gas powered generation dominates the generation mix on the island of Ireland the price of imported gas from the UK has a significant influence on Irish wholesale electricity prices). In May 45% of  Ireland's demand was met by power plants burning gas, an increase of 11% on April's level. Wind in May met 12% of the island's electricity demand, a 2% drop month-on-month.  
Natural Gas (-8%)
In euro terms the average Day-ahead gas price for May was 8% lower month-on-month as falling seasonal demand and bumper supplies combined to push prompt prices lower for the fifth consecutive month running. At 44.48p a therm, the May average Day-ahead gas price recorded a three and a half year low. The mild winter left UK gas stocks at 72% full at the end of May compared to 31% at the same time last year. As reported previously, the fullness of the UK's gas in store is a factor weighing on gas prices as the demand for gas in the months ahead will be lower because the need to replenish stocks in advance of winter 14/15 will ease.     
---