Panda Power is Ireland's newest electricity supplier
Yes, you read that right. Panda, the recycling and waste management company, is now an electricity supplier too. The newly formed Panda Power launched today, you can sign up with them right now, and you could actually have your electricity supplied by Panda Power within a couple of weeks.
Panda is a private business, but that doesn't mean they are not a force to be reckoned with. They are an Irish owned company, they have over 150,000 household customers, and they are Ireland's biggest recycler. In fact, Panda recycled 220,000 tonnes of paper last year which is something in the order of 3.5 million trees saved from deforestation. And to add to all of that, Panda Power will be Ireland's seventh domestic electricity supplier, and they plan to sell just green electricity too.
Now that's all well and good of course, but what we're most interested in is what's on offer from the newly formed electricity supplier. So let's take a look.
Panda Power electricity
First off, Panda Power is launching as an electricity supplier only. So no gas. This isn't particularly unusual though. We already have two electricity only suppliers in Ireland, they seem to be doing just fine, and have gathered plenty of customers between them over the last few years.
Aggressive pricing
What Panda Power have said is that they plan to "compete aggressively on price," and launch with a unit rate that is "the lowest in the market".
Now those are pretty strong statements, and the timing couldn't be more interesting. That's because Energia cut prices and introduced new tariffs yesterday (see more on that here). Energia were very aggressive too, and put themselves firmly in the cheapest electricity supplier position with their new deals.
And then along comes Panda Power just one day later. They've launched with a unit rate of 13.63 cent, and in fairness to them, it is actually the cheapest standalone electricity unit rate in the marketplace.
When you add that 13.63 unit rate to their standing charge of €139 and include all the taxes, an average household will pay €1,051 a year, which is very good indeed. To put it into perspective, a household on standard rates is paying €1,211 – so switching to Panda Power will net savings of around €160 a year. 
So how does Panda Power stack up against the best deals from the other six electricity suppliers?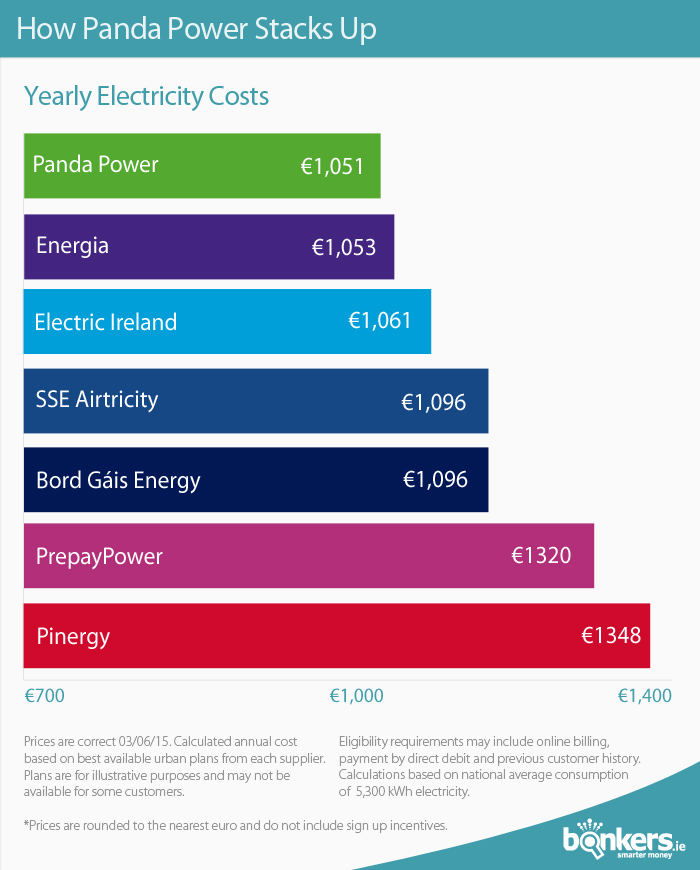 So what else do you need to know about Panda Power?
Well, Panda Power will only offer their electricity deals to direct debit and online billing customers. That's normal enough for discounted deals though. The company has said that they have no plans to get into the prepayment market either, although they may look at adding gas some time in the future so they can cater for dual fuel customers.
Green Energy
Panda Power has said that they will "only supply green electricity produced from renewable energy sources which do not impact negatively on the environment". They've said that the have already obtained Guarantees of Origin (aka GOOs) which certify that their power is green. What's interesting here is that certified green electricity is not usually the best priced electricity, so Panda Power have achieved something of a first.
Dual Fuel
If you're an electricity only customer, Panda Power is a very good bet. But if you have a piped gas supply as well, you can do better. Energia introduced a dual fuel deal yesterday which has an electricity unit rate of 13.32 cent. That's cheaper than Panda's new electricity rate of 13.63 cent, but it's only available if you take both electricity and gas with Energia.
Panda Power to invest €40 million
As part of their launch, Panda Power has said they will hire staff, run a nationwide marketing campaign, and invest in infrastructure; all to the tune of €40 million. It's a massive amount of money which is great, but they are being a little light on the detail, (can you really blow €40 mill on staff and marketing?) so expect more on that in the coming months.
Our two cent
David Kerr, the MD of bonkers.ie, had this to say today: "The launch of Panda Power is the second positive event for energy customers in just two days. Over the last few years we've become used to price increases, so it's with some relief that we're seeing prices come down, and cheapest-in-market tariffs being introduced. The net effect of Panda Power's launch and the new competition they bring should be lower bills for Irish households and that is a good thing for everyone."
 
---