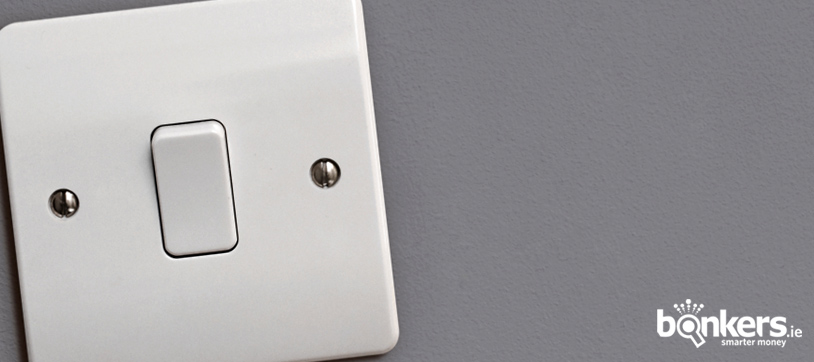 One Big Switch is back – how does it stack up this time?

You might remember One Big Switch. They created a big splash when they launched their Big Energy Switch back in February. It was the first time a campaign like it had been seen in Ireland and over 60,000 people signed up in the hope of saving money on their energy bills.
The concept, which was honed in Australia, works like this… sign up lots of people interested in saving on their bills. Use those signees to negotiate a deal with a big supplier. Once a deal has been agreed, switch the people that meet the offer's criteria… and hopefully those switchers will save some money.
The first Big Energy Switch negotiated an exclusive electricity deal with Bord Gáis Energy, and in the end, around a quarter of the 60,000 people that signed up with One Big Switch transferred their electricity supply to Bord Gáis.
The deal was decent enough. It offered a 10% discount off Bord Gáis Energy's standard rates, and if customers kept their accounts in good standing they'd get an €80 bill credit after 12 months.
The campaign had an interesting knock-on effect though… when other suppliers learned the details of the Bord Gáis Energy One Big Switch deal, they introduced their own special offers which were designed specifically to beat it. And all of a sudden there was a price war. It was a good result for consumers, and you didn't even have to sign up with One Big Switch to benefit.
Anyway, after the One Big Energy Switch campaign finished up in April, the organisation moved focus to health insurance, and they've signed up around 20,000 interested people there. Health insurance is quite fitting too, because their figurehead at the time was Oliver Tattan, and he knows the health insurance business pretty well.
Launching energy
The health insurance campaign is now over, and although they haven't announced any insurance deals yet, they have announced today that they are getting back into the energy business.
They've taken a different approach this time though. Rather than gather signees first, One Big Switch has negotiated the deal first. They've announced today that they have already "unlocked" a group discount through Energia, and it's available to anyone who switches through One Big Switch. Which is interesting because they've just started taking registrations, so they can't have gathered much of a group yet!
When you go to register for the energy deal with One Big Switch, you'll find a gas and electricity signup form, just like you'd see on bonkers.ie, or any energy supplier website for that matter. You'll be asked for direct debit details, meter readings, your MPRN and GPRN and so on. Basically everything you need to transfer to a new supplier. Nothing wrong with that of course, but it does lead is nicely to one big question.
How does the One Big Switch Energia deal stack up?
Well, they're offering an 18% discount on electricity, a 17% discount on gas, and they say they'll save you €325 a year. Which isn't bad at all… although this Energia deal has been around before. It was called SaveMe until a few months ago and was available from July until September this year.
For customers that don't have gas, there's also a standalone electricity tariff which offers 17% off Energia's own standard rates. Again, this is a good deal and could save an average household €173.75 off those standard electricity prices. But this rate has also been around before. In fact it was used in April in a campaign that asked "why make one big switch…?"
So let's get down to the numbers
If you're an average household and you swap your gas and electricity to the Energia One Big Switch deal, you'll pay €1,044.77 for a year's worth of electricity and €838.73 for your gas. That's a total of €1,883.50.
If you've never switched (and let's face it, more than half of us never have) you'll save €320 a year over Electric Ireland and Bord Gáis standard rates. That's a substantial saving and it's also why the SaveMe deal was so successful – because it's good value.
But the big question is, can you beat it?
Well, the answer is that you can if you take your gas and electricity from separate suppliers. That's thanks to a 20% electricity discount and €55 cashback offer from Airtricity combined with Flogas's 15% gas deal.
Airtricity will cost you €1,064.22 for you electricity, but you also get a €55 signup credit which you'll get on your first bill, so that comes down to €1,009.22. Then Flogas will charge you €853.49 for the gas. So you'll pay €1,862.71 in your first year. Cheaper by €20.79.
For customers that have electricity only, the One Big Switch Energia deal will cost €1,054.99. Again, it's good value and much better than paying standard rates, but Airtricity beats it on account of the €55 bill credit with a one year cost of €1,009.22.
If history is to repeat itself though, it is likely that other suppliers will respond to One Big Switch again. Perhaps by adding to their discounts or offering cashback incentives, just as they did in April. And if you're in the market for a new supplier and want to save money, the coming weeks could be a very good time to do so.
---