Energia launch - Ireland's new gas and electricity supplier

Energia has just become Ireland's newest household electricity and gas supplier.
Energia, a company that has supplied Irish businesses for over a decade, launched a new line of domestic electricity and gas tariffs today. The new deals, which are now available for signup, offer sizable discounts for new customers and are sure to attract the attention of cash strapped householders.
Energia's launch, which took place in the fashionable Medley venue on Dublin's Drury Street, was attended by Minister for Communications, Energy and Natural Resources Pat Rabbitte. Also in attendance were a host of Energia reps and execs including Retail Director Gary Ryan and group CEO Ian Thom.
At the launch, Minister Rabbitte welcomed Energia's decision to offer gas and electricity to Irish households and said that: "We in Ireland rely heavily on imports for our energy needs. That makes us net price takers, so we are dependent on competition to help consumers struggling with energy prices to get the best deals."
Energia will be Ireland's fourth domestic electricity supplier and fifth gas supplier. The Energia name may be a new to retail customers, but the company is familiar to business owners across Ireland. Energia has been active in the business market since deregulation and currently supplies gas and electricity to around 65,000 customers.
Energia Retail Director Gary Ryan said: "Energia is here to offer fresh new competition and choice for electricity and gas users all over Ireland. We're offering great deals and excellent service to our new residential customers." He concluded by saying that, "We are always going to be competitive on price".
Price
Of course, press launches are all well and good, but what punters really want to know is how Energia stacks up against the competition. And of course, that's what the good folks at bonkers.ie are here for.
We've taken their launch numbers, analysed them, and on the face of it, Energia's new plans look very good. The deals, which are called SmartChoice Electricity, SmartChoice Gas and SmartChoice Dual Fuel offer discounts of 15% off their own standard unit rates for gas and electricity. Customers that take dual fuel from Energia can even bring the electricity discount up to 16%. Energia's plans will carry a one year contract.
So what do these discounts mean in cash terms?
Well, energy tariffs are funny things. Energia's plans are very good value. Their electricity plan is the second cheapest out there, their gas plan is also the second cheapest, and their dual fuel deal, with the help of that extra 1% on electricity, squeaks in as the cheapest gas and electricity option available in the market right now. In fact, the dual fuel deal could save households around €271 per year off standard rates. Not to be sniffed at.
Energia cheapest for gas and electricity
Here's a funny thing though. The Energia discount plans have been engineered almost to the penny. Energia is cheaper than the next best gas and electricity option by just 46 cent per year for an average customer. If your household uses lots of electricity and gas, Energia remains the cheapest provider, but if your household uses less than average, you'd be better off with another supplier.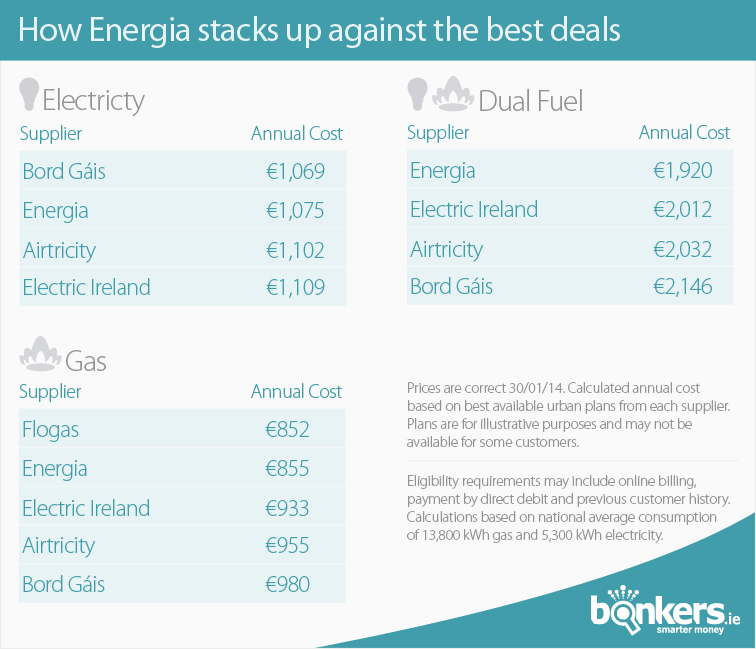 This chart also illustrates what's particularly peculiar about energy tariffs. There's no standard benchmark rate that suppliers discount from which can lead to a bit of confusion.
Here's what we mean... Bord Gais is the cheapest electricity supplier is currently advertising a discount of 10% for the deal listed above. Energia comes in second by advertising a discount of 15%, and Airtricity comes in third with a 14% discount. How is that possible that the deal with the smallest discount is the cheapest of the three? Well, that's the thing... they are all discounting off something different.
Anyway, as Energia are only now entering the domestic energy market, we've decided to put together a quick of a Q&A for our site users to help them understand where Energia have come from, what customers can expect and what kind of deals are available.
So who are Energia?
Energia was established in 1999 and has been a business energy supplier in Ireland since the electricity market was deregulated in the early 2000's - so they've been around for some time.
Energia is owned by a company called Viridian which also runs Power NI, Northern Ireland's largest electricity supplier. Viridian is in turn owned by Arcapita, a Bahraini investment bank that keeps its investment headquarters at Atlanta in the United States. Arcapita bought Viridian in 2006 and also manages an enormous investment fund that specializes in buying and selling businesses. They recently sold Caribou,  America's second largest coffee chain after Starbucks – so they are certainly diversified!
What about energy generation?
Energia operates the Huntstown Power Station which is in North Dublin. The plant operates two modern gas burning turbines which are capable of supplying around one fifth of Ireland's generational needs.
In addition, Energia is significantly involved in renewables and owns or has purchase agreements with wind farms across the country. Through these wind farms and purchase agreements, Energia accounts for around 25% of Ireland's wind power.
What about Power NI?
Power NI is Energia's sister company and is Northern Ireland's largest energy supplier with 650,000 domestic customers. The Northern Ireland market is interesting because more than one in four customers use pay-as-you-go keypad meters. In fact 250,000 of Power NI's customers have these meters. Power NI does not charge their prepayment customers a premium, but rather they offer a small discount off their standard plans.
The reason this is interesting is that Energia could leverage that knowledge and expertise to make prepay keypad meters generally available in the Republic. Right now, prepay meters are available to customers that are either seriously in arrears with one of the big companies, or prepared to pay a "prepayment service charge" of around €136 per year to companies like PrePayPower or Pinergy. The Irish market lacks a well priced prepay option and this could be an excellent opportunity for a company with the experience to implement it, and could offer a viable well priced prepay option to the many consumers that want it.
We at bonkers.ie are very pleased to see a new competitor enter the market offering good prices, and do hope that Minister Rabbitte was right when he said that new competition can help consumers struggling with energy costs to get better deals.
We'll have the Energia plans available for comparison on bonkers.ie in the next couple of days.
---