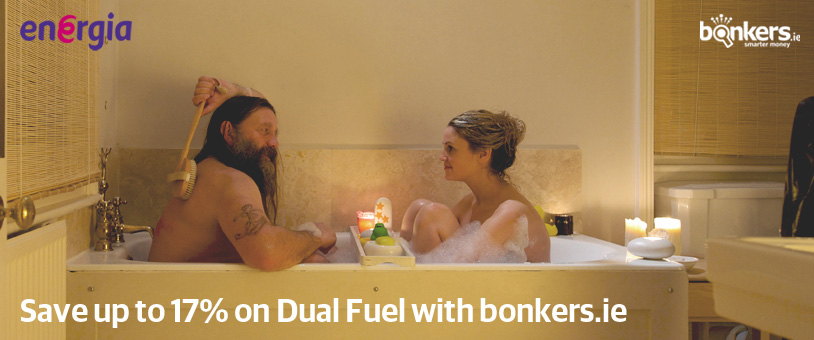 Energia extra discount special now available through bonkers.ie

We like good news at bonkers.ie, and we like good deals too. So we just love it when we're able to bring you a little bit of both at the same time…
And here's what we're talking about: if you sign up to Energia's top dual fuel deal through bonkers.ie you'll get an extra 1% discount off your electricity and an extra 1% discount off your gas. And that's on top of Energia's already generous dual fuel discounts.
So, customers signing up to Energia on bonkers.ie will actually get a 17% discount off their electricity and a 16% discount off their gas (instead of the publicly available 16% and 15% discounts). And all you have to do to get this extra special discount is complete your application right here on bonkers.ie.
It really is that simple. No fiddly little promotion codes, no clicking off to other websites, no uncertainty about whether you're getting your extra discounts – just a great old fashioned deal that's easy to sign up to directly on bonkers.ie. Sure what could be easier than that?
So what'll this deal save me then?
Over the course of a year, an average household with gas and electricity will save €307 over Energia's Standard rates. That's more than €25 per month. Not bad for a quick form fill. Of course your savings may be different depending on your current supplier and how much you use and all that - but sure that's what we're here for - to figure all that out for you.
Can you save me extra with electricity too?
Yes, there's more good news for households that just have electricity. You'll still get the Energia extra 1% discount through bonkers.ie. So instead of the publicly available 15%, you'll get a 16% discount if you sign up directly on this website. So electricity only customers will save a totally decent €164 a year over Energia's Standard rates.
Is this deal exclusive to bonkers.ie?
This deal is available only through CER Accredited energy price comparison websites – of which bonkers.ie was Ireland's first. Which makes bonkers.ie the ideal place to sign up to this special Energia extra discount. And of course, the best reason is that you can sign up directly on bonkers.ie (which you can't do with any other price comparison service). So you'll have that extra peace of mind knowing that we'll take care of your switch, and make sure everything goes smoothly.
Do these special discounts expire?
*** UPDATE!! - This special bonkers.ie Energia deal has been generously extended until 28 February 2015 ***
All good things really do come to an end don't they? And this special deal is no exception. Energia has told us we need to turn off the lights on the extra discount at midnight on 15th February 2015 28 February 2015!
So why not sign up to a new discounted gas and electricity deal now, save a few quid, grab a friend and snuggle up into a nice hot (cheaper!) bath especially just for two. Sure Valentine's is only a week away after all!
---