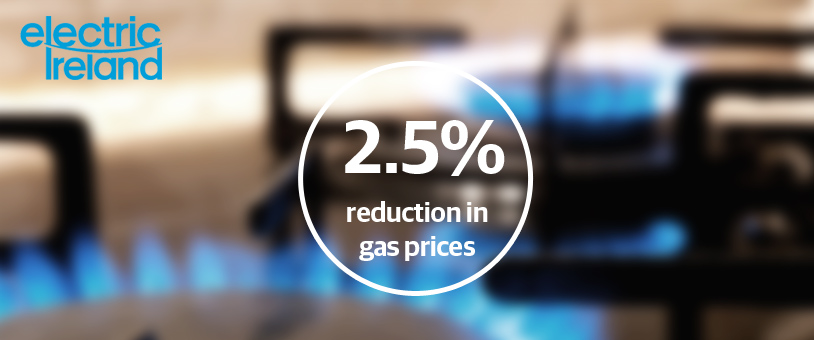 Electric Ireland to cut gas prices

Electric Ireland has announced today that the company will cut gas unit prices by 2.5% from 1 April. The price cut, which will be passed on to all Electric Ireland gas customers, should result in annual savings of around €21 per year for an average household – or almost €2 per month.
Today's announcement follows Electric Ireland's electricity price cut in November when the company also reduced electricity unit rates by 2.5%.
Currently Electric Ireland's standard gas customers are paying €979.35 per year. This price reduction will mean that average bills should fall to €958.60.
Electric Ireland's gas price cut will mean that their standard gas rate should reduce from 5.297 cent to 5.165 cent resulting in an overall bill reduction of 2.1% when standing charges, taxes and levies are taken into account.
All of Electric Ireland's 130,000 natural gas customers will benefit from today's gas price reduction.
Switching
Electric Ireland's price change announcement is welcome and will save money for thousands of households. However the best savings can be had by changing supplier or tariff. Electric Ireland has its own discounted gas tariff that offers 11% off their standard rates. That deal offers savings of €91 per year, and when the standard gas price cut takes effect, savings from the discounted deal will increase too.
CER
When questioned by the Dail Transport committee yesterday about whether wholesale gas price reductions were being passed on to consumers, Laura Brien from the Commission for Energy Regulation said that "it tends to take six months for price changes to feed through to the retail market." She did however say that price competition was strong in Ireland and switching levels were well above those of other countries.
Price cuts
Electric Ireland, Bord Gais Energy, and SSE Airtricity have all now either announced or implemented electricity and gas price cuts. However, all energy companies have also introduced a range of new tariffs which include discounts of up to 20% as they compete for new customers. 
David Kerr, Managing Director of bonkers.ie, commented on the price cuts: "The price reduction in Electric Ireland standard gas rates of 2.5% will be welcomed by all Electric Ireland gas customers. However, the level of the price cut remains shy of the discount tariffs offered by Electric Ireland for new and returning customers, so the message remains that for the best electricity and gas prices, customers should review their existing tariff and make the switch to a discounted tariff."
---