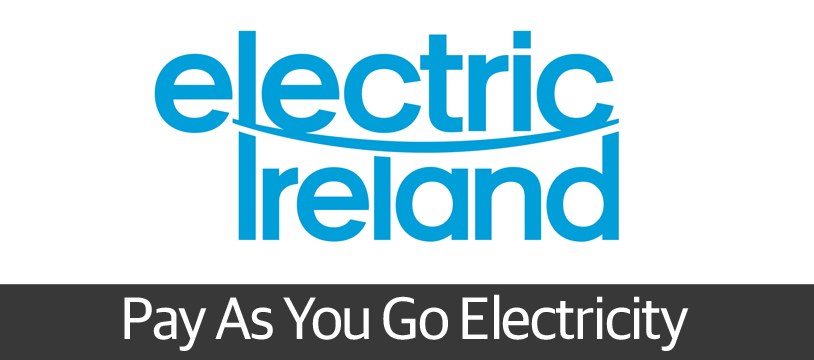 Electric Ireland Launches Pay As You Go Electricity

Electric Ireland has just become the first of the big suppliers to introduce a voluntary Pay As You Go electricity deal. The new offer, which is well priced for a PAYG deal, is available to anyone who wants it - and not just customers that are behind on their bills.
So far, Electric Ireland has launched their deal quietly and without much fanfare, but this part of the market is really heating up where Electric Ireland will be joining veteran Pay As You Go supplier PrePayPower and relative newcomer Pinergy.
PrePayPower in particular has become something of a powerhouse over the last year or so. The company that claims you can "take control of your energy costs" by installing one of their Pay As You Go meters is currently installing more than 3,000 of them a month in homes across Ireland.
In fact, PrePayPower has clocked up over 60,000 customers since they launched back in 2009, with around two thirds of those signing up in just the last twelve months.
PrePayPower were joined last summer by new Pay As You Go electricity company Pinergy who launched with a series of TV ads featuring Paul O'Connell - and they've been installing hundreds of their Pay As You Go meters every month since.
Until recently, it was probably easy enough for the big suppliers to dismiss the likes of PrePayPower as niche players that didn't really impact on their businesses. But by June 2013, PrePayPower had signed up 1% of Irish households and were starting to get noticed. Then along came Pinergy, and at last count, the two companies had managed to attract close to 4% of all domestic electricity customers between them…
Which really got them noticed and must have put them in the crosshairs of the big boys.
It's hardly surprising either. They numbers are just too big now to ignore. And so Electric Ireland, the biggest player of them all, has become the first major supplier to join the voluntary prepay game.

So how does Electric Ireland's PAYG deal stack up?
Amongst Pay As You Go tariffs, Electric Ireland's offering is a good deal and will work out around €93 cheaper per year than either Pinergy or PrePayPower. It may actually encourage some price competition into the prepay market too, which until now has had just two companies that offer pretty much the same service with pretty much identical pricing.
Electric Ireland's Pay As You Go deal will be priced exactly the same as their own Standard rate. In year one, customers will have to pay €99 for the Pay As You Go meter installation, but there will not be a prepay service charge. This installation fee can be paid off in instalments if the customer chooses (25% of each top-up until it is cleared).
In year two, a prepayment service charge of 12 cent (including VAT) per day will be applied. This works out at around €44 per year.
Pinergy and PrePayPower mirror Electric Ireland's Standard rate too, but their prepayment service charge, at 37.46 cent or €137 per year, is more expensive. And it is the difference in prepayment service charges where the savings are made.

Saving with prepay
Pay As You Go electricity can be a peculiar and contradictory service. Both Pinergy and PrePayPower sell their service as a way to save through controlling usage, but at the same time their tariffs (which are identical) are the most expensive way to get your electricity.
PrePayPower's own analysis shows that their customers reduce their usage by 6.6% after having a Pay As You Go meter installed, so certainly there are some savings there. But their prices are so much higher than regular and discounted credit tariffs that the reduction in usage comes nowhere near offsetting the increased cost.
Here's an example… a year's supply of electricity from Pinergy or PrePayPower will cost an average household €1,348. That's around €290 per year more than the cheapest deal out there. Reducing usage by 6.6% will only knock €68 off the annual cost, so even with the lower usage, customers will not save money over discounted electricity tariffs, or even regular standard rates. 
A year's supply on Electric Ireland's new Pay As You Go Tariff will cost €1,311 in year one and €1,255 each year after that. So it'll be cheaper than Pinergy and PrePayPower by €37 in year one and cheaper by €93 each year after that… better but still not cheap.

Lifestyle
It's not all about cost though. PAYG meters really do offer a way to budget, and they certainly sharpen the senses to household usage too. There's nothing like getting cut off regularly to help you cop on to what's guzzling the juice in your house.
Anyway, most people who sign up to Pay As You Go deals already know that they aren't cheap – despite all the marketing about saving by using less. These deals should really be treated as a lifestyle choice. Simply put, they offer no more bills in return for higher priced electricity.
What the prepay suppliers have shown over the last year or so is that there is a substantial appetite for Pay As You Go electricity meters despite the extra cost. And if Northern Ireland is anything to go by, where half of all households have prepay meters, the Pay As You Go market is probably only getting started down here.
 
---