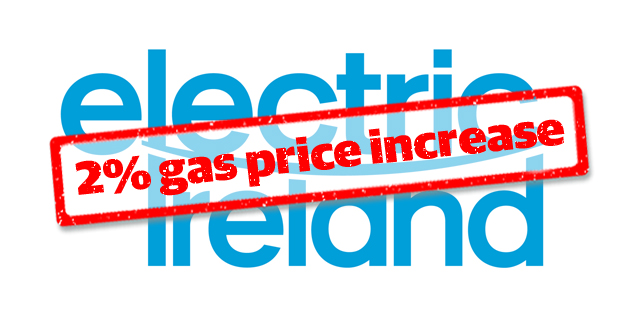 Electric Ireland Increases Gas Prices
Electric Ireland announced today that they will be increasing their domestic gas prices from October 1st, in line with the regulated gas price increase announced by the Commission for Energy Regulation yesterday.
Electric Ireland say that their price change of 2% will mean a yearly increase of €18.07 on their average customer bill.
Electric Ireland is blaming regulatory approved charges recently announced by the CER which are outside the control of Electric Ireland and which are applicable to all gas consumers regardless of supplier. The increase in charges relate primarily to network costs of transporting gas over the gas pipelines and into customer homes.
Electric Ireland say their customers will see two separate lines on their bill from October 1st, showing the unit price before and after October 1st.
Jim Dollard, Executive Director, Electric Ireland said:
"We regret that we have to increase our gas prices at this time. We are extremely conscious of the financial pressures facing our customers and we have tried to minimise this increase.  The price change announced today is predominantly due to regulatory approved gas network costs. Electric Ireland continues to offer competitively priced gas products in the market."
bonkers.ie is encouraging their customers to make sure they're not paying too much for their home energy - to shop around and switch to a cheaper energy supplier.
---